Top 5 Best Korean Beauty Balm Creams [Women Love It!]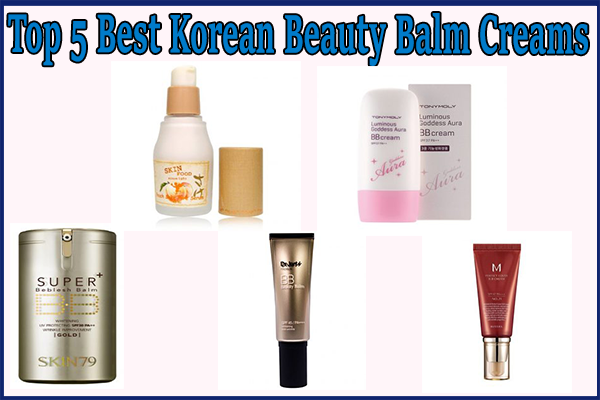 Korean makeup is increasingly gaining popularity worldwide. People are being attracted to Korean looks thanks to their models, actors, and actresses. Many big companies across the world are now investing in Korean makeup, while more and more countries are importing Korean beauty and makeup products every day.
The main reason companies and countries are flocking to Korea for their beauty products is the research, creativity, fine craftsmanship and hard work they invest in their products to bring nothing but top quality products to the market. Additionally, they have set trends that people follow worldwide. Some of these high-flying trends include gradient lips, aegyo-sal, puppy eyes, or "eye smiles', straight brows, dewy skin, flushed cheeks, natural makeup, doll eyes, and flawless skin.
What Korean BB Creams Do
Many Korean BB creams offer excellent sun protection with broad spectrum SPF 30 and higher; which is the American Academy of Dermatology's recommendation for daily users. Additionally, BB creams generally contain titanium oxide or zinc oxide and physical sunblocks with water resistant properties. More specifically, here what you get by using Korean BB creams.
• Moisturizing properties: They contain great moisturizing agents such a glycerin and hyaluronic acid that prevent desiccation of your skin even if you are slightly dehydrated.
• Anti-aging components: They included antioxidants and peptides such as Vitamin A, C and E. These components help keep your skin young and rejuvenated, and slow down aging signs such as skin wrinkles and pigmentations.
• Silicone-based ingredients: dimethicone for instance, helps to smooth your skin and can also act as a foundation primer.
• Other ingredients such as licorice, arbutin and Light-reflecting mica helps to even out your skin tone and give it a luminous finish.
Generally, Korean BB creams are the ultimate all-in-one beauty creams that offer strong sun protection, anti-inflammatory, and skin soothing properties, cover imperfections, prevent pimples and still act as a makeup primer. These BB creams will help you balance your skin and offer oil and shine control. They will also enable you to blur the signs of aging such as the appearance of wrinkles, fine lines, and skin pigments, thanks to the color-correcting technology that reflects light off your face.
Nowadays, women just don't want complicated and intimidating makeup anymore, and the Korean BB creams offer the much-needed simplicity by rolling 4 to 5 cans and tubes into one. In short, the BB cream is a moisturizer, primer, anti-aging cream, and a foundation all rolled into one.
Top 5 Best Korean BB Creams on Amazon
1. Dr. Jart (Premium Beauty Balm, SPF 45, PA+++)
[asa2]B00M3R5ASA[/asa2]
Opening our Top 5 Best Korean BB Cream list is the Premium BB is Dr. Jart. It's a bestselling multifunctional BB cream that acts both as a strong moisturizer, anti-aging cream, and sunscreen to protect your skin and keep young and glowing. The cream helps users with enlarged skin pores by simultaneously tightening pores to correct oily skins.
The product doesn't streak or create a heavy layer of makeup on your skin, which makes it buildable, and works best on fair complexions. You can apply the cream for the last step of your makeup or as a foundation. The best part about this BB cream is that it's light; which makes it perfect for covering blemishes and providing your skin tone with a natural look.
2. Missha (Missha M Perfect Cover BB Cream No. 23, SPF 42, PA+++)
[asa2]B002B9DWBC[/asa2]
The Missha BB comes in two sizes; the 20ml and the 50ml tube. The 20ml tube is dark-red in color, whereas the 50ml in more reddish-orange. The cream was one of the first BB creams to come out in Korea and has remained wildly popular since its inception. It blends naturally and gives you a flawless finish with medium coverage. It's buildable with other makeup products and comes with a high SPF to keep your skin protected from the harsh UV rays. This means you get to spend more time in the sun and worry less about sunburns and wrinkles.
Even though the product is recommended for all types of skins, it works best for those with golden and beige skin tones. To completely cover dark blemishes, you may want to apply multi-layers. Generally, the Missha BB gives a flawless and shiny look to your skin by reducing spots and covering freckles.
3. Tony Moly Luminus Goddess Aura BB 45g
[asa2]B00784S5JY[/asa2]
This distinct BB cream comes in a 45g tube, which is quite long lasting and can serve the needs of your skin for a long period before it gets used up. It offers a light to medium coverage and can brighten your skin with a flawless finish. The texture is also very thin and makes the cream blend out very easily. Users with oily skins will appreciate this 3rd pick on our Top 5 Best Korean BB Cream list as it works to oily skins fresh-looking all day long.
Tony Moly Luminus comes in 3 shades with a commendable consistency in its shades and texture. Many users have commended that it perfectly blurs skin imperfections, evens the skin out, doesn't leave any white cast, and it's non-drying even for users with extremely dry skin complexions.
4. Skinfood Peach Pake Pore BB Cream
[asa2]B004S3M2V0[/asa2]
SKINFOOD's Peach Sake Pore BB cream is a soft essence containing peach extracts, vitamins A and C, rice cake, and silica powder, which minimizes the appearance of pores by creating a matte effect.
Naturally, peaches contain significant minerals, vitamins and other elements that promote a healthy skin. Vitamins A and C are antioxidants that help in reducing free radical damage while also providing anti-aging benefits. The pectin extracted from peach skin helps in toning and firming the skin. The Sake facilitates blood circulation, tightens pores and controls the production of sebum. So if you're looking for a product in our Top 5 Best Korean BB Cream list that will conceal skin impurities and offer a natural coverage for a flawless complexion, then SkinFood Peach Sake Pore BB Cream is your best bet.
5. Skin79 Super+ Beblesh Balm Triple Functions
[asa2]B004R6HIR6[/asa2]
This Korean BB cream has earned popularity of a cult status among Korean girls with its multitasking formula. It offers anti-aging and brightening properties in addition to an impressive SPF 25 skin protection. It gives a natural, glowing look that comes with a hydrating veil for your complexion to maintain ultimate moisture on your skin surface.
The product also contains caviar and gold extracts that provide nutrition to a damaged skin, making it vibrant once again. Additionally, the Skin 79 Supper+ provides wrinkle improvement and maintains a clean skin to give you a glowing and bright skin. This product is best recommended for light to medium-light skin tones.