Top 10 Best Korean Romantic Comedy Dramas You Should Watch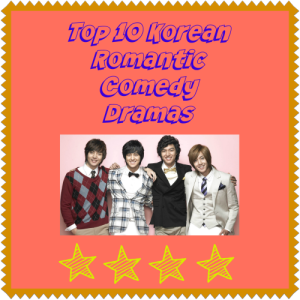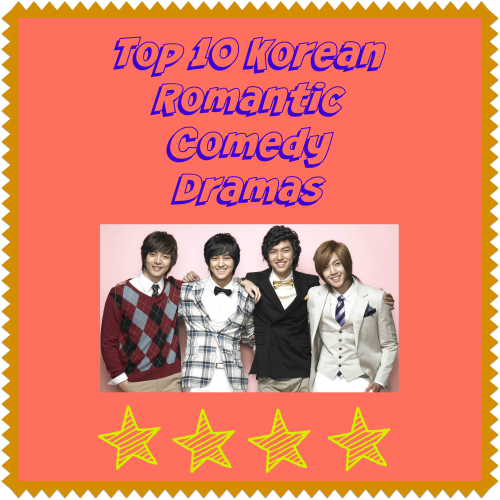 Here are my top 10 choices for the most entertaining Korean dramas with plenty of drama and humor. All the stars in the shows are great looking too, both male and female. Keep in mind these are in no particular order.
Boys Over Flowers
The 2009 South Korean television series stars Lee Min-ho, Ku Hye-sun, Kim Hyun-joong, Kim Joon, Kim Bum and Kim So-eun. KBS2 aired it from January 5 to March 31, 2009. The plot features a hardworking Geum Jan Di, who attends Shinhwa High School. She's sponsored after an incident.
Goo Jon Pyo, Yoon Ji Hoo, So Yi Jung and Song Woo Bin exercise dominance over all students and teachers alike. She finds them unbearable. Only Jan Di dares challenge them. Joon Pyo falls for Jan Di, who shares a sensitive and quiet connection with Ji Hoo. Problems ensue when Ji-Hoo pretends to be Jan's boyfriend.
The Heirs
Also known as 'The Inheritors', the South Korean television series stars Park Shin-hye, Kim Woo-bin, and Lee Min-ho. It is set in a high school composed mainly of the uber-rich and privileged. SBS aired the series from October 9 to December 12, 2013. In the series' main plot, the elite school students are groomed to take over the business empires of their families. They have everything under control.
However, their love lives pose a challenge. Kim Tan, a wealthy and handsome heir to a Korean conglomerate, is sent to study in the U.S. While in 'exile', his elder half-brother schemes to take over the family business. Kim Tan bumps into Cha Eun-sang, who is in the U.S. to search for her elder sister. Rachel Yoo, Kim's fiancee, comes to bring him back home (Korea). His heart is torn between duty and love. Kim and Cha return to Korea, where he slowly starts falling for her. Choi Young-do, Kim's best friend, also starts falling for Cha. Trouble arises among the involved parties.
Fated to Love You
The 2014 South Korean television series stars Jang Hyuk, Choi Jin-hyuk, Jang Na-ra, and Wang Ji-won. MBC aired it from July 2 to September 4, 2014. It is a remake of the Taiwanese 'Fated To Love You' starring Ethan Ruan and Joe Chen. In the main plot, Jang Hyuk, an eccentric and virtuous heir of a large hair products company marries a young girl after impregnating her during a one night stand.
My Love from the Star
The South Korean television series features an alien who landed on earth about 400 years ago in the Joseon Dynasty. He falls in love with a beautiful actress in the modern era. SBS aired the series from December 18, 2013, to February 27, 2014. The romance stars Jun Ji-hyun and Kim Soo-hyun.
Playful Kiss
The 2010 South Korean television series stars JungSo-min and Kim Hyun-joong. MBC aired it from September 1 to October 21, 2010. The story is based on a Japanese manga series 'Itazura Na Kiss' by Tada Kaoru. In the main plot, a clumsy and low performing high school girl, Oh Ha-ni, has a crush on a well known and smart Baek Seung-jo from the first time she saw him. She confesses her love for him in a letter. Baek rejects her. An earthquake then ruins Oh's newly built house.
Ha-ni's family is invited to stay with Baek's family as their fathers were childhood friends. Ha-ni is determined to impress Baek. They graduate high school and go to university. Baek's father is hospitalized. He takes over his father's gaming business. Joon-gu, a fellow campus student, falls for Ha-ni and she rejects him. While walking away, she sees Baek with an umbrella, watching her. He appears curious as to know what had ensued. Ha-ni doesn't tell him. Baek kisses her, revealing his true feelings for her. He promises to marry her after graduation.
You're Beautiful
The 2009 South Korean musical series stars Park Shin-hye, Lee Hong-ji, Jang Keun-suk and Jung Yong-hwa. SBS aired it from October 7 to November 2, 2009. The plot follows a fictional music band (A.N.JELL) and its members' relationships. After their father's passing, Park Shin-hye, and her twin brother have lived an orphanage since childhood. She becomes a music idol and she always wanted to become a nun.
Her brother wins the vocal auditions for A.N.JELL and she leaves for the U.S. to correct her botched plastic surgery. Her manager, Ma Hoon-yi, approaches him. He is to play his sister's role. At first, he is resistant and repulsive. However, he eventually agrees. He joins the other band members: Hwang Tae-Kyung, Jeremy and Kang Shin-woo. Park falls in love with Hwang, with whom they had a history together.
Goong (Princess Hours)
The 2006 South Korean television series stars Yoon Eun-hye, Kim Jeong-hoon, Ju Ji-hoon and Song Ji-hyo. It's based on the Korean 'manhwa Goong'. MBC aired it from January 11 to March 30, 2006. The series is set in a futuristic 21-century Korea. Korea, then, retained its imperial family and monarchy since 1945. The series consequently focusses on the Crown Prince Lee Shin and his new bride Chae-kyeong. Shin's father (Emperor Lee) is gravely ill. Shin is crowned the emperor.
Despite his love for Hyo-rin, he marries Chae-kyeong, with whom their parents had already planned their marriage. Lee Yul and his mother (Lady Hwa-young) return. She was previously a crown princess of Korea. It stirs trouble. They had been driven from the palace because of an affair between Hwa-young and the then Korean King. Schemes are plotted. Shin has an affair with Hyo-rin. Things get out of hand.
Hi! School-Love On
The 2014 South Korean television series stars Nam Woo-hyun, Kim Sae-ron, and Lee Sung-yeol. KBS2 aired it from July 11 to December 19, 2014. The series features an angel (Seul-bi) who had to become human after saving a male student (Woo-hyun) from danger unintentionally. She then interacts with students and learns about human nature: friendship, love and what it is to be human.
Rooftop Prince
The 2012 South Korean television series stars Han Ji-min, Park Yu-chun, Jeong Yu-mi, Lee Min-ho, Jung Suk-won and Choi Woo-shik. SBS aired it from March 21 to May 24, 2012. Its plot features Tae-mu who returns to Korea after killing is lost cousin (Tae-yong) in the U.S. Tae-mu has a secret affair with his secretary (Se-na). Se-na runs into Park-ha, who has been missing for a long time.
Four men drop into Park-ha's rooftop house. Lee-gak, their leader, says he is the crown prince of Joseon. One day, he sees Se-na. He's convinced she's the reincarnation of his wife. Conversely, Yao mistakes Lee-gak for her grandson. It occurs to Lee-gak that he's traveled 300 years through time to 2012. After the shocking revelations, they try to solve the crown prince's murder mystery in the Joseon era.
The 1st Shop of Coffee Prince
The 2007 South Korean television series stars Gong Yoo, Yoon Eun-hye, Lee Sun-kyun and Chae Jung-an. MBC aired the hit series from July 2 to August 28, 2007. The drama features an unlikely romance between Go Eun-chan (a tomboyish woman) and Choi Han-kyul (a young food empire mogul). Choi's first love, Han Yoo-joo, wasn't interested in dating.
On the other hand, Eun-chan's father passed when she was 16. She's since been her family's breadwinner. Among the jobs, she did to sustain her family included taekwondo teaching, waitress, and food delivery. When she became friends with Choi, she gets attracted to him because of his kindness. Feelings between them ensue. He helps her study barista in Italy. They have a long distance relationship. They continue dating after coming back to Korea.