Top 5 Best Long Lasting Colognes [For Men]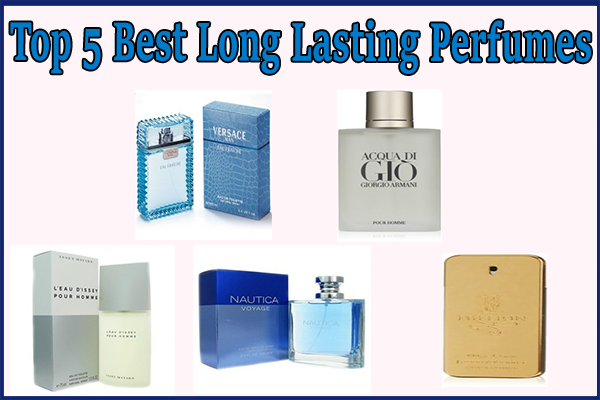 A cologne is a personal thing that displays an individual's character. It takes time to find the perfect fragrance, but after finding it, you can use the same scent for years. This becomes part of your identity day in day out. Most men complain that they do not find a cologne that lasts long. As compared to women, men do not have numerous options to choose from. However, the best thing is that there are also long lasting cologne for men on the market today even if their selection is significantly smaller.
Knowing Which Ones are Long Lasting Colognes
Whenever you decide to purchase cologne, it is critical to ensure that you buy a long lasting one. All colognes evolve and one cologne can have a different scent depending on the person wearing it. This is why it is important to get one that matches your natural body scent. This means that when buying, you should spray it on your skin to test if it is the right one for you, instead of spraying it on a piece of paper. The composition of a cologne determines how long it will last.
There are those that last few hours and there are those that serve you for 24 hours. There are three notes of a cologne that we smell after applying it on the skin. The top note fades away really fast and this exposes the middle note which is also known as the bouquet. After some time, the bouquet fades away to reveal the basic note. This is the third element of a fragrance that is composed. This means that you should not commit to any cologne until you get to the final note and see how long it will last.
Most long lasting colognes will go at a relatively higher price as compared to short-lived colognes. Therefore, if you want a long lasting fragrance, you should be ready to invest a little bit more than the normal price. Also, you should consult the seller about which category your intended cologne lies. The absolutes are the most expensive perfumes/cologne since they are pure extracts from vegetables and flowers. They are sold at a high price for small amounts. They are long lasting.
The Eau de Cologne contains 3-5% oil in a mixture of water and alcohol. This one is refreshing and lighter with citrus components. They do not last long since the composition of fragrance is small. The Eau de Toilette contains 4-8% scent in a mixture of alcohol. This makes it stronger than the Eau de cologne, but due to the small concentration of fragrance, it also tends to be short-lived. Eau de parfum has a higher concentration of perfume oil between 15-18% in a mixture of alcohol.
This makes it relatively expensive as compared to the previous two. It also lasts longer as compared to the two. Then comes the cologne that has 15-30% perfume oil and mixed with alcohol. Due to the high percentage of perfume oil, it is highly expensive than the other four categories. It also lasts longer than the four of them.
Top 5 Long Lasting Colognes from Amazon
5. Versace Man Eau Fraiche
[asa2]B000XE5260[/asa2]
This is one of the best long lasting colognes for men that you will find on the market today. It can be used everyday regardless of the weather present. It comes with an ideal harmony of salty and sweet notes of sea water composition as well as the sunny warmth nuances on your skin. You can buy this for yourself or buy it for a friend or family member as it can also be a perfect gift. It is made of high-quality components that make it long lasting. However, you should be aware that no exact amount of time can be predicted on how long it will stay since this depends on various factors dependent on the one wearing. Some of these factors include the type of skin of the wearer.
4. L'eau D'issey Cologne
[asa2]B000XE5260[/asa2]
Are you preparing to go out for a date, but do not have an idea of the perfect long lasting cologne to wear in a romantic setting? Worry no more as here is the solution. The L'eau D'issey Cologne is specifically designed for men and recommended for romantic wear. It has been on the market for more than two decades and, therefore, has built trust on te market. It comes with spicy and citrus combination with lower notes of amber, woods, and musk fragrance notes. It is perfect for an evening wear and it lasts long on your skin. However, how any smells on you depends on the user's stress level, body chemistry, age, mood, current medications, and diet. However, with this one, you can pull up your confidence since it will perfectly put a signature on you during that highly awaited date.
3. Paco Rabanne Cologne
[asa2]B002XQ1X4G[/asa2]
This is a casual use cologne that can be used by any man. It is very strong in the sense that sometimes you might have to apply it some hours before leaving the house for the concentration to reduce. If you are planning to go out on a date and wondering how to complete you look and put a signature to your presence, this is the perfect cologne for you. It is perfect for evening wear and comes with a vodka fragrance note that has been beautifully mixed with frozen mint, caviar, passion fruit, and leather fragrance. This is the cologne that helps you to bring back the asserted masculine seduction that you will dearly need during a night out.
2. Acqua Di Gio Cologne
[asa2]B000E7YK5K[/asa2]
This is one of the best colognes for men and it is long lasting. It has been designed by Giorgio Armani and has been on the market for more than two decades. It has the lime, jasmine, neroli, bergamot, lemon, mandarin orange and orange fragrance notes all in one package. It has sharp notes of spices which are softened by woody base with musky, warm trail. It carries a scent of freedom full of water and wind putting a unique signature on any man who wears it.
1. Nautica Voyage
[asa2]B000P22TIY[/asa2]
This is a cologne that has been designed and released on the market by design house of Nautica. It can be a perfect gift for a loved one and can be a daily wear for any man. It is very cool and calm in such a way that you can visit a hospital in it. It comes with a pleasant, clean, aquatic, fresh and airy scent. It is highly versatile as it fits any occasion at any time. It's perfectly priced for its quality.