Top 5 Best Recording Microphones for Gaming [Recording/Review]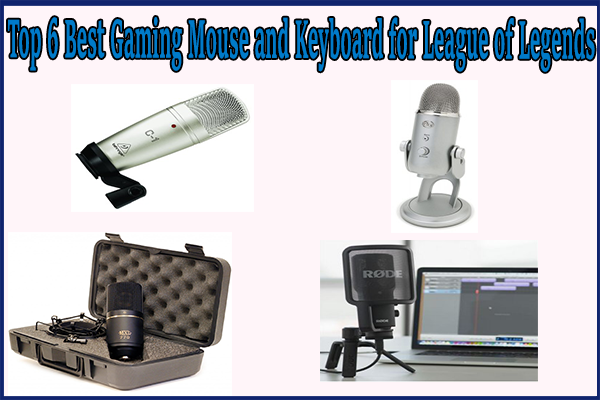 If you are looking to get a decent microphone for recording your YouTube gaming videos, then you are going to need consider the following:
Budget – How much are you willing to spend? For starters, I do not recommend spending over $100 on a microphone unless you know you will be using it for MANY videos. Most $40-100 microphones will give you a very smooth recording voice and does the job well. However, if you are doing podcasting, then that requires a very high quality microphone.
Connectivity – It is best to get a microphone that has XLR to audio connector for the highest sound quality. However, we all know this is not an option for the casual gamer that just wants to record his commentary while playing the game. In that case, the standard USB port will do just fine.
Condenser Microphones – Always get condenser microphones. They are effective in handling loud sound noise without high frequencies. Add in a pop filter and you will have a very good sound quality for your audience.
Other Accessories – Keep in mind you also need other parts like the pop filter, mic stand, cables and audio interface. They are not necessary but having them will improve the overall sound quality and production of your YouTube video. Factor these into your budget if you need them.
Top 5 Best Microphones for YouTube Gaming Videos
The list is in no particular order and it is dependent on what you need.
CAD U37 USB Studio Condenser Recording Microphone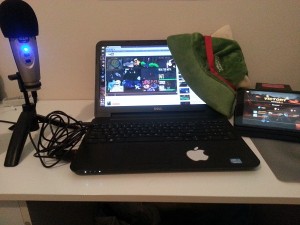 [asa2]B001AIQGUO[/asa2]
This is the microphone I use to record my gaming videos. They are great for its price(~$45 USD) and the sound quality is great. It comes with a USB connector. Unfortunately, it doesn't have XLR connector. I personally don't need it because I am a casual gamer just doing plain commentary for play through. Setting up the microphone is extremely easy. You just need to connect the USB to your PC/Laptop and you can start recording. It also comes with a stand that you can put by the side of your laptop just like mine. However, If you like to have the microphone connecting to a stand where it stays very close to your face, then this microphone won't be the best fit.
Together with the stand, the microphone does take up a decent amount of space. The microphone itself is 9 x 12 x 4 inches, but add in the stand and it will be about 12 inches off the table. The stand can be adjusted easily to position the microphone the way you want it. As for sound quality, it is great. Check out the video below I made using CAD U37 microphone and you will see what I mean.
BEHRINGER C-1
[asa2]B000CZ0RLK[/asa2]
Now the Behringer C-1 was the next one that I was close to buying but I ended up choosing CAD U37 due to it being Amazon's No. 1 best seller. Similar to the CAD U37, it comes with an adjustable stand that allows you to adjust it to your comfort levels for recording. This is great for voice overs and can also be used for podcasting if needed. Being a low budget microphone, it comes with the XLR connector, which is what you want for high quality pod casting sound with barely any background noise. This is what I would go with if you are a serious gamer that wants top notch voice commentary and you do podcasting interviewing other people. The CAD U37 can't do podcasting as well as it doesn't come with the XLR connector. The best part is, it comes at an affordable price of around $50 USD.
Blue Microphones Yeti USB Microphone
[asa2]B002VA464S[/asa2]
Ah, this Blue Yeti Mic(~$100 USD) is one of the popular microphones that is recommended by various YouTubers. I can see why because it is a very compact and it already comes attached with a mini stand, saving you a lot of space. It also comes with the Tri-capsule array with 3 condenser capsules that can record almost any situation. Unlike the first two microphones I mentioned, it has a mute button. If you are planning to do some singing, then this is definitely something you want. You can also control the volume, which is a huge plus. This mic weighs about 4 pounds, which is 2+ pounds heavier than the CAD U37 and Behringer.  The USB cable is 10 feet long, so you can have it quite far from the electric socket. Perfect for outdoor recording if needed. This does not come with XLR connector, but you can check out the PRO version for that. Check Steve's raving review of this mic.
Rode NT-USB USB Condenser Microphone
[asa2]B00KQPGRRE[/asa2]
Next up, we have the Rode NT mic. This one is a little on the pricey side at about approximately $160 USD. I would recommend this if you are looking to accomplish the following – singing, voice-overs and podcasting. Just like the Blue Yeti mic, it is quite heavy at 3.5 pounds. The best part is that it already comes with a premium pop filter, so you do not have to go buy one. It picks up sound very well, including background noises, so be sure to operate at a quiet atmosphere and you will be amazed at the sound quality for voice overs. I know some streamers on Twitch use this microphone and they sound great. I think the biggest perk of this mic is the adjustable volume and compact size.
MXL 770 Cardioid Condenser Microphone
[asa2]B0007NQH98[/asa2]
The last microphone I recommend are for those that want their mic hanging from a stand instead of having them sit on a table. The MXL 770 is a nice black mic with a gold stripe that is very suitable for singers. If you are a gamer that likes to sing and also do voice commentary, then this will be the best fit for you. The mic itself is very light, so it is the best mic to take for traveling if needed. It has the standard XLR connector and it requires 48 volt phantom power plus a switchable bass cut and -10dB pad. The price(~$75 USD) is also great for people with a budget of under $100. You can then use the remaining cash to get a good pop filter and mic stand.
If you just want the whole setup, you should checkout the bundle that includes all the necessary equipment you need here.
Improving Sound Quality Tips
Now it doesn't matter which mic you get, you can always improve the sound quality of your recordings. The room that you record in will affect how your voice sounds. If you have sound proof walls, then your voice will be crisp and "hollow". Most of us don't have that.
Get a Pop Filter
This will instantly give your recording a much better quality as it reduces the "silva sound" and heavy breathing you make when you speak. I am sure you don't want to keep hearing that. You can either get the ones that you just put it over or the ones that is in front of the mic to protect your silva from getting into the microphone head.
Turn Off Your Fan or Air Conditioning
If you want good recordings, you won't want to have the fan near you. The microphone will often pick up the fan noise and you will get a slight background noise that can annoy headset users listening or watching your videos.
Removing Background Noise while Streaming
Speak Close to the Mic
The closer you are to the mic, the crispier the voice sounds. You should consider getting a mic stand similar recommended for the MXL 770 microphone if you want something that hangs over your head.
Make a Sound Proof Box
This is good for voice overs as it will block background noises and also make your voice "hollow" like you hear in professional voice overs. It might not be at that level but it still improves the sound quality significantly. I will be making a video on it soon.
Hope this article has helped you make an informed decision on what you need.