[Top 5] Best Prada Perfumes/Colognes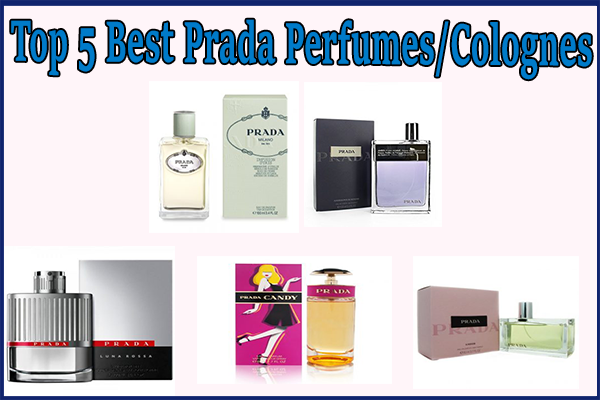 Fashion and personal grooming have come a long way in recent times. Today, It is more of a statement, a way to show off your personality. The use of fragrances has been known to add an extra dimension to people's personalities. Prada as a brand, are at the top when it comes to fragrances.
How To Pick The Right Prada Perfume
Picking out the best perfume for yourself is sometimes harder or equally as hard as finding a date you like. They all seem good in the beginning until you get put off somehow. Here's a few thing to keep in mind when picking out your Prada perfumes;
Composition
This is a term that describes or defines the elements that have been blended together to make up the cologne's scent. A a leading lifestyle brand Prada uses unique, top quality ingredients and the composition of all their perfumes is always amazing. The composition is usually described as "notes of sandalwood" for example and they vary based on orders and the quantities depending on how they are blended.
Oil Content
This determines how long your perfume lasts and how strong it is going to be. More oils translate to stronger and long-lasting scents. This may be a good thing and a bad thing, you get more, but you run the risk of having an overwhelming smell. There are Eau de Cologne, Eau de toilette, Eau de parfum and Perfume variations of most fragrances based on the concentration of aromatic oils. The concentrations are usually 7%, 10%, 20% and 40% respectively. Prada usually makes most variations for all their fragrances. Be sure to check the information so as to get what you want.
Budget and Pricing
Often, your personal budget determines what you eventually purchase. An important rule of thumb for pricing, the more you pay for a bottle of perfume, the more you should demand from it. However, exceptions do occur. For example, some other brand may hit a composition jackpot making it much better than what people expect. Forums and websites dedicated to the lifestyle industry usually spot these flukes in a heartbeat, however, you can always rely on Prada. Keep in mind that the most expensive perfume is not always the best. Always test your picks before you wear them if possible, check the perfume's ranking online.
Classification and Concept
In some way, these two factors go together. The classification of perfumes can be useful when finding fragrances similar to the ones you like. Examples of classification criteria include Amber (known also as Oriental), Woody, Chypre, Leather, Citrus,
Floral
and Fougère. Prada usually lists its classification on the company website. The concept on the other hand usually refers to the emotive response a fragrance gives off. It could be manly, rugged, athletic, romantic, sensual or sexy. Concepts are usually made as the marketing campaign but sometimes the idea sticks and people like it.
Like most other major brands, Prada's perfumes are made to have a certain "feel" to them. They tend to have a family of familiar scents. New Prada blends usually feel naturally comfortable to people who have worn their colognes for several years. Just like wines, variations occur from year to year and it is important to determine which year suits your taste. Just be careful not to wear too much of a dated scent.
Prada Perfumes
a) PRADA AMBER For Women By PRADA Eau De Parfum Spray
[asa2]B000E7YJSI[/asa2]
This fragrance updates the craft of perfumery by using an innovative scent blending approach. Its appeal likens that of classic femininity coupled with a modern sensibility. Its blend comes from hypnotic notes like the Sandalwood from India, Labdanum from France, Patchouli from Indonesia, and the Benzoin from Siam. It is inspired by the past and embodies the future aiming to intertwine memory, reality, and possibility. It can be bought on Amazon at $71.52 using the link above and-and shipped for free. Its range includes several variations and is sure to please anyone.
b) Prada Prada Candy Eau De Parfum Spray for Women
[asa2]B005KF5WYO[/asa2]
The campaign for this fragrance represents the new dimension to Prada's femininity. It is fun, bold, intimately addictive and sensual. Essentially, this fragrance says, more is more and excess is everything. For the provocative woman ready to take things to the limit, this fragrance is the one. It has a delicate vanilla aroma, Lao benzoin in excess together with a warm sweet and balmy evoking honey. This gives it a natural feel. A faux chord pop caramel contrasts with the natural note of benzoin which gives it its cheerful femininity and addictive sweetness.
c) Prada Infusion D'iris by Prada For Women. Eau De Parfum Spray
[asa2]B001FWXHK2[/asa2]
This fragrance was introduced as an Amber woodsy fragrance. The name was inspired from an old method that took six months to produce iris extract. Prada has managed to maintain use of exceptionally high-quality ingredients to evoke the classic feel of a luxurious Italian journey, from the cleanliness and freshness of Florentine Iris Padilla to the warm and subtle glow of Sicilian Mandarin. A floral citrus reverie of the scent adds a unique and elusive dimension.
Prada Colognes
d) Prada Luna Rossa Eau de Toilette Spray for Men
[asa2]B008NB8VUY[/asa2]

This fragrance was introduced and named after the sailing boat Luna Rossa "Red Moon". It embodies absolute masculinity and draws inspiration from the world of extreme sailing. It gives a feel of prestige, marine nature and the thrill of innovation and victory. The composition is drawn from the main note of lavender. The Intensity and freshness are emphasized by using classical notes in new and innovative ways. The notes include lavender absolute and bitter orange in the top, clary sage and spearmint in the heart, and ambrette absolute and ambroxan molecule in the base.
e) Prada Amber Pour Homme by Prada for Men EDT Spray
[asa2]B000P43JXQ[/asa2]

Launched and modeled after the female version, it is made out of redefining Amber. It is important to consider that there are several factors which affect the natural scent of your skin, in turn, how a fragrance smells on you. This fragrance is not for everyone. You also need to factor in dryness or oiliness of the skin. It is, however, a good fragrance and definitely worth a try.