[Top 5] Best Robot Kits – Building Your Own Robot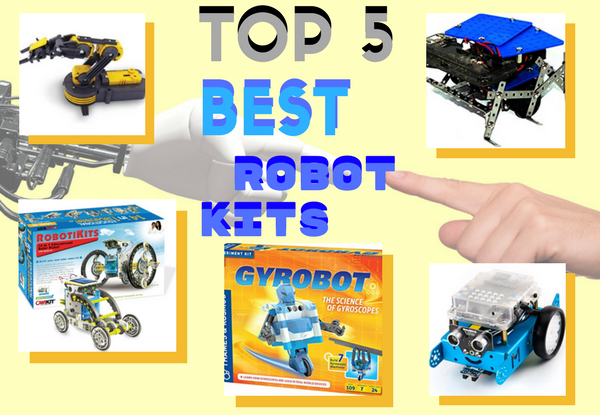 In this 21st century, technology is running at a high pace, with science all over the place. And building your own robot can be a really great project to understanding the basic principles and also the parts used in building robots. Robot kits can be a great way for your kid to learn everything from basics to advanced coding skills.
There is lots of variety of robot kits for beginners and advanced ranging from remote controlled robots, programmable, to easy to assemble pull-back toys. Hence, choosing the best robot kit can be a daunting task and time-consuming. If you are looking for best robot kits to build your own robot, worry no more. Here are the Top 5 Best Robotic Kits that can help build your own robot.
Top 5 Best Robot Kits Review
1. OWI 14 in 1 Solar Robot Kit
[asa2]B00CAWP9YI[/asa2]
This solar powered robot kit is the #1 best-selling solar robot kit on Amazon. It enables you to research with 14 different robot modes including a swarm of comical and functional movements. What makes this robot kit more outstanding is that it does require any batteries to operate since it is powered by the sun. Being fuelled by the sun makes it a great gift for kids who love science and environment.
This product has two levels of building expertise levels. Level one includes beetle-bot, turtle-bot, boat-bot, quadru-bot, wheel-bot, walker-bot and dog-bot. While level two includes auto-bot, zombie-bot, roly poly-bot, slither-bot, crab-bot, row-bot, and surf-bot. If you are a beginner or an intermediate robot builder, then this robot kit is a perfect choice for you.
It also includes adjustable polarity on a solar panel to modify the direction of the motor rotation, transparent housing that enables you to see the gear movement, and retractable robot head that is convenient to store in the upper body.
The recommended age series for this robot kit is 8 to 15 years. If you are looking for a kit to use in home-school science curriculums, then this solar robot kit is a perfect choice. The OWI 14 in 1 solar robot kit comes including four packaging in English. This product weighs only 1.1 pounds.
2. OWI Robotic Arm Edge
[asa2]B0017OFRCY[/asa2]
With this robotic arm edge, you can program and operate a variety of flexing as well as grasping motions. It enables you to experiment with the radial wrist motion of around 120 degrees, an extensive elbow range of motions of about 300 degrees and a base rotation of around 270 degrees. It has a vertical reach of about 15-inches and a horizontal reach of about 12.6-inches. It also includes a lifting capacity of about 100 grams. Another impressive thing about this kit is that no hard task soldering is needed.
The robotic arm comprises a gripper which opens and closes. If you are looking for a kit for home-education school curriculum, this robot kit can be very supportive of the education of your kids. The robotic arm edge requires four D-size batteries to run smoothly. It is recommended for those who are ten years old and above. Some additional features include the search light design situated on the gripper and the audible safety gear indicator on all five gear boxes to avoid potential injuries or even gear breakage in the course of operation. You can use USB interface cable and software, (OWI-535USB), to incorporate programming as well as expand the skills of the robotic arm edge. This robot kit weighs 2.4 pounds and measures 6.3-inches by 15-inches by 9-inches.
3. Makeblock mBot Kit
[asa2]B00SK5RUQY[/asa2]
mBot robot kit is the best educational kit for beginners to learn about electronics, robotics, and graphical programming. It is intended for STEM education and is the all in one robotics learning solution. It offers online manuals to help you get started and two online courses. This mBot robotic kit comprises 38 assembly parts which are easy to assemble. It will take 10 minutes only for you to complete assembling. Also, includes color labeled RJ25 port(s) for convenient wiring. It uses Scratch as the programming language to help get started with ease and faster, and includes Bluetooth, and 2.4Gigahertz Versions.
The mBot robotic kit is all about fun and creativity. This robot kit comes with various uncomplicated pre-assembled alternatives such as a line-following vehicle, obstacle-avoidance car, and controlled through makeblock APP. It can be used in several games such as soccer playing, balloon bursting game, sumo and much more. This robotic kit measures 6.7-inches by 3.5-inches by 5.1-inches and weighs 3.1 pounds. The recommended age is 12 years and above.
4. Gyroscopic Robot Kits by Thames & Kosmos
[asa2]B00DZKEBNO[/asa2]
https://www.amazon.com/Thames-Kosmos-Gyrobot-Gyroscopic-Robot-Kit/dp/
If you want a robotic kit that is like various toys all in one box, this gyroscopic robotic kit is the best choice. With this kit, kids can explore the astonishing strengths of the gyroscopic robotic kit by making seven different and extraordinary models. That includes a robot which capable of balancing on two linear wheels and travel along a tightrope. The kit includes an illustrated exploration manual and full color. The manual offers upon step by step assembly instructions and helps you understand the science plus concept behind the gyroscopes.
The gyroscopic robotic kit comprises 102 building pieces, and the recommended age is eight years and above. With this robot kit, you can make several models including the gyroscopic robot, balancing personal vehicle, a gyro horizon, a gyrocompass, a tightrope walker, a balancing game, and flight simulator. It measures 13-inches by 8-inches by 2-inches and weighs 2.1 pounds. It needs three AAA batteries if you want it to run smoothly.
5. 11-in-1 Programmable Robot Kits
[asa2]B0165RZJPW[/asa2]
This robotic kit enables you to experiment with 11 different robot modes. This little guy is capable of transforming into a line-following robot, interactive game robot, edge-detection robot, rubber band gun robot, and much more. If you are a beginner and would like to learn robotics, electronics as well as Arduino programming, this robotic kit is the best choice for you.
The impressive thing about this robotic kit is that no hard task soldering is needed. This programmable robotic kit is an excellent addition to using in the home-school curriculum. The package kit comes including smart inventor board, two DC motors, two wheels, four baseboards, two horn brackets, metal frames, nut driver, screwdriver, and bolts. The recommended age for this robotic age is nine years and above. This robotic kit measures 11-inches by 8.4-inches by 2.4-inches and weighs 2.1 pounds.