[Top 5] Best School Bags For College & High School Students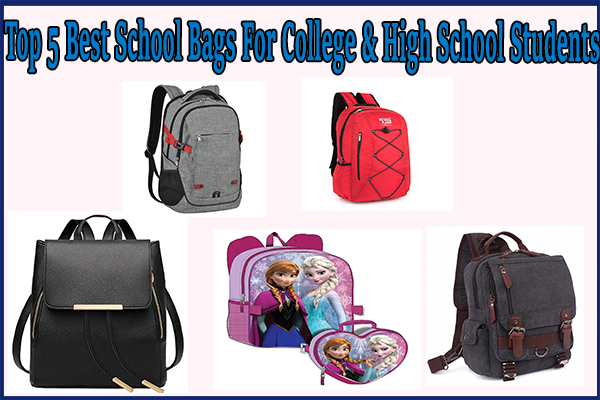 If you ask any student, a school bag is so much more than a simple bag – it's an expression of their style and personality and serves a lot more purposes than only carrying books and notebooks around.
It's clear that picking the right school bag for your child shouldn't be taken lightly – and ideally, the student should be involved in the decision as well. Today, we want to show you what you should look for in a great school bag and how to make the purchase decision as simple as possible.
Tips for Selecting the Right Bag
First of all, remember that the school bag is a reflection of a child's personality. Some might like plain, black bags that are almost entirely functional and blend into the crowd, while others will enjoy profoundly artistic or personalized school bags.
Decide which kind is best for your child, or better yet, involve him in the decision of purchasing the bag. We're looking at an investment which can easily last a few years, so carefully considering all options is a must. Not all school bags have the same size. Two things have to be carefully taken into consideration here: your child's age and stature and the things that he must carry to school and/or other activities using the school bag.
To put things into perspective, think that a preschool child makes proper use of a 14-by-10 inch school bag with a 5-inch base, which is enough to cover his necessities – a lunch box, a few books and possibly a towel or a spare T-shirt.
Of course, needs change (read: increase) with age, and a high-school student might also want to be able to carry a small laptop or tablet in the bag.
After considering the size of the bag, pay close attention to the number of pockets it comes with. You can't really throw everything in one big space and need individual pockets for keys, smartphone, pens, and documents, in addition to the place which stores books and notebooks, and maybe even a small laptop. Carefully consider how many pockets is the bare minimum for your child, and plan your purchase accordingly.
The color of the bag is the last thing on the list – but that doesn't mean it is not important. If you want easy maintenance, a dark leather bag is the easiest thing to wash and clean. On the other hand, textile surfaces painted in light colors will get dirty quite often, but offer lots of possibilities for the child to express himself artistically. At the end of the day, the color of the school bag will be the first thing people see.
Comfort and steadiness should take precedence overlook. That being said, look for school bags with double straps (which don't affect posture that much) and with lots of padding on the back, for maximum comfort. A single strap can have serious, long-term effects on posture, especially if the bag is constantly heavy.
Those are a few key points you should consider when purchasing a school bag for your child. We went on with our search and found a few affordable, sturdy and well-rounded solutions online, which Amazon.com could easily ship to your home in just a few business days.
Here are Our Top 5 Picks…
1. Mixi Laptop Bag Shoulder Bag School Backpack Travel Business Outdoor Daypack
[asa2]B01LND5R3W[/asa2]
This is a perfect example of a stylish and excellent all-around bag, which can be used for school as well as for other activities. The interior is very well divided and designed and can fit a few books and notebooks together with a small laptop or tablet and other small accessories.
The design is also very stylish and comes in a variety of colors such as gray, blue or black, but the bag should mostly be picked for its functionality and comfort. The back is full of padding, as well as the two straps. The total capacity of the bag is around 35 liters, which also works for a small weekend getaway, along with going to school and/or college.
2. Disney Frozen Girl's Backpack with Detachable Lunchbox Set (Exclusive Design)
[asa2]B011LUW3PC[/asa2]
This is an excellent example of a character-based school bag that is also comfortable and useful. Lots of children want themed school bags, with characters from their favorite cartoons or TV Shows (the example is from Frozen – obviously.) While there surely are lots of options for a cartoon-themed school bag, we picked one with lots of padding for comfort and a vast interior, which also features a lunch box for your young child.
3. Coofit Black Leather Backpack for Girls Schoolbag Mini Casual Daypack
[asa2]B01EKSDO4Q[/asa2]
We've mentioned black leather school bags a lot, and this is one of the most affordable options out there. It certainly isn't as comfortable or as spacious as other options, but it will certainly catch lots of eyes. It's more stylish than anything but also big enough to fit all your daily essentials. The soft leather and classic texture will also last a lifetime.
4. SOMISS 25L Water Resistant Lightweight Packable Foldable Daypack Camping Backpack
[asa2]B01M63J688[/asa2]
This Somiss bag is another great example of a multi-purpose backpack. It's also water resistant and extremely durable, as well as comfortable (well padded) and very spacious. The bag can also easily be turned into a carry-on, but really shines as a backpack which can be used for school, as well as other activities. It comes in a wide variety of colors and is a great deal – especially for rainy days.
5. Kenox Sling Backpack Single Strap School Travel Sports Shoulder Bag
[asa2]B00UXBFW6S[/asa2]
We did say that we don't favor single-strap school bags, but we wanted to give you an example of a good one if you are a big fan of this style. This Kenox bag is incredibly stylish and has one of the most comfortable single straps we've seen, which won't strongly affect your posture.
It can easily fit books and notebooks as well as other daily essentials, and is ideal for students as well as young businessmen. The bag also features many pockets which can be used to better organize your items, as well as a side pocket which is easily accessible for your smartphone.