10 Harem Anime Like Kiss x Sis – Top Recommendations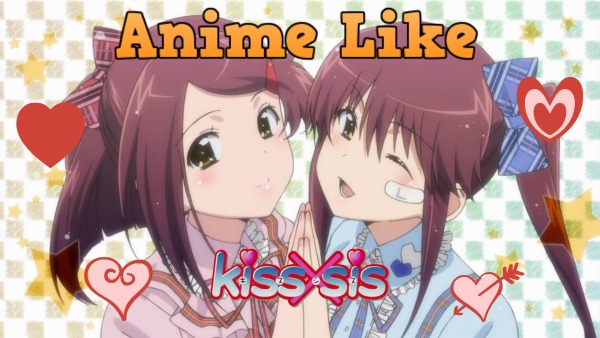 Source
Here is my list of favorite picks of anime that are like Kiss x Sis. All of the following animes have harem, ecchi and some romance involved. Keep in mind that the list is in no particular order. Pictures are courtesy of Wikipedia and summaries are from ANN.
Haruka Kasugano and his twin sister Sora have lost both their parents in an accident, and with them all their support. They decide to move out of the city to the rural town where they once spent summers with their late grandfather. At first everything seems familiar and peaceful, but changes come as Haruka starts to remember things from his youth.
B Gata H Kei revolves around lascivious 15-year-old high school student Yamada, who makes it a goal to have sexual relations with 100 different guys. However, her insecurities as a virgin herself lead her to reject every guy who attempts to make a move on her. To overcome this mental barrier, she searches for a "cherry boy", an inexperienced guy who will be her first. At the bookstore, she falls on her rather plain classmate Takashi Kosuda, and makes him the target of her seductions, without realizing that she might actually develop true feelings of love for him. [Source Wikipedia]
Kanokon's story revolves around Kouta Oyamada, a young first-year high school student who moves from the country to the city and thus transfers to Kunpo High School. On his first day at his new school, a beautiful second-year female student named Chizuru Minamoto asks him to meet her alone in the music room. When he arrives, she reveals that she is in fact a fox deity and from that day on the two hang out together. Nozomu is a first-year female student at Kouta's school, she is in fact a wolf deity and in love with Kouta, and a rival of Chizuru for Kouta's affections.
Minato Sahashi is extremely intelligent, yet due to his inability to cope under pressure has failed the college entrance exam twice. As a result he has been branded an idiot and loser by many. One day after talking to his yet again disappointed mother he comes into contact with a girl named Musubi who was under attack.
The girl runs but takes him with her and soon finds that Minato, while unknown to him, is an Ashikabi, one of the mysterious set of masters that have the genetic trait that can become partners with some of the 108 cute girls, buxom women, and bishōnen called "Sekirei". The reason for the partnership allows the Sekirei to use all their power to win in the competition held by the mysterious MBI corporation.
Tomoki Sakurai often encounters a strange girl in his dreams asking for his help, but he can't remember her face when he wakes up. When an Unidentified Mysterious Animal (U.M.A.) falls out of the sky, his life of pacifism suddenly becomes complicated. The animal turns out to be an angel, Ikaros.
Note* – Plenty of comedy and ecchi for fan service.