22 Good Movies Like American Pie [Must Watch!]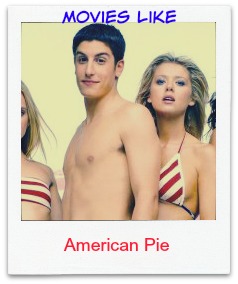 American Pie is probably one of the most popular movies of all time for teenagers. Here is a list of movies similar to American Pie. Check it out! Pictures are brought to you courtesy of Wikipedia.
Josh (Breckin Meyer) videotapes his affair with another girl and accidentally mails it to his girlfriend. Discovering the mistake, he tows two of his college buddies — and one not-so-eager kid who happens to own the car — on a raucous 1,800-mile road trip from Ithaca, N.Y., to Austin, Texas, to save his lifelong romance.
Ted's (Ben Stiller) dream prom date with Mary (Cameron Diaz) never happens due to an embarrassing injury at her home. Years later, Ted hires Pat Healy (Matt Dillon) to track down Mary so he can reconnect with her. Pat lies to Ted about Mary and he finds out everything he can about her to trick her into dating him. Ted travels to meet Mary and has to weave through the web of lies that Pat and Mary's friend Tucker (Lee Evans) have woven to try and win her over.
Defying the very notion of good taste, Scary Movie out-parodies the pop culture parodies with a no-holds barred assault on the most popular images and talked-about moments from recent films, television and commercials. The film boldly fires barbs at the classic scenes from "Scream," "The Sixth Sense," "The Matrix," "I Know What You Did Last Summer" and "The Blair Witch Project," then goes on to mock a whole myriad of teen movie clichés, no matter the genre.
Thomas (Thomas Mann), Costa (Oliver Cooper) and JB (Jonathan Daniel Brown) are three anonymous high-school seniors who are determined to finally make their mark. But how to make themselves unforgettable in theannals of high-school history? With an epic party, of course! The idea is innocent enough, but nothing could prepare the three friends for this shindig. As word of the soiree's awesomeness spreads, dreams are ruined, records are blemished, and legends are born.
Last night, two party-hearty Dudes had an unbelievably sweet time. Too bad, they can't remember a thing, including where they parked their car. So, the Dudes embark on a mission: retrace their steps to find out what they did last night hoping it will lead them to the missing car. Little do the Dudes know, they're in for the ride of their lives.
After a brutal breakup at a high-school graduation party, lovelorn Ohio teen Scott Thomas (Scott Mechlowicz) goes on a quest across Europe to find his sexy German pen pal, Mieke (Jessica Boehrs). Joining him are his brainless buddy (Jacob Pitts) and a pair of twins (Travis Wester, Michelle Trachtenberg) they meet up with in Paris. Scott's quest does not turn out to be easy, however, and the backpackers become embroiled in many farcical situations as they hop from country to country.
Kat Stratford (Julia Stiles) is beautiful, smart and quite abrasive to most of her fellow teens, meaning that she doesn't attract many boys. Unfortunately for her younger sister, Bianca (Larisa Oleynik), house rules say that she can't date until Kat has a boyfriend, so strings are pulled to set the dour damsel up for a romance. Soon Kat crosses paths with handsome new arrival Patrick Verona (Heath Ledger). Will Kat let her guard down enough to fall for the effortlessly charming Patrick?
Andy Stitzer (Steve Carell) is an amiable single guy who works at a big-box store. Living alone, 40-year-old Andy spends his free time playing video games and curating his action-figure collection. Despite his age, Andy has never had sex, so his friends, including the laid-back David (Paul Rudd), push Andy towards losing his virginity. While attempting to get over his awkwardness around female customers, Andy meets local shop owner Trish (Catherine Keener), and they begin a tentative romance.
High-school seniors Seth (Jonah Hill) and Evan (Michael Cera) have high hopes for a graduation party: The co-dependent teens plan to score booze and babes so they can become part of the in-crowd, but separation anxiety and two bored police officers (Bill Hader, Seth Rogen) complicate the pair's self-proclaimed mission.
Eighteen-year-old Matthew Kidman (Emile Hirsch) is a straight-arrow overachiever who has never really lived life… until he falls for his new neighbor, the beautiful and seemingly innocent Danielle (Elisha Cuthbert). When Matthew discovers this perfect girl next door is a one-time porn star, his sheltered existence begins to spin out of control. Ultimately, Danielle helps Matthew emerge from his shell and discover that sometimes you have to risk everything for the person you love.
It's the summer of 1987, and recent college grad James Brennan (Jesse Eisenberg) can't wait to begin his long-anticipated dream trip to Europe. Unfortunately, James' plans come to a screeching halt when his parents announce that they are unable to subsidize his trip. Forced to take a job at the local amusement park, James prepares for the worst summer ever, until he finds love with a captivating co-worker named Em (Kristen Stewart).