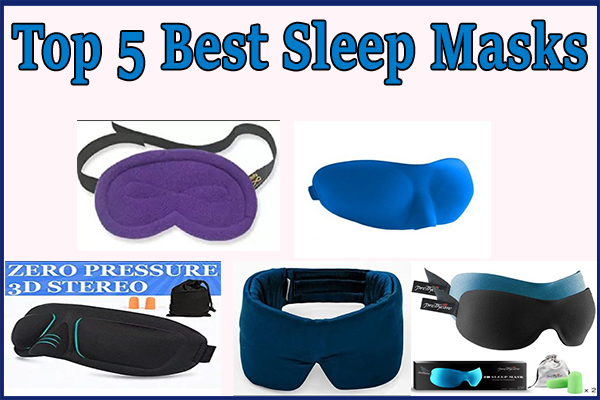 Ever found yourself just tired, and for some reason, you cannot sleep? Or better yet, you just want to close our eyes and doze off? Well, there are a few ways you can do that with ease, and one of them is by the use of a sleeping mask. Sleep masks will help you in more ways than you might think. Here are some of the uses of a sleeping mask.
Diminish Swelling
The Columbia University, reports that you can alleviate swelling around and underneath the eyes by applying using a sleep mask. Store gel-filled mask intended for this reason, in the cooler. This will mostly help to reduce any swelling that might be around the eyes.
Block Light
Even though you might not know this, light can cause lack of sleep to some people. Research has shown that using a sleeping mask to block light that might in some way interfere with your sleep is recommended. Naturally light signals your body to wake up, on the other hand, darkness will do the exact opposite. By using a sleep mask you are sure to enjoy a good night's sleep or a good sleep if at all it's during the day.
On the same issue, if you happen to be traveling a sleep mask will come in handy for you, by reducing the light in the vehicle, are surely going to fall asleep sooner than you think. It has been noted that people who use sleep masks while traveling fall asleep faster, thus having a more comfortable journey than the rest.
Meditation
If you really want some alone time to think, a sleep mask might just help you. When meditating, you might find yourself drifting off instead of concentrating. This might happen due to the light that is getting to your eyes, the light will make you lose most of your concentration. To avoid this, using a sleep mask might just help since the darkness from the mask will ultimately boost our concentration and lone time.
How to Choose the Best Sleep Mask for Yourself
Choosing a sleep mask can be a little trickier than you might think. Some people will just go to a store and order a sleep mask without even considering the purpose or the material. This should be among the first things you should think of before you can purchase that sleep mask you have always wanted. Keep in mind that the material, shape and the density play a big role when it comes to sleep masks.
If you are looking to block some light that seeps through the curtain at night, you will need a sleep mask that blocks 98% of the light. This is most suitable in a fairly dark room. On the other hand, if you want to sleep during the day, one that blocks 99%-100% will just do the trick. Just make sure to get one that fits your face perfectly.
Sleep masks made of cotton are just the best for traveling, they are easy to handle and carry. If you are looking to travel lightly, these will be enough for you since they are not heavy in any way nor bulky in size. On the other hand, comfort is everything. Some people do not like the feel of fabric on their eyes, thus they choose sleep masks with a cavity. This means that you can comfortably open your eyes and stare into darkness without your eyelashes touching the sleep mask. You only have to know what suits you best.
Dream Essentials Infinity Sleep Mask
[asa2 align="center"]B000K6LRAQ[/asa2]
This sleep mask offers 100% of light and is made from soft silky double-velour fleece for the best comfort, It applies no pressure to the eyes thus you will get uninterrupted sleep through the night. The mask has a nice and soft feeling to your face. On top of this, each mask comes with a pair of foam earplugs. The sleep mask is best suited for meditation and sleep during the day.
AMAZKER 3D Sleep Mask and Ear Plugs with Large Eye Cavities
[asa2 align="center"]B01LY0PE8N[/asa2]
If you are the kind of person who gets irritated by the feeling of fabric on your eyes from normal sleep masks, this is the perfect match for you. This sleep mask has large eye cavities and a raised nose bridge that ensures perfect comfort. The mask also promises to never smudge your makeup. It is made up of a high-density memory foam that is completely opaque, in addition to this, it has an adjustable band.
Sleep Master Sleep Mask
[asa2]B0015NZ6FK[/asa2]
This is one of the sleep masks that comes fully adjustable, it surrounds your head perfectly and very much comfortable and warm. It is made of cotton, meaning it is light and very soft. The mask is completely opaque and highly recommended for traveling in a plane or on long journeys.
Dream Essentials Sweet Dreams Contoured Sleep Mask
[asa2]B005BD7AHC[/asa2]
If you want to sleep comfortably and still look good, this is your style of sleep mask. The mask is both stylish and does its job very well. It has an elastic strap that has a quick-release closure. With every mask comes a pair of foam ear plugs and a carry pouch. This mask is ideal for traveling, on top of this, it is made of cell foam and nylon which are essential for hand washing and quick drying.
3D Sleep Mask By Pretty Care Sleeping
[asa2]B019JY9BO8[/asa2]
Super slim, pretty looking, super soft, and a super experience. This is like an all in one sleep mask. It is very light which makes it ideal for travel, block 100% of the light, have a deep eye cavity in which they ensure that your eyes aren't in any way irritated. They fit on the face perfectly and are recommended for both kids and adults. The 3D Sleep Mask also has a raised nose bridge which will ensure better movement at night. In addition to all this, for every mask you buy, there is a pair of ear plugs and a pouch I which you will carry the sleep mask in.