Top 5 Best Sports Mouth Guards [For Sports Athletes]
Mouth guards are made of different materials and they come in many styles and colors. However, they all have the same purpose; to protect the teeth and mouth of the user. Materials used to make these items have shock-absorbing properties, and this allows them to protect the teeth, mouth, and even cheeks from impact.
Sports That Need Mouth Guards
Mouth guards are effective for numerous sporting activities such as ice hockey and boxing. Athletes who play ice hockey can collide during play; hence, a mouth guard is highly important. Boxing also needs these products given the impact of blows that might reach boxers' mouths or teeth. Moreover, such contact sports as soccer, basketball, wrestling, and skate boarding all need mouth guards. Athletes who participate in these sports may experience collisions, which may be fatal; hence, to avoid the profound effects of these collisions, they need this equipment.
Many mouth guards are made from safe materials to make sure they don't cause allergic reactions. But the biggest concern is how well they protect the wearer's teeth and how well they are made. Different mouth guards have different textures and varied performance. And since getting a top class one may be an arduous task, we bring you the following top 5 best sports mouthguards on Amazon, to make you work easier.
Top 5 Best Sports Mouth Guards Reviews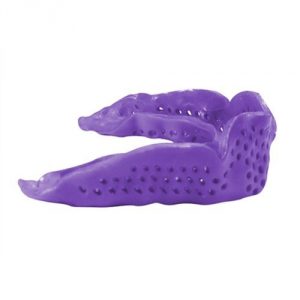 Slim and versatile, this mouth-guard is perfect for determined athletes who want nothing but the best mouth guard that can help them upgrade their performance. It's ideal for contact sports like soccer, basketball, lacrosse, and hockey. It's also perfect for roller derby skaters given its design and functionality. The fact that it is manufactured by SISU means it is FDA approved and free of phthalate, BPA, PVC, and latex, which is known to cause a lot of allergic reactions. The SISU Mouth-guard offers unmatched comfort for great wearing experience.
It's made of a premium quality thermoplastic material, which is 30-percent stronger and has 8 times greater tensile strength compared to conventional mouthguard materials. Its design is super-slim and so light that you'll forget you have something perfect that protects your mouth and teeth. Ideally, it is very easy to wear, with many users claiming that they needed only 2 minutes to fit it in their mouths. The SISU Mouth-Guard 1.6 comes in many different colors so you can get one that best suits your needs.
2. Venum Mouthguard (Challenger)
Are you looking for a mouthguard that will help you prevent or reduce injuries to your gums, teeth, jaw, lips, arches, and joint? Look no further than the Venum Mouthguard (Challenger). Its upgraded layout takes a custom fit of your teeth to maximize your protection and security. Venum uses an advanced gel frame to enhance the guard's comfort and adds an exclusive breathing channel to increase its performance, especially when you are in action.
The mouthguard features a lower rubber frame that not only breaks the shock wave but also disperses it in the direction of the user's strongest teeth for optimum protection. Given that this equipment is mostly used in boxing, kickboxing, and wrestling, the manufacturer collaborated with the best UFC fighters like Lyoto Machida, Carlos Condit, and Wanderlei Silva. The Venum Mouthguard (Challenger) comes with a protective case to promote hygiene. And it's available in many different colors to make sure there is something for everyone.
3. Teeth Armor Sports Mouth-Guard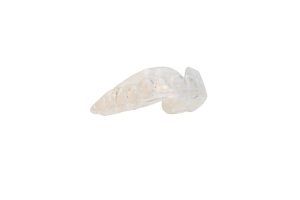 The Teeth Armor Sports Mouth-Guard is made for all athletes who participate in both contact and non-contact sports. It has New Teeth Armor Technology that offers perfect resistance to chewing and a dentist-like fit. The innovative technology also allows the user to breathe and talk effortlessly for enhanced athletic performance. The material used to make this mouth-guard is both BPA free and latex free, meaning the guard is safe for almost everyone.
Ideally, the mouth guard has no color additives; it is clear for optimum safety. Its thick cushioning base absorbs shock during athletic play to make sure you get maximum teeth and jaw protection. The precision fitting material ensures custom fit to any mouth. Wearing the mouth-guard is effortless given that it molds easily to perfectly fit any shape of teeth and size of mouth. The Teeth Armor Sports Mouth-Guard comes with a free vented carrying case for enhanced hygiene.
4. Under Armour Strapless Mouthguard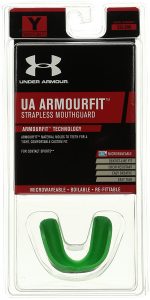 https://www.amazon.com/Under-Armour-Mouthwear-ArmourFit-Mouthguard/dp/B00S8719FM/
Finally, your search for a premium quality mouthguard ends here! This strapless mouth guard from Under Armour is strong and will serve you for years to come. It is uniquely designed in that it fits close to the skin to ensure a streamlined fit without necessarily squeezing your jaws and lips for an excellent fit. Like other top quality mouth guards, the UnderArmour Strapless Mouth Guard is designed for all contact sports.
It features an innovative new ArmourFit technology that provides chew-resistance, a dentist-like fit, and lets you breathe as well as talk effortlessly. The fact that it's manufactured by Under Armour means it is latex free and safe for nearly everyone. It also meets NFHS rules and comes with $32,000 dental warranty to allow you buy with confidence knowing that there is a warranty. Like most versatile mouth guards, the Under Armour Strapless Mouthguard comes in a wide range of colors including black, grey, hi-viz yellow, royal, hyper green, and more.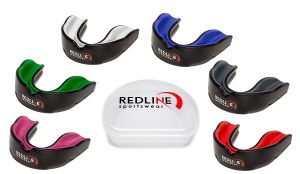 Tired of poor quality mouth guards that don't fit perfectly in your mouth and are uncomfortable to wear? Well, get tired no more because this mouth-guard from Redline is within reach. It is perfectly designed, so it can fit perfectly in any adult's mouth. It can also be used to protect a child's teeth and mouth, only that you'll need to trim it along the back for a perfect fit. This mouth-guard is perfect for all contact sports including MMA, Muay Thai, Football, Jiu Jitsu, Basketball, Karate, Baseball, Ice Hockey, Softball, Kickboxing, Boxing, Wrestling, and more.
It has a unique but excellent design that allows you to breathe easily during action. It also has a boil & bite technology for a comfortable fit. The safe and easy to use POE material is free of BPA and latex. This mouth-guard is essential to athletes who participate in contact sports since it's designed to protect the gums, teeth, and lips. It comes with a vented case that helps keep it clean and free of bacteria.