Case Study: Making Money with Amazon Kindle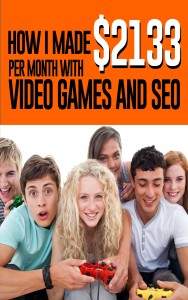 Hey guys, while I am building my video game sites, I figured I could also branch off and look for another source of income during my spare time. I have decided to go with Amazon Kindle. I am fairly new to this, so I will just give you a brief outline of what I will be doing. If you click on the picture above, you will be taken to my kindle book Amazon page.
1) Research a Market
Look for a pain and find a solution for it. The niche also has to be quite popular. Look at what others in the niche are doing and follow the trend.
2) Outline Your Ideas
Start putting the  table of content together.
3) Write or Outsource the Book
I will spend some time one 1 book(roughly 7 hours) and outsource 2 other books to iWriter.
4) Format it for Kindle, create a Cover and add a Good Title
Cover creation will be outsourced on Fiverr. Title will require some brainstorming.
5) Publish and Promote
I will be promoting the book on several Facebook pages and also on some of my sites.
6) Get Reviews
This will probably be the hardest part. However, if the book is good, it should have no problems getting a couple to kick start the book sales.
Just Started!
I have actually published my e-book on there. For those that subscribed, you already have access to a free copy. So far, I have offered the book for free on Kindle for 3 days so I can get some initial reviews going. I am not really expecting too much out of it though.
My Goal for this Case Study
A) Publish 3 kindle books by July 20th
B) 1 written by me and 2 outsourced
C)  Total Budget for 2 Books = $200
So far, with "How I Made $2133 per Month with Video Games and SEO", I have generated some interest, which is good. I will be keeping you guys updated on this venture and whether it is worth going after. I think it is very viable after reading this post and also this.