Top 8 Best Budget Laptops/Chromebooks under $250 [Recommendations]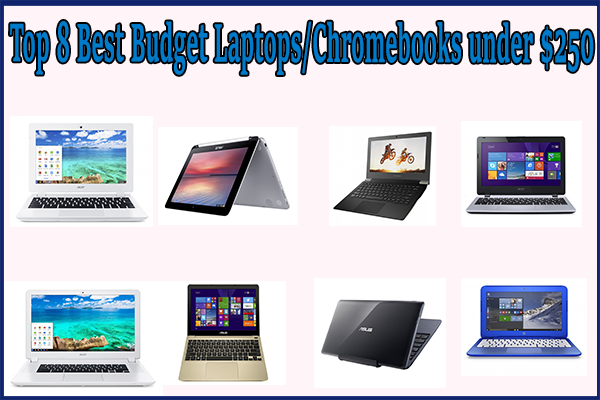 Having used my fair share of budget laptops and higher end ones, I have compiled a list of laptops that are around $250 that have good functionality and great for performing standard tasks. Most of these are not suitable for gaming and should not be considered if that is what you want.
1. 
Acer Chromebook 15 CB5-571-C09S
[asa2]B00T03KQ34[/asa2]
Price: $249
Among the Top 8 Laptops Under $250 ranks the Acer Chromebook 15 as the greatest value. It stands out with the 4GB of RAM and Dual Core 1.5GHz processor built within it which outperforms most other models. It's quite impressive in a way that you can multitask and open a number of browser tabs simultaneously.
The QuickOffice editor and Google docs are already embedded for free, and you can utilize the online version of Microsoft Office in your modern Chrome OS. Moreover, the 802.11 AC Wi-Fi features MIMO technology with dual-band 2.4GHz and 5GHz for seamless connectivity. The screen is at an ideal size of 15.6 inches in full HD that allows for a clear view that's easy on the eyes, while the body comes in elegant white. The Chromebook 15 will surely serve your needs with the comfort of a properly spaced keyboard, highly responsive touchpad, and long-lasting battery life up to a very satisfying and convenient 9 hours.
2. Lenovo S21e 11.6 Inch Laptop
[asa2]B00WR2888U[/asa2]
Price: $169.99
What would you typically expect from a laptop? The Lenovo S21e goes beyond with its reliable performance, beautiful design, optimized audio, excellent quality and battery life packed together in a reasonably priced computer. It's not just small, but really small, compact, and lightweight at just 2.5 pounds which creates the perfect travel companion for people on-the-go.
Simply flip it open and you'll be up and about doing what you need to do. Wi-Fi and Bluetooth connectivity work smoothly and you can easily plug in a mouse if you require, a flash drive, or any other external device. You can even connect to a larger monitor, your TV, or projector with the HDMI output.
3. HP Stream 11.6-Inch Laptop
(Intel Celeron, 2 GB RAM, 32 GB SSD, Cobalt Blue)
[asa2]B015CQ8SGE[/asa2]
Price: $199.99
A surprisingly awesome laptop with everything delightful in its features and overall build. It has an amply sized screen, a weight of only 4.1 pounds, a solid keyboard, a touchpad that responds to your every whim, with bright and fun colors to choose from! The 32GB Solid-State Drive is already generous in itself, but if you have tons to save, it won't be any problem since you can store files and stream through the innovative cloud.
The OS would be easy to navigate as it features the Windows 10 system. You can also opt for the enhanced Windows 8.1 OS if your desire. This is one hard-working and amazingly smart notebook that can keep up with the busy, fast paced lifestyle and make life easier for you. The best part is, the price is right which makes it the right choice for many people. Feel free to find out more info here.
4. ASUS T-100 10-Inch Laptop
[asa2]B00FFJ0HUE[/asa2]
Price: $243.99
Those who find the 11 inch sized models a bit big for their hands or bags, the ASUS T-100 10-Inch Laptop proves to be the best one to get. You get both a tablet with the detachable screen and a good-looking laptop in one device. It has a Windows 8.1 with a good 64GB storage in tablet or you can opt to get the 500GB Dock which comes at an added cost, but you can simply make use of the 1TB Cloud storage that it arrives with. The lightning fast Quad-Core processor OS allows for browsing, sharing files, working on documents, playing games, and doing whatever you want! The battery life is highly convenient with 11 long hours of use.
5. ASUS Chromebook Flip 10.1-Inch
[asa2]B00YY3X678[/asa2]
Price: $239
The ASUS Chromebook Flip 10.1-inch laptop looks beautifully sleek and contemporary, with a sophisticated silver-colored body and weighs only 2 pounds. Despite all the thin appearances are thick features you will find handy, especially the touch screen capability which you are probably used to with your smartphone and almost all other gadgets.
ASUS boasts of a single device with 4 different ways to use! It can be your notebook, tablet, or turn it into a tent or stand. You'll be delighted with accuracy and responsiveness of its touch sensors and fits the student, the businessman, homemaker, and all sorts of people as a great tool for fulfilling tasks and staying connected.
6. Acer Chromebook 11.6-Inch(
CB3-111-C670)
[asa2]B00MMLV7VQ[/asa2]
Price: $149 (#1 Best Seller)
One of the most sought after laptops by many people for giving them great value for their money. The Acer Chromebook 11.6-Inch holds similar features to the Chromebook 15, but is a lot less expensive. It's ideal for those who exhibit lighter use and can do with a smaller screen, a 2GB RAM, and not really discerning of HD quality. It can perform the same functionalities such as the QuickOffice Editor, Google Docs, Microsoft Office Online, and run a couple of windows and pages with Flash games, streaming, and other web tasks running in the background without causing trouble.
You can rest assured everything you have stored in the 16GB SSD is safe with the multiple layers of security and also performs automatic upgrades for your utmost protection. It arrives with an 11.6″ LED-lit screen that paves the way for crisp images in an attractive moonstone white color which you can stylishly carry around given its incredibly lightweight characteristic.
7. Acer Aspire E 11 
11.6-Inch Laptop 
2GB 320GB With HDMI Bluetooth Webcam / E3-111-C0WA
[asa2]B00MLKEK2G[/asa2]
Price: $234
Getting the best value for your money means you have to settle with the black color, which many actually prefer, such as the Acer Aspire E11 built with a plastic body that is far from looking cheap. It's a long-lasting small laptop that supposedly runs for 5 hours but can actually reach up to 7.5 hours while you remain comfortable using the keyboard and touchpad. The 11.6-Inch screen is vividly colored and lets you easily navigate the Windows 8.1 system. Enjoy using the Acer Crystal Eye HD webcam as connectivity is ensured without being sluggish, and do your daily tasks and activities quietly with the fanless design that impressively stays cool during use.
8. ASUS X205TA 11.6 inch Laptop
(Intel Atom, 2 GB, 32GB SSD, Gold)
[asa2]B00SGS7ZII[/asa2]
Price: $240.49
A budget laptop that eliminates the frustration of a laptop dying out during use or having to charge too soon. ASUS denotes that it lasts for 8 hours, but leveraging the brightness a bit can give you a pleasurable 12 hours uninterrupted worktime or entertainment. It's slim, extremely lightweight, runs great with superior smooth performance, and allows for hefty multitasking to help you accomplish your goals.
It comes with a Microsoft Office 365 Personal Subscription good for a whole year and you can avail of the free Windows 10 upgrade. You can get this in two striking colors, the deep dark blue that's cool and almost refreshing, and the exquisite gold that gives off a polished and brilliant look.