Crushing It With Amazon Review – Yay or Nay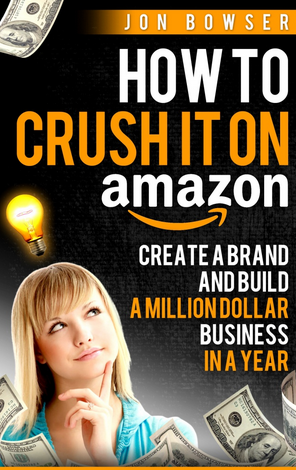 Hello online fanatics! Today I am reviewing a product called Crushing It With Amazon by Jon Bowser.
Price: $10
Crushing It With Amazon is a very in depth eBook on how to start a lucrative business with Private Label Rights(PLR) Amazon FBA and earning 6 figures with it within a year. Jon Bowser explains why creating a brand and selling your products on Amazon is the way to go and how it beats out the other methods such as retail arbitrage and wholesale drop shipping.
What You Will Get
Over 200 pages of nitty gritty details that includes:
A look at Amazon and the mindset needed to make this work
The basic steps and how to create the winning strategy
Services and tools needed for this business.
Tax information and things you need to know
Keep in Simple Stupid(K.I.S.S)
Researching and finding the best products to sell and brand
Sourcing for Products
Getting Amazon barcodes
Packaging, shipping and labeling
The Amazon sales page
The 3 phases of selling success on Amazon
Promotion strategies that he uses
"Key" to crushing it on Amazon
Using ads to get more sales
Selling your business
Useful resources
As you can already see, he covers all the important aspects regarding running this business model. For $10 and the information he gives really is a steal.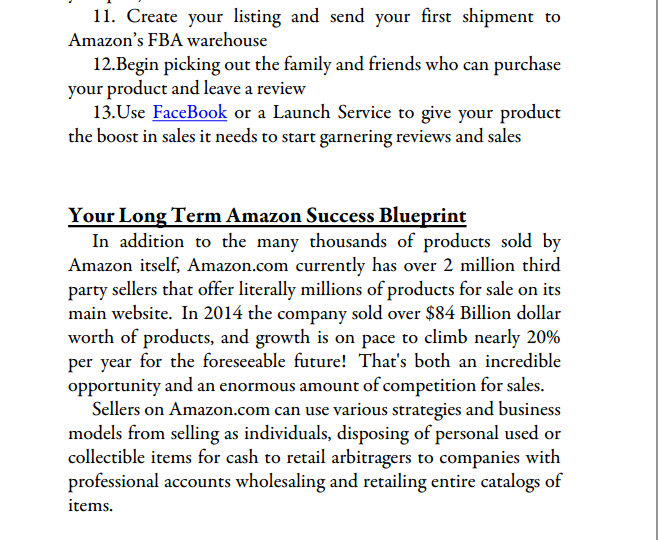 The Sneak Peek
Things I Liked – The Pros
He is a member of the Amazon Selling Machine and that course is $3497 and he compiles what he learns from it and shares his success story for $10. This is intended to help beginners that want to get into this business but don't want to pay a bomb to see if it is a business that is suited for them.
He also recommends you a rough estimate of the costs to get started, which is around $1500. He has seen people start with less and have success but $1500 is the minimum.
He also touches on tax information, which is often neglected by many PLR gurus.
He also touches on the most common questions that business owners ask:
What percentage will Amazon take per sale?
What if I can't make it to the number #1 position on Amazon's Sales Chart?
Will I be liable legally if someone sues?
Can my supplier send my inventory straight to Amazon's FBA warehouses?
Can I compete against established brands?
Will usual Internet marketing strategies like Google Adwords and SEO help sell my product?
Another important aspect that he covers is the expenses of the business. Here are some of the expenses:
1800 Accounting($40/month)
Tax Jar($9/month)
Legal Shield($26)
Small Biz Account($14)
He also gives you who you should contact in regards to dealing with taxes for Amazon FBA.
As for suppliers to use, he offers a few more unique ones aside from Alibaba and Aliexpress. He also gives you a few suppliers to stay away from, which is a good thing to know.
Looking for suppliers is probably the hardest part for most aside from product research. Jon offered a list of 10 questions to ask suppliers to qualify them as people you would like to do business with.
As for promotion, Jon suggests using Amazon Ads as a good place to start. He gives a few tips on that.
Things I Didn't Like – The Cons
In all honesty, for $10, this is quite a steal. The only thing I would say wasn't well covered would be the lack of pictures for the Packaging section. Given that some steps do require pictures for better understanding, but if you read it over a few times, you will get it.
Conclusion
$10 to find out if you would like to try out this business model is a great deal in my eyes. You don't want to spend $3497 only to find out this is not what you want to do right? Jon Bowser totally will save you thousands of dollars.
If you feel that you are interested in this, you can head over to his website to check it out.