Digimon Links [Summon Rates]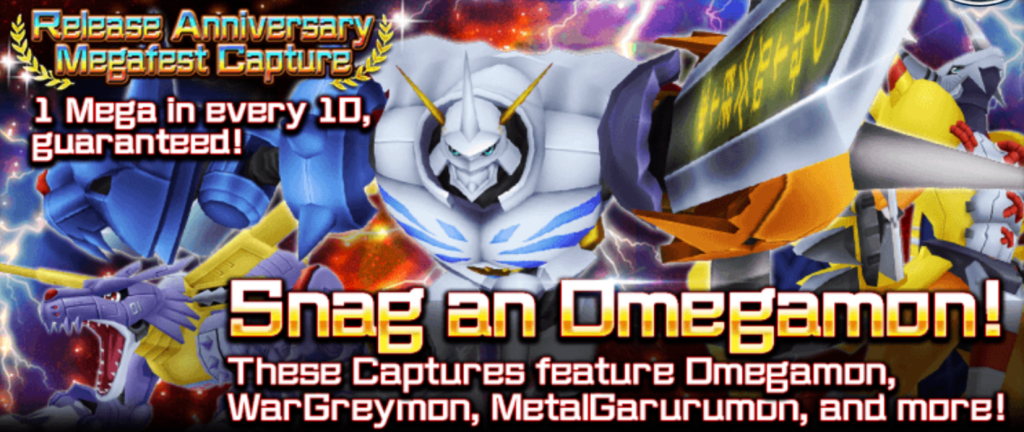 Overviews
In the tables below are the summon rates of each Capture in Digimon Links. They show the chances you have of getting what Digimon when you do a Link Capture, Rare Capture, Mega Anniversary Capture, or Leader Skill Capture.
The tables line up showing Digimon stage first from In-training up to Mega. The numbers below the stages are the percentage rates of your chances to get the Digimon in that column. And below are all the Digimon available in that stage class.
Thanks to the Digimon Link Community, we have the data. You can check it out here.
Link Capture
| In-Training | In-Training II |
| --- | --- |
| 83% | 17% |
| Kuramon | Koromon |
| Pabumon | Tanemon |
| Punimon | Tsunomon |
| Botamon | Tsumemon |
| Poyomon | Tokomon |
| | Nyaromon |
| | Pagumon |
| | Yokomon |
| | Bukamon |
| | Motimon |
| | Wanyamon |
Rare Capture
| Rookie | Champion | Ultimate |
| --- | --- | --- |
| 88% | 10.5% | 1.5% |
| Agumon | Clockmon | Taomon |
| Agumon (Black) | Kuwagamon | Chirinmon |
| Armadillomon | Gekomon | Digitamamon |
| Impmon | Geremon | SkullMeramon |
| Elecmon | GoldNumemon | ShogunGekomon |
| Otamamon | Cyclonemon | DoruGreymon |
| Gaomon | Sunflowmon | Knightmon |
| Gazimon | Seadramon | Datamon |
| Gabumon | GeoGreymon | Paildramon |
| Gabumon (Black) | Sukamon | IceLeomon |
| Guilmon | Starmon | Pumpkinmon |
| Kudamon | Stingmon | Piximon |
| Keramon | Sorcermon | BlackKingNumemon |
| Gotsumon | Tankmon | BlueMeramon |
| Goblimon | Tyrannomon | Vademon |
| Gomamon | Gatomon | Whamon |
| Syakomon | Devimon | MagnaAngemon |
| Solarmon | Togemon | MachGaogamon |
| Terriermon | Dorugamon | Mamemon |
| Tentomon | Nanimon | MegaSeadramon |
| ToyAgumon | Numemon | Megadramon |
| Dorumon | Birdramon | WarGrowlmon |
| Hagurumon | Bakemon | MetalGreymon |
| Patamon | Veedramon | MetalGreymon (Blue) |
| Hackmon | PlatinumSukamon | MetalTyrannomon |
| Palmon | BlackGatomon | MetalMamemon |
| DemiDevimon | Vegiemon | Monzaemon |
| Biyomon | Peckmon | Crowmon |
| Falcomon | Meramon | RizeGreymon |
| Veemon | Frigimon | Lilamon |
| Salamon | Leomon | Rapidmon |
| Betamon | Reppamon | Lillymon |
| Hawkmon | Waspmon | LadyDevimon |
| Lalamon | IceDevimon | WereGarurumon |
| Renamon | Aquilamon | WereGarurumon (Black) |
| Lopmon | Ankylomon | Wisemon |
| Wormmon | Ikkakumon | MegaKabuterimon |
| | Wizardmon | Antylamon |
| | Woodmon | Andromon |
| | ExVeemon | Meteormon |
| | Angemon | Infermon |
| | Ogremon | Myotismon |
| | Guardromon | AeroVeedramon |
| | GaoGamon | Etemon |
| | Kabuterimon | Angewomon |
| | ShellNumemon | Okuwamon |
| | Gargomon | Garudamon |
| | Garurumon | Gigadramon |
| | Garurumon (Black) | CannonBeemon |
| | Kyubimon | GrapLeomon |
| | Growlmon | Cyberdramon |
| | Chrysalimon | Shakkoumon |
| | Greymon | Cherrymon |
| | Greymon (Blue) | Silphymon |
| | | SuperStarmon |
| | | SkullGreymon |
| | | Zudomon |
Mega Anniversary Capture
| Rookie | Champion | Ultimate | Meg |
| --- | --- | --- | --- |
| 50% | 37% | 12% | 1% |
| Agumon | IceDevimon | MegaKabuterimon | PlatinumNumemon |
| Agumon (Black) | Aquilamon | Antylamon | WarGreymon |
| Armadillomon | Ankylomon | Andromon | MetalEtemon |
| Impmon | Ikkakumon | Meteormon | MetalGarurumon |
| Elecmon | Wizardmon | Infermon | Omegamon |
| Otamamon | Woodmon | Myotismon | |
| Gaomon | ExVeemon | AeroVeedramon | |
| Gazimon | Angemon | Etemon | |
| Gabumon | Ogremon | Angewomon | |
| Gabumon (Black) | Guardromon | Okuwamon | |
| Guilmon | GaoGamon | Garudamon | |
| Kudamon | Kabuterimon | Gigadramon | |
| Keramon | ShellNumemon | CannonBeemon | |
| Gotsumon | Gargomon | GrapLeomon | |
| Goblimon | Garurumon | Cyberdramon | |
| Gomamon | Garurumon (Black) | Shakkoumon | |
| Syakomon | Kyubimon | Cherrymon | |
| Solarmon | Growlmon | Silphymon | |
| Terriermon | Chrysalimon | SuperStarmon | |
| Tentomon | Greymon | SkullGreymon | |
| ToyAgumon | Greymon (Blue) | Zudomon | |
| Dorumon | Clockmon | Taomon | |
| Hagurumon | Kuwagamon | Chirinmon | |
| Patamon | Gekomon | Digitamamon | |
| Hackmon | Geremon | SkullMeramon | |
| Palmon | GoldNumemon | ShogunGekomon | |
| DemiDevimon | Cyclonemon | DoruGreymon | |
| Biyomon | Sunflowmon | Knightmon | |
| Falcomon | Seadramon | Datamon | |
| Veemon | GeoGreymon | Paildramon | |
| Salamon | Sukamon | IceLeomon | |
| Betamon | Starmon | Pumpkinmon | |
| Hawkmon | Stingmon | Piximon | |
| Lalamon | Sorcermon | BlackKingNumemon | |
| Renamon | Tankmon | BlueMeramon | |
| Lopmon | Tyrannomon | Vademon | |
| Wormmon | Gatomon | Whamon | |
| | Devimon | MagnaAngemon | |
| | Togemon | MachGaogamon | |
| | Dorugamon | Mamemon | |
| | Nanimon | MegaSeadramon | |
| | Numemon | Megadramon | |
| | Birdramon | WarGrowlmon | |
| | Bakemon | MetalGreymon | |
| | Veedramon | MetalGreymon (Blue) | |
| | PlatinumSukamon | MetalTyrannomon | |
| | BlackGatomon | MetalMamemon | |
| | Vegiemon | Monzaemon | |
| | Peckmon | Crowmon | |
| | Meramon | RizeGreymon | |
| | Frigimon | Lilamon | |
| | Leomon | Rapidmon | |
| | Reppamon | Lillymon | |
| | Waspmon | LadyDevimon | |
| | | WereGarurumon | |
| | | WereGarurumon (Black) | |
| | | Wisemon | |
| | | | |
Leader Skill Capture
| Rookie | Champion | Ultimate |
| --- | --- | --- |
| 50% | 35.0% | 15.0% |
| Agumon | IceDevimon | MegaKabuterimon |
| Agumon (Black) | Aquilamon | Garudamon |
| Armadillomon | Ankylomon | Zudomon |
| Impmon | Ikkakumon | MagnaAngemon |
| Elecmon | Wizardmon | |
| Otamamon | Woodmon | |
| Gaomon | ExVeemon | |
| Gazimon | Angemon | |
| Gabumon | Ogremon | |
| Gabumon (Black) | Guardromon | |
| Guilmon | GaoGamon | |
| Kudamon | Kabuterimon | |
| Keramon | ShellNumemon | |
| Gotsumon | Gargomon | |
| Goblimon | Garurumon | |
| Gomamon | Garurumon (Black) | |
| Syakomon | Kyubimon | |
| Solarmon | Growlmon | |
| Terriermon | Chrysalimon | |
| Tentomon | Greymon | |
| ToyAgumon | Greymon (Blue) | |
| Dorumon | Clockmon | |
| Hagurumon | Kuwagamon | |
| Patamon | Gekomon | |
| Hackmon | Geremon | |
| Palmon | GoldNumemon | |
| DemiDevimon | Cyclonemon | |
| Biyomon | Sunflowmon | |
| Falcomon | Seadramon | |
| Veemon | GeoGreymon | |
| Salamon | Sukamon | |
| Betamon | Starmon | |
| Hawkmon | Stingmon | |
| Lalamon | Sorcermon | |
| Renamon | Tankmon | |
| Lopmon | Tyrannomon | |
| Wormmon | Gatomon | |
| | Devimon | |
| | Togemon | |
| | Dorugamon | |
| | Nanimon | |
| | Numemon | |
| | Birdramon | |
| | Bakemon | |
| | Veedramon | |
| | PlatinumSukamon | |
| | BlackGatomon | |
| | Vegiemon | |
| | Peckmon | |
| | Meramon | |
| | Frigimon | |
| | Leomon | |
| | Reppamon | |
| | Waspmon | |