Dreamhost Review – Are They Better Than GoDaddy?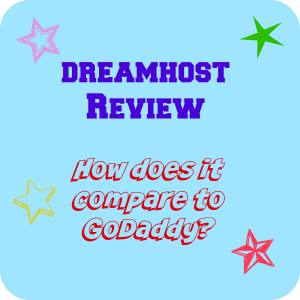 Hello online fanatics! Today I will be reviewing Dreamhost. I have been a Dreamhost customer for almost 4 years now. I never really had a problem with them and its been almost a year since I have actually experienced a slight downtime of a few minutes.
In terms of reliablity, it is a company I can count on. Now let's take a look what Dreamhost has to offer compared to GoDaddy and Bluehost.
| Name | Dreamhost | GoDaddy | Bluehost |
| --- | --- | --- | --- |
| Shared Hosting(Unlimited Websites) | $8.95/Month | $5.99/Month | $6.95/Month |
| VPS | $15/Month | $24.99/Month First Year | $14.99/Month |
| Dedicated Hosting | $149/Month | $79.99/Month | $74.99/Month |
| Customer Service | Yes | Yes | Yes |
| Bandwidth | Unlimited | Unlimited | Unlimited |
| Money Back Guarantee | 97 Days | 45 days | 30 Days |
Now, their prices aren't too far off for having unlimited websites. As an internet marketer(for niche sites and blogs), having unlimited websites is vital. You will be building more than 1 site/blog, so it is vital to have that. All 3 hosts offer that.
Shared Hosting vs VPS vs Dedicated Server
If you are starting out, it is best to buy shared hosting initially. You will only ever need to upgrade to VPS hosting when your site gets 10,000 visitors per day. I upgraded one of my sites to VPS hosting within an hour, so the process is quick and easy. You just have to inform Dreamhost and they will do it for you.
As for dedicated server, that is more for product launches, where you are going to get a surge of traffic visiting your site at once.
Setting Up Domain and Host
Dreamhost offers a very easy solution to setting up your site/blog. They have the 1 click install option, where you can install WordPress, Joomla, Concrete5, phpBB(forum), MediaWiki and much more.
Most people will stick with WordPress since it is the most common and easy to use.
User Interface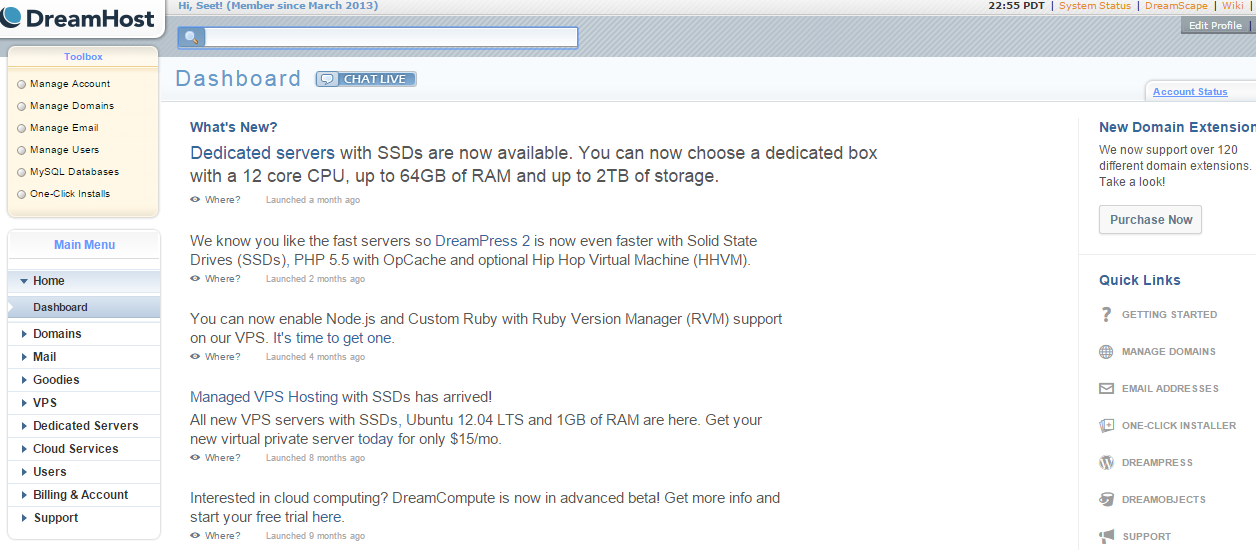 Dreamhost's user interface is easy to use. All options are located on the left side. The top left is the toolbox, where you get to:
Manage your account
Create your email accounts
One Click Install
They also offer database backups. I recommend you backup your sites every 3 months just to be safe. If you have an active site with over 10,000 visitors daily, I suggest backing up every month and upgrade to VPS hosting. Having a fast site loading time is very important.
Customer Service

I have talked to Dreamhost's customer service and it has been great. They offer 24/7 live chat support. However, if you want to chat during US night time, it will have a significant wait time. Therefore, if you live in Europe or Asia, expect a wait time during non office hours.
The only thing they lose out to GoDaddy or Bluehost in terms of customer service is the lack of phone support. If you want phone chat, I think you should go with Bluehost. Their phone support is one of the best around.
Conclusion
I personally have all 3 hosts since I have over 15+ sites spread out across them. This gives me a bit of diversity in case something goes wrong. I personally think they are all about the same. It comes down to your preference. Dreamhost has the fastest and easiest way to install WordPress. GoDaddy has the cheapest hosting price while Bluehost has the best phone support.
If you like Dreamhost, I have a coupon code for $50 off for the first year of hosting if you decide to purchase off my link. Click here for $50 off Dreamhost Hosting.