$0 to $14,000/month with Julian Thomas using Amazon Associates
Hello online fanatics! Today I have brought you folks a special guest! This outstanding individual was able to generate $14,000/month using the Amazon Associates program. The best part is that he did it after leaving his corporate job where he was only earning $20k/year. Talk about the great underdog story! He is non other than Julian Thomas!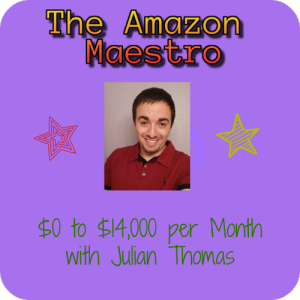 Key Summary
Julian builds amazon authority niche sites and focuses on providing helpful product reviews and information for users
His business model is very similar to Chris's authority model – creating long term authority sites
The link building methods he uses are email outreach and some good old quality content
The majority of his income comes from Amazon Associates, which is Amazon's affiliate program.
The Interview
Q1) Hi Julian, thanks for taking the time to do an interview. Why don't you introduce yourself to the audience and share a bit about yourself?
Hey, everyone! My name is Julian Thomas, and I run the SEO/affiliate marketing blog at CloudFortunes.com. I've been working for myself for going on about five or six years now.
I make a good living from several online businesses, but the bulk of my income comes from the Amazon Associates program. I'm almost 26 years young, and I'm fortunate enough to have gotten into Internet marketing as early as I did, although I do believe I could've made A LOT more money if I would've started sooner.
I make the bulk of my online income from a handful of authority sites. I started cloudfortunes.com as a way to give back to the community. $10,000+ per month is a very comfortable living for me here in Portland, Oregon.
I think that all Internet marketers should find a way to give back once they reach a comfortable income. My mission with cloudfortunes.com is to help as many people as possible make as much money online as possible.
I also use the blog to share my ever-changing perspective of SEO and how to use it to my advantage.
Q2) Can you share with us how you got started with internet marketing and how you went from broke to earning $14,000/month?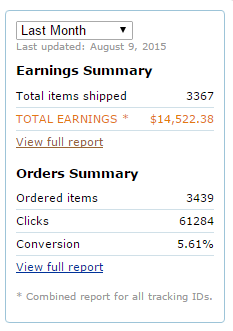 I got started with Internet marketing when I quit my corporate job several years ago. Unlike a lot of other marketers who have significant income or savings from a day job to start their businesses, I started from the bottom.
When I left my job, I had no income, no savings and didn't know what the future held for me. To read my full story, you can check out the about me page on my blog because it's quite long.
To make a long story short, over the following years after I quit my job, I started learning about Internet marketing, SEO and affiliate marketing. I was also freelance writing on the side to make some income.
After several years of researching and testing SEO and affiliate marketing, I had several 'aha' moments, and since then, my income has continued to grow every year. It was only in the last year or so that my income has jumped dramatically, which is a testament that it's possible for anyone.
Although my strategies have and will continue to evolve, I currently make the bulk of my income from a handful of authority sites, and which are monetized with the Amazon Associates program. I use SEO to drive targeted traffic to these sites.
Q3) What was the turning point where you decided that the corporate job wasn't for you?
The turning point for me was when it finally occurred to me that I could barely survive on $20k per year. I felt like I was running in a hamster wheel and just got fed up with everything. I knew there had to be a better way, but I didn't know what to do.
Q4) Can you share with us how you build niche sites and why you choose Amazon as your preferred choice of monetization?
I share all of the specifics about how I create authority sites in my guide. To break it down into a couple of steps, I just do a bit of planning and keyword research, launch a site, write massive amounts of content and build powerful, safe backlinks.
The Amazon Associates program is my preferred monetization method for several reasons. First, I use it because I have the greatest amount of experience with it. Second, it's a step up from AdSense, so you can make significantly more money with it.
It's also a form of monetization that makes writing content very easy. The types of articles that you need to write to promote physical products sold by Amazon are very straightforward to write.
I also like that Amazon always pays on time, and I get a buzz during the holiday season when my affiliate earnings jump to record levels. It's also the first form of monetization method that I got started with.
Q5) What are some benefits that an Amazon affiliate have over other types of monetization such as Adsense or product launches?
When compared with AdSense, I've always earned far more money with Amazon. I believe anyone can make A LOT more money with Amazon than AdSense, and it only requires slightly more effort.
When compared with product launches, Amazon income is far more passive. You can setup your affiliate links, and as long as you have traffic, the commissions roll in passively. Product launches take A LOT more work, but I do believe digital products provide more revenue over time.
Q6) What are some disadvantages of using Amazon Affiliate?
Some disadvantages are the commission caps on certain product categories, such as consumer electronics. If I remember correctly, Amazon actually stopped paying commissions altogether on plasma TVs. However, I do know there are some products that Amazon pays zero commissions for.
Certain product categories are capped at 4 percent commission, so they're almost worthless to promote.
Other than the commission caps, I really don't have anything else negative to say about Amazon. I love their affiliate program!
Note – Amazon pays their affiliate net 60. That means if you earned $500 in July, you get the money 60 days later, which is September.
Q7) What are some useful tools that you use for your business?
I'm a huge fan of keeping it simple. If I start using too many tools, then I think it really kills my productivity and motivation. I do have a few tools that I can't live without.
For almost all of my keyword research, I use SEM Rush. For most of my backlink building, I use AHREFs and Gmail. For onsite stuff, I use WordPress and the premium theme Catalyst.
I also use Rank Tracker from SEO PowerSuite to track the rankings for individual pages on my authority sites.
Q8) Do you suggest creating multiple niche sites or just one big niche site?
In today's SEO environment, I see little incentive to create many smaller niche sites, so I think it's best to create one large authority site.
I actually think it's best to have at least two authority sites because you're bound to get bored after a while, so by having two authority sites, you can switch back and forth between working on them.
Q9) Can you break down Google's ranking factors now and how one should build their site in 2015 and beyond?
In terms of onsite SEO, the major ranking factors are your page title, page description, URL and keyword density.
In terms of offsite ranking factors, the 900lb gorilla that you still can't ignore is quality backlinks. I believe backlinks are still the single most powerful way to increase rankings, but I don't necessarily believe they're the best way and should never be the ONLY way.
I believe Google is placing more and more weight on content age, which is how long any given piece of content is indexed in Google. What's my SEO forecast for the future?
I believe Google will continue placing more and more weight on ranking factors that aren't easily manipulated. I also believe they'll get better and better at penalizing and devaluing risky link building techniques, such as private blog networks.
Q10) Can you provide 3 actionable steps for newbies wanting to get into internet marketing?
If I had to give three actionable steps to a newbie, I think they would be:
Build a site – either a self-hosted website or third-party platform
Write as much content as possible
Get quality links to the site
I believe it's best to first find someone who has already done and is still doing what you want to accomplish and find a way to get knowledge from them. For example – purchase a guide from them that gives you the basic framework (shameless plug).
Note – Julian does offer a good course[Step by Step] that teaches you how he earns $14,000/month here which you can check it out.
I also believe that after you learn the basics, experience is the best way to continue learning. If you don't take action with the knowledge, you're guaranteed that nothing will happen.
Q11) Was there anyone that influenced you to start venturing into the internet marketing world?
When I first started, I was influenced by a place called The Keyword Academy. I was later influenced by people like Frasier Cain of Universe Today and several others. Today, I still get inspiration from people that I come across that are operating at a higher level than myself.
Q12) How has internet marketing changed your life?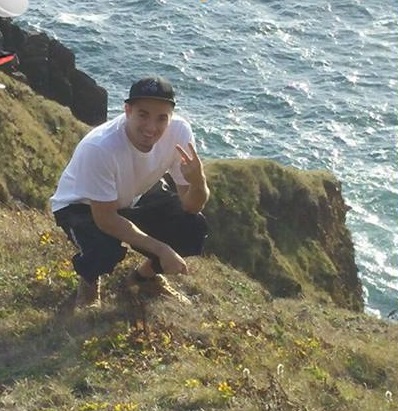 Internet marketing has changed my life in more ways than I could've imagined. It has completely changed how I view the world and others. In terms of perspective, it has led me on a path of self-improvement and taught me a lot about failure and not giving up.
It has taught me many life lessons that I feel I would never have obtained working at a corporate job. In terms of personal finances, it has provided me with freedom that I could've never dreamed of.
Money is truly freedom, but you don't need all the money in the world to be free. Although I currently make a great income, my journey is only just getting started. There are still so many people out there to help.
I think in life it's not about how much you make but how many people you bless, but I do believe money is key to providing the resources you need to help MORE people.
I look forward to helping as many individuals as I can, and I believe Internet marketing will continue to change my life and others for the better! Thanks for having me, Kenny!
You are welcome, Julian!