Fire Emblem: Heroes Character Tier List [Top Units]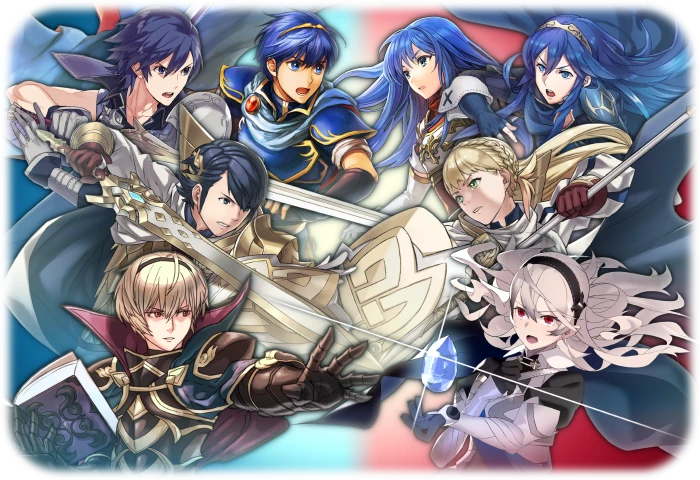 Welcome to the Fire Emblem: Heroes character tier list! Below is a table that has a rating in the game that is given by the community here. Don't be disappointed if your favorite FE character is not top tier. I personally own Ryoma and I agree that he is top tier as he can counter ranged units. Also, the tier list is subject to change!
The rating goes like this:
S+ = Excellent
S = Great
A = Decent
B = Mediocre
C = Bad
Unrated = Not yet rated
Unit types are below:
Infantry = Units that travel by foot. They cannot go past water or walls.
Flying = Can fly over walls and water areas. Vulnerable to archers.
Armored = Heavy armored units and strong defense against physical damage. Weak to magic attacks.
Calvary = Character mounts on a horse. Can't travel to forest patches.
| Name | Icon | Series | Type | Class | Tier |
| --- | --- | --- | --- | --- | --- |
| Lyn | | FE The Blazing Blade | Sword | Infantry | S+ |
| Ryoma | | FE Fate Birthright | Sword | Infantry | S+ |
| Lucina | | FE Awakening | Sword | Infantry | A |
| Chrom | | FE Awakening | Sword | Infantry | A |
| Marth | | FE Mystery of the Emblem | Sword | Infantry | A |
| Roy | | FE The Binding Blade | Sword | Infantry | A |
| CorrinM | | FE Fates | Sword | Infantry | A |
| Ogma | | FE Mystery of the Emblem | Sword | Infantry | A |
| Draug | | FE Mystery of the Emblem | Sword | Armored | A |
| Cain | | FE Mystery of the Emblem | Sword | Calvary | A |
| Caeda | | FE Mystery of the Emblem | Sword | Flying | B |
| Fir | | FE The Binding Blade | Sword | Infantry | B |
| Olivia | | FE Awakening | Sword | Infantry | A |
| Lonqu | | FE Awakening | Sword | Infantry | B |
| Stahl | | FE Awakening | Sword | Calvary | B |
| Eliwood | | FE The Binding Blade | Sword | Calvary | B |
| Hana | | FE Fates | Sword | Infantry | B |
| Palla | | FE Shadow Dragon | Sword | Flying | B |
| Hinata | | FE Fates | Sword | Infantry | B |
| Laslow | | FE Fates | Sword | Infantry | B |
| Selena | | FE Fates | Sword | infantry | B |
| Alfonse | | FE Heroes | Sword | Infantry | C |
| Navarre | | FE Mystery of the Emblem | Sword | infantry | Unrated |
| Leo | | FE Fates | Red Tome | Calvary | S+ |
| Tharja | | FE Awakening | Red Tome | Infantry | S+ |
| Lilina | | FE The Binding Blade | Red Tome | Infantry | A |
| Sophia | | FE The Blazing Blade | Red Tome | Infantry | B |
| Henry | | FE Awakening | Red Tome | Infantry | B |
| TikiYoung | | FE Awakening | Red Beast | Infantry | S+ |
| Tiki | | FE Awakening | Red Beast | Infantry | A |
| Cordelia | | FE Awakening | Lance | Flying | S+ |
| Azura | | FE Fates | Lance | Infantry | S+ |
| Abel | | FE Mystery of the Emblem | Lance | Calvary | A |
| Sully | | FE Awakening | Lance | Calvary | A |
| Donnel | | FE Awakening | Lance | Infantry | A |
| Florina | | FE The Blazing Blade | Lance | Flying | A |
| Gwendolyn | | FE The Binding Blade | Lance | Armored | A |
| Shanna | | FE The Binding Blade | Lance | Flying | A |
| Effie | | FE Fates | Lance | Armored | A |
| Peri | | FE Fates | Lance | Calvary | A |
| Subaki | | FE Fates | Lance | Flying | A |
| Hinoka | | FE Fates | Lance | Flying | A |
| Catria | | FE Shadow Dragon | Lance | Flying | A |
| Est | | FE Mystery of the Emblem | Lance | Flying | A |
| Oboro | | FE Fates | Lance | Infantry | A |
| Jagen | | FE Mystery of the Emblem | Lance | Calvary | A |
| Sharena | | FE Heroes | Lance | Infantry | C |
| RobinM | | FE Awakening | Blue Tome | Infantry | A |
| Linde | | FE Mystery of the Emblem | Blue Tome | Infantry | A |
| Odin | | FE Fates | Blue Tome | Infantry | B |
| RobinF | | FE Awakening | Blue Tome | Infantry | Unrated |
| Nowi | | FE Awakening | Blue Beast | Infantry | S+ |
| CorrinF | | FE Fates | Blue Beast | Infantry | A |
| Camilla | | FE Fates | Axe | Flying | S+ |
| Hector | | FE The Blazing Blade | Axe | Armored | S+ |
| Raven | | FE The Blazing Blade | Axe | Infantry | A |
| Minerva | | FE Mystery of the Emblem | Axe | Flying | B |
| Hawkeye | | FE The Blazing Blade | Axe | Infantry | B |
| Frederick | | FE Awakening | Axe | Calvary | B |
| Gunter | | FE Fates | Axe | Calvary | B |
| Cherche | | FE Awakening | Axe | Flying | B |
| Arthur | | FE Fates | Axe | Infantry | B |
| Bartre | | FE The Binding Blade | Axe | Infantry | B |
| Barst | | FE Shadow Dragon | Axe | Infantry | B |
| Beruka | | FE Fates | Axe | Flying | B |
| Anna | | FE Heroes | Axe | Infantry | C |
| Narcian | | FE The Blazing Blade | Axe | Flying | Unrated |
| Nino | | FE The Blazing Blade | Green Tome | Infantry | A |
| Merric | | FE Shadow Dragon | Green Tome | Infantry | A |
| Cecilia | | FE The Binding Blade | Green Tome | Calvary | A |
| Fae | | FE The Binding Blade | Green Beast | Infantry | S+ |
| Takumi | | FE Fates | Bow | Infantry | S+ |
| Jeorge | | FE Mystery of the Emblem | Bow | Infantry | A |
| Gordin | | FE Mystery of the Emblem | Bow | Infantry | B |
| Niles | | FE Fates | Bow | Infantry | B |
| Virion | | FE Awakening | Bow | Infantry | B |
| Setsuna | | FE Fates | Bow | Infantry | B |
| Felicia | | FE Fates | Shuriken | Infantry | A |
| Saizo | | FE Fates | Shuriken | Infantry | A |
| Jakob | | FE Fates | Shuriken | Infantry | A |
| Gaius | | FE Awakening | Shuriken | Infantry | B |
| Kagero | | FE Fates | Shuriken | Infantry | B |
| Matthew | | FE The Blazing Blade | Shuriken | Infantry | B |
| Clarine | | FE The Blazing Blade | Staff | Calvary | A |
| Maria | | FE Shadow Dragon | Staff | Infantry | A |
| Serra | | FE The Blazing Blade | Staff | Infantry | A |
| Sakura | | FE Fates | Staff | Infantry | B |
| Azama | | FE Fates | Staff | Infantry | B |
| Elise | | FE Fates | Staff | Calvary | A |
| Lissa | | FE Awakening | Staff | Infantry | A |
| Wrys | | FE Shadow Dragon | Staff | Infantry | B |
| Camus | | FE Shadow Dragon | Lance | Calvary | - |
| Michalis | | FE Shadow Dragon | Axe | Flying | - |
| Raigh | | FE The Binding Blade | Red Tome | Infantry | A |
| Sheena | | FE Mystery of the Emblem | Axe | Armored | B |
| Ursula | | FE The Blazing Blade | Blue Tome | Calvary | - |
| Veronica | | FE Heroes | Green Tome | Infantry | - |
| Xander | | FE Fates | Sword | Calvary | - |
| Zephiel | | FE The Binding Blade | Sword | Armored | - |
| Seliph | | Fire Emblem: Genealogy of the Holy War | Sword | Infantry | A |
| Julia | | Fire Emblem: Genealogy of the Holy War | Green Tome | Infantry | A |
| Eirika | | Fire Emblem: Sacred Stones | Lance | Infantry | A |
| Ephraim | | Fire Emblem: Sacred Stones | Sword | Armored | S |
| Olwen | | Fire Emblem: Tharcia 776 | Blue Tome | Calvary | A+ |
| Reinhardt | | Fire Emblem: Thracia 776 | Blue Tome | Calvary | A+ |
| Klein | | Fire Emblem: The Binding Blade | Neutral Bow | Infantry | A+ |
| Eldigan | | Fire Emblem: Genealogy of the Holy War | Red Sword | Calvary | A |
| Sanaki | | Fire Emblem: Radiant Dawn | Red Sword | Infantry | A+ |
| Lachesis | | Fire Emblem: Genealogy of the Holy War | Neutral Staff | Infantry | B |
| Priscilla | | Fire Emblem: The Blazing Blade | Neutral Staff | Calvary | |
| Karel | | Fire Emblem: The Blazing Blade | Red Sword | Infantry | |
| Lucius | | Fire Emblem: The Blazing Blade | Neutral Staff | Infantry | |
| Rebecca | | Fire Emblem: The Blazing Blade | Neutral Bow | Infantry | |
| Ninian | | Fire Emblem: The Blazing Blade | Blue Breath | Infantry | |
| Jaffar | | Fire Emblem: The Blazing Blade | Neutral Dagger | Infantry | |