Final Fantasy: Brave Exvius Colosseum Guide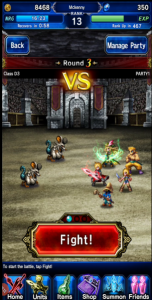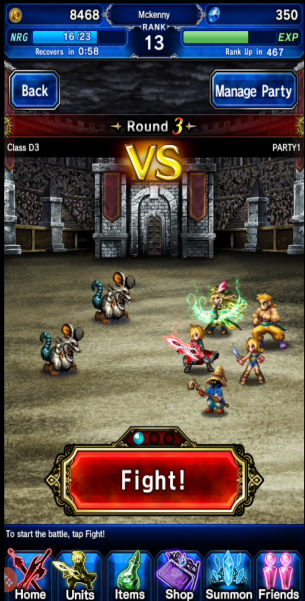 Welcome to the FFBE Colosseum section! The Colosseum is like the arena for players. You fight through a series of 10 battles and face the boss at the end of the 10 battles. You will be rewarded with good items after defeating the boss. Defeating the boss for the first time will net you unique rewards. You only have a maximum of 3 charges and each charge takes 1 hour to replenish.
Should you repeat it again, you will still get decent rewards at higher levels. Beginner floors (S1 to S5) gives magicite(repeat reward), so if you want magicite to level your espers, then keep farming it!
Rank
Monsters
Boss
Clear Reward
Repeat Clear
D-1
Killer Mantis
Belmodar
Mini Dragon
Mandragora
Aqua Elemental
Poison Toad
Zu
100
Potion
D-2
Wild Rat
Green Soul
Zombie
Yellow Jelly
Architeuth
Tentacles x 3
ATK +10%
Potion
D-3
Wild Nakk
Sergeant
Wild Rat
Objet d'Art
Magitek Armor
Green Soul
Shark
Earth Key #19
(Kenpogi)
Potion
D-4
Sergeant
Magitek Armor
Wild Rat
Green Soul
Yellow Jelly
Zombie
Objet d'Art
Wild Nakk
Floateye
Flamesblade
Foot Soldier x 2
Recipe for Tent
Potion
D-5
Coeurl
Cutpurse
Mammon
Rukh
Human Trap
Magitek Armor
Cutpurse x 5
Elixir
Potion
C-1
Bomb
Shadow
Red Elemental
Diresaur
Poplium
Hell's Rider
200
Hi-Potion
C-2
Wyvern
Damia
Ipooh
Hornet
Chocobo Eater
Mage's Habit
Hi-Potion
C-3
Green Wisp
Ghoul
Alraune
Black Widow
Poison Eagle
Chimera
Werebuster
Hi-Potion
C-4
Bas-relief
Toadgre
Pit Fiend
Greater Mantis
Goblin Guard
Sahagin
Abtu x 3
Xiphactinus x 3
Recipe for Barfira
Hi-Potion
C-5
Treant
Searcher
Bomb
Tyrannosaur
Balloon
Bomb x 4
Sleep Dagger
Hi-Potion
B-1
Desert Sahagin
Scorpion
Basilisk
Footpad
Xiphactinus
Damia
Boss Thief
Footpad x 4
300
Ether
B-2
Scorpion
Damia
Basilisk
Primevil
Antlion
Recipe for Barthundara
Ether
B-3
Cactuar
Red Marshmallow
Red Elemental
Ghost
Amoebozoa
Mythril Buckler
Ether
B-4
Mammon
Damia
Alraune
Diresaur
Bloody Eye
Boss Thief
Footpad x 4
Ogrekiller
Ether
B-5
Hivesguard
Greater Mantis
Pit Fiend
Bomb
Tyrannosaur
Purusa x 3
Recipe for Hi-Potion
Ether
A-1
Balloon
Hill Gigas
Poison Eagle
Bone Dragon
Wyvern
400
Healing Spring
A-2
Adamantoise
Balaur
Green Wisp
Skuldier
Skadi
Merman
Flamesblade
Fairy Ring
Healing Spring
A-3
Merman
Mercury Bat
Gladilith
Black Widow
Bas-relief
Ice Sculpture
Mahadeva
Recipe for Biora
Healing Spring
A-4
Purusa
Adamantoise
Blue Elemental
Skuldier
Bas-relief
Wyrm
Brigandine
Healing Spring
A-5
Skuldier
Dire Lizard
Epimetheus
Abyssal
Searcher
Blue Elemental
Wandering One
Recipe for Vaccine
Healing Spring
S-1
Belmodar
Steel Bat
Dire Rat
Ochu
Microchu
Killer Mantis
Cactuar x 3
500
Magicite
S-2
Imp
Sorcerer
Mage
Goblin
Wolf
Dive Talon
Aqua Elemental
Headstone
Goblin Guard
Moogle Eater
Sage's Robe
Magicite
S-3
Foot Soldier
Magitek Armor
Sergeant
Hill Gigas
Yellow Jelly
Zombie
Gorgimera
Recipe for Magic Infuse
Magicite
S-4
Shadow
Red Elemental
Security Eye
Bomb
Ipooh
Damia
Mammon
Coeurl
Abhorrent One
Moon Bracer
Magicite
S-5
Greater Mantis
Sahagin
Bas-relief
Fossil Dragon
Hunger
Europa
Recipe for Remedy
Magicite