Final Fantasy: Brave Exvius Trust Master Reward Guide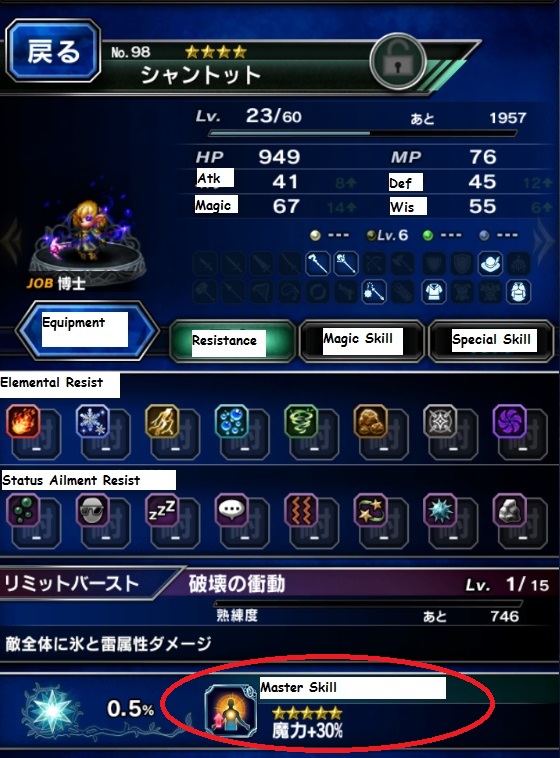 In Final Fantasy: Brave Exvius, almost all units has a special "skill" or "item" that can be unlocked if you use them often enough. Higher rarity units generally will have a much better reward you can get upon unlocking it.
What is Trust Master(TM)?
TM is a system where you can gain a bonus item/magic if you use a specific character repeatedly in battle. At the end of each battle, you have a chance to gain 0.1% TM. If you use the same unit/character to enhance, you will gain 5% TM.
Your goal will be to hit 100% TM and unlock the special reward. Any character that already has some TM will gain bonus TM with a multiplier. Currently, the game has limited time Mog events that will give you a better chance to raise the TM of your characters.
The good thing about TM rewards is that you can get them again if you happen to pull the same character. For example, if you pull 2 Kefkas, you will want to train them both and get 2 Ribbons, which is his TM. Ribbon is a very useful accessory that gives the user protection against all status ailments.
Check out the trust master reward table to see what goodies you get!
| Name | Origin | TM Reward | Description |
| --- | --- | --- | --- |
| Rain | FF BE | - | - |
| Lasswell | FF BE | - | - |
| Fina | FF BE | - | - |
| Rizer | FF BE | HP +10% | - |
| Leah | FF BE | Banish | Light magic damage (1.2x) to one enemy |
| Tronn | FF BE | Fira | Fire magic damage (1.4x) to all enemies |
| Eldin | FF BE | Pilfer | Steal gil from one enemy |
| Baurg | FF BE | Store | Physical damage (+0.8x per usage, 1.6x max) to one enemy and increase damage taken (50%) to caster |
| Gimlee | FF BE | Aim | Physical damage (1.2x) to one enemy |
| Maxell | FF BE | Power Shot | Physical damage (1.2x) to one enemy |
| Liza | FF BE | Lullaby | Sleep (30%) to all enemies |
| Wedge | FF 6 | Fire Beam | Fire magic damage (1.2x) to one enemy |
| Biggs | FF 6 | Blizzard Beam | Ice magic damage (1.2x) to one enemy |
| Paul | FF 2 | Escape | Escape battle |
| Anastasis | FF 12 | Regen | Heal (400HP, 2x) for 3 turns to one ally |
| Sarah | FF 1 | Paean | Heal while singing for 3 turns to all allies |
| King Giott | FF 4 | Stone Killer | Increase damage against stone monsters (50%) |
| Shiki | FF BE | Tranquility | Physical damage (1.2x) to one enemy |
| Mizell | FF BE | Deprotect | Decrease DEF (20%) for 3 turns to one enemy |
| Ronaldo | FF BE | Drain Blade | Hybrid damage (1.4x) and physical damage (0.8x) with HP drain (30%) to one enemy |
| Mel | FF BE | Drink | Allows use of drinkable items. |
| Vivi | FF 9 | Firaga | Fire magic damage (1.8x) to all enemies |
| Penelo | FF 12 | Equip S Sword | Allow use of short swords |
| Maria | FF 2 | Esuna | Cure all status effects to one ally |
| Sabin | FF 6 | Counter | Counter physical attacks (30%) |
| Shadow | FF 6 | Throw | Allow use of throwable items |
| Krile | FF 5 | Thundaga | Lightning magic damage (1.8x) to all enemies |
| Kain | FF 4 | Gungnir | Spear - Atk +90 |
| Edgar | FF 6 | Machine Killer | Increase damage against mechanical monsters (50%) |
| Fran | FF 12 | Cleanse | Cure disease to one ally |
| Shantotto | FF 11 | MAG +30% | - |
| Rydia | FF 4 | Blizzaga | Ice magic damage (1.8x) to all enemies |
| Cyan | FF 6 | Evade | Chance to negate physical damage taken (10%) |
| Clyne | FF BE | Cover | Chance to take physical damage for ally (5%) |
| Anzelm | FF BE | Drain | Magic damage (0.8x) with HP drain (30%) to one enemy |
| Luna | FF BE | Barrage | Four physical damage (3.2x) to random enemies |
| Bedile | FF BE | Thundaga Blade | Lightning hybrid damage (1.8x) to one enemy |
| Garland | FF 1 | Equip L Sword | Allow use of long swords |
| Exdeath | FF 5 | Holy | Light magic damage (2.3x) to one enemy |
| Kuja | FF 9 | Flare | Magic damage (2.3x) and decrease water resistance (30%) for 3 turns to one enemy |
| Cloud of Darkness | FF 3 | Auto-Limit | Increase LB gauge (1) each turn |
| Cecil | FF 4 | Excalibur | Long Sword - Atk+120 and Light Element |
| Terra | FF 6 | Ultima | Magic damage (2.8x) with ignore SPR (25%) to all enemies |
| Magitek Armor Terra | FF 6 | - | - |
| Bartz | FF 5 | Doublehand | Increase equipment ATK (50%) when single wielding sword, katana, axe, or hammer |
| Firion | FF 2 | Equip H Armor | Allow use of heavy armors |
| Zidane | FF 9 | Dual Wield | Allow use of weapons in both hands |
| Vaan | FF 12 | Maximilian | - |
| Duane | FF BE | Bioga Blade | Dark hybrid damage (1.8x) and poison (40%) to one enemy |
| Cerius | FF BE | Miracle Shoes | Accessory - Auto-Protect, Auto-Shell, Auto-Regen |
| Roselia | FF BE | Equip Staff | Allow use of staves |
| Medius | FF BE | Growth Egg | Increase experience (50%) |
| Sarai | FF BE | Silence Dance | Hybrid damage (1.2x) and silence (30%) to one enemy |
| Paula | FF BE | Stonra | Earth magic damage (1.4x) to all enemies |
| Kenyu | FF BE | Raging Fist | Physical damage (1.2x) with ignore DEF (25%) to one enemy |
| Ollie | FF BE | Aquan Killer | Increase damage against aquatic monsters (50%) |
| Carrie | FF BE | Sunbeam | Magic damage (1.2x) and blind (30%) to all enemies |
| Skaha | FF BE | Dragon Killer | Increase damage against dragons (50%) |
| Montana | FF BE | Camouflage | Decrease likeliness of being targeted (50%) |
| Russell | FF BE | Bladeblitz | Physical damage (1.4x) to all enemies |
| Miyuki | FF BE | Sakurafubuki | Katana - Atk +98 |
| Golbez | FF 4 | Meteor | Magic damage (2.5x) with ignore SPR (25%) to all enemies |
| Galuf | FF 5 | Comet | Magic damage (1.6x) with consecutive damage increase (0.1x) to one enemy |
| Xiao | FF BE | Kaiser Knuckles | Fist - Atk +101 |
| Artemios | FF BE | Equip Bow | Allow use of bows |
| Locke | FF 6 | Rising Sun | Throwing - Atk +107 |
| Leo | FF 6 | Aegis Shield | Heavy Shield - Def+53, Spr+25 |
| Gilbert | FF BE | Dream Harp | Music Instrument - Atk+76, Mag+41 |
| Celes | FF 6 | Minerva Bustier | Armor - Def+47, Spr+45, Resistance: Fire (+30%), Ice (+30%), Lightning (+30%), Wind (+30%) |
| Kefka | FF 6 | Ribbon | Accessory - Mag+5, Spr+5, Nullify all status ailments |
| Rakshasa | FF BE | Holy Blade | - |