Top 10 Best Funny Movies on Netflix to Watch
I love funny movies. There is nothing that can beat a good humorous movie after a long day of work. Relax and check out my favorite picks for my top 10 funny movies that you should watch on Netflix. Enjoy!
School Of Rock(2003)
If you're going to watch a comedy on Netflix related to music, this is the one to watch. Witness Jack Black take on the role of a struggling musician. As he finds out his band doesn't want to work with him any longer and he doesn't have any money, he decides to take a substituting position as a teacher in a private elementary school. The school board believes in his abilities of being a Math teacher, but he is not quite the Mathematician. He eventually educates students to become practically rock students, and you'll see him change the lives of young kids to find their inner musician.
Don Jon(2013)
This film focuses on how Joseph Gordon Levitt deals with his inability to find love and look at women differently. He struggles with his addictions and to find happiness with the girl he is with. The hilarity in the film and the irony throughout the story definitely makes this a fan favorite.
Zoolander(2001)
Zoolander takes you on a ride with Ben Stiller and Owen Wilson as they try to find their love and zest for life outside of being a model. He has achieved high model status, but he wants to find something more meaningful in his life. This hilarious comedy is famous for its incredibly funny jokes, its laughs at the media, and the way Stiller delivers his performances in the story.
The Brady Bunch Movie(1995)
Watch as the Brady Bunch comes together for another interesting film that takes you on a hilarious ride. The film is funny, different, and quite unique in its own little way. The characters are portrayed by different characters than in the original show, but this is what makes it so funny.
ClueLess(1995)
Alicia Silverstone stars in this hilarious comedy that truly brings the world of being popular in high school. She is quite a fun loving character that finds herself struggling to find love and a boyfriend in school. Clueless is a classic 90's film that will truly touch any teenager of today's heart.
Hitch(2005)
Hitch is a unique little comedy starring Will Smith, and you'll see how he tries to help others achieve massive success with their relationships. However, the problem is that he eventually finds clients that help him try to fix his own relationships.
White Chicks(2004)
White Chicks is by far one of the funniest movies. This film is different than most movies that involve somebody dressing up in drag. The film stars two of the Wayan's brothers, and they both are forced to go undercover as women to find the suspect in a case. The film is very fast paced and has zero boring moments. Countless people loved this movie because of its simplicity and how the two main characters bring to life to white women. You'll see in the story how they struggle to love life as women while still being undercover agents.
Addams Family(1991)
Everyone's favorite creepy family is in this 1990's film that brings this spooky story to the big screen. It's quite exciting to see characters like Wednesday, Mortifia, Gomez, and Uncle Fester in this hilarious scary story of being a unique macabre family.
Bill And Ted's Excellent Adventure(1989)
This 1998 movie takes you into the world of these two interesting fellows, and it's ultimately one of the funniest movies of all time that is now available on Netflix. The story is quite unique in its little hilarious way as you go with these two weirdos in their adventure. The film is so famous that you can even witness a live show of this at Universal Studios Orlando Halloween Horror Nights.
50 First Dates(2004)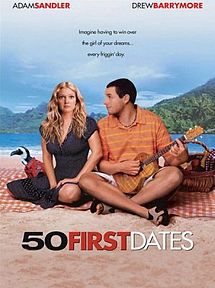 This old classic is a fan favorite of any Sandler fan. Starring Drew Berrymore and Adam Sandler, this story takes you into the world of a man trying to win the heart of a woman in a local diner. He soon discovers that she deals with a condition similar to short term memory, except she usually remembers things for a short day and eventually forgets everything next. Their relationship goes up and down as Adam's character begins to try and get in a relationship with her, but he soon realizes the hardship involved. While it is a romantic film, it's hilarious in all ways and is a must watch for any comedy fan.
References: Wikipedia