How I Generated 21,370 Unique Visits Without Spending A Penny in 30 Days
Hello fanatics! Today I bring a post about how I was able to get visitors to come to my brand new site and grew it to 158,855 views in 30 days! I will be revealing the traffic source I use. To date, it has brought me 21,370 unique visitors to the site and over 44% retained users. Below is a screenshot before going on: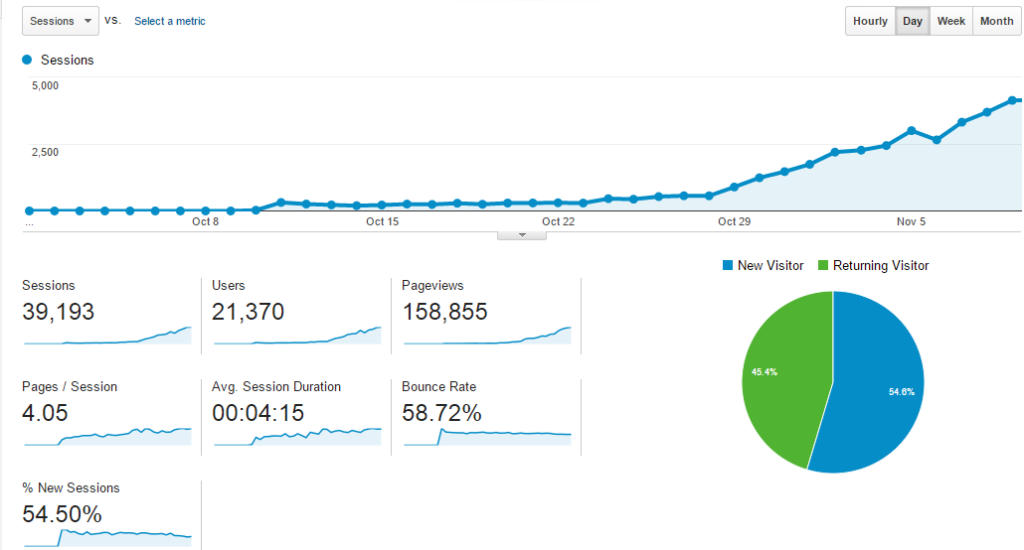 This is an excellent method to use on new sites and also gives you the much needed traffic before you get indexed and ranked by Google. The cool thing about the traffic is that it starts snowballing once you get it going!
The traffic source I am using is… REDDIT!
Why Reddit?
It is one of the biggest communities that people use for social networking and a bunch of other stuff such as entertainment or news. Users get to submit content and it can either be upvoted or downvoted by Reddit members. Not only does that keep the best content gets shown on the first page, it will generate a lot of traffic.
In my case, it generated well over 150,000+ page views to date. Now before I get into some methods to use to get traffic, let's go over the basic guidelines of Reddit so you won't get in trouble for being labeled as a "spammer".
General Guidelines
Once you register, don't start posting your links right away. Make a few replies and then post your link on there. Otherwise, it is very easy for you to be labeled as a spammer and get banned.
Post in your relevant sub-reddit. They are sub communities within Reddit. Here are some examples of sub-reddits.
/r/videos – A great place for video content of all kinds. Direct links to major video sites are preferred (e.g. YouTube, Vimeo, etc.)
/r/Leagueoflegends – A great place for gamers that play League of Legends. Discuss everything about League of Legends from eSports, Champion Discussions, Game Meta etc.
Basically, it gathers people of the same interest in one place so they can talk about things they like. This really works to your advantage here if you can find your target audience. I will go more into that in a bit.
First Step: Finding Your Target Audience
The first step is to narrow down your target audience. Finding them is really easy. Use the search bar located on the right side of reddit and type in the niche or keyword your audience might be interested in. If you are looking at the pet niche, you will want to search something like "dogs".

As you can see, there is a huge sub community about dogs. If you are running a dog training site, you will want to be very active in this community.
Second Step: Posting and Linking
The next step will be to post valuable information and help the community. Your goal is to gain trust within the community. In this case I will be using /r/dogs as an example. Here is the guideline I use that is responsible for the 21,000+ visitors:
1) Post a useful piece of content(post or video) that will provide value to the community. You can then leave a link to your website to something relevant. If it is a video, make sure to direct your visitors from the video to your site. Here are some ideas:
10 Tips to Training Your Dog To Sit Down
How to give your dog a proper bath
Tip: When leaving a link, use the format: [Your Anchor Text](http://yoururl.com)
2) Always try to help other members. Interact with them as much as you can. This will improve you reputation and gain trust from the community.
3) As a rule of thumb, post a useful piece of content and then a link back to your site weekly. This will give you a steady flow of visitors.
4) You can also request a moderator to put your site on the right side of the sub reddit main page if your site is high quality and is relevant. This will also give you a valuable link back to your site permanently if the moderator approves.
That pretty much sums up the strategy. It is pretty simple and it just requires consistency to post there.
Bonus Strategy – Creating Your Own Subreddit
This is extremely valuable and can bring you a lot of traffic on a consistent basis. If there is a new trend or product coming out, you can preemptively create a sub community first. This will give you a head start since Google trusts big sites like Reddit much more than a brand new domain.
Not only will you get a sub reddit that you MODERATE, you can also create your own community and set your rules. Of course, you will have to let it grow before you can reap your rewards. Keep in mind you can also link to your own website by creating a sub reddit on the right side of the main page.
Creating the Sub Reddit
This is very easy. Go to this link: http://www.reddit.com/subreddits/create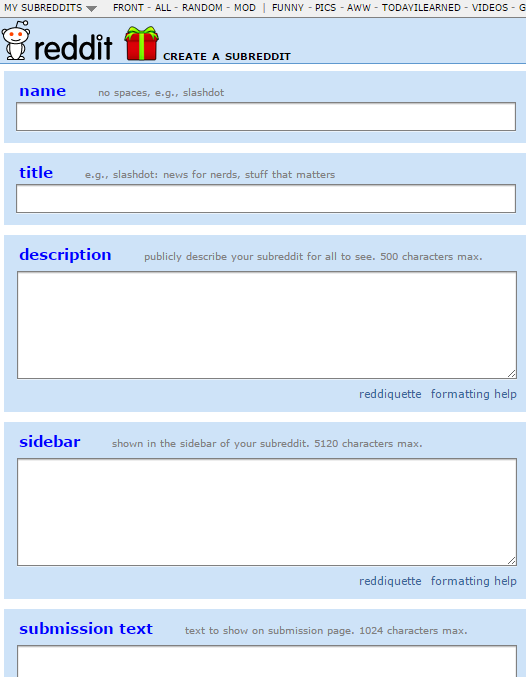 You will see a page where it allows you to fill in the details:
Name – Your sub reddit title. If its about dog training, you just name it "dogtrainingtips"
Title – This is important. Use a title that will also rank for a certain keyword on Google. If your community is about dogs, name it " Best Dog Training Tips For Beginners". This will also help you bring in search traffic!
Description – A short description about your page. Make sure to use relevant keywords.
Sidebar – You can put your link to your website here.
Submission Text – The first post of your sub reddit. You can use a piece of content from your site and credit it with a link. 🙂
Language – English
Type – You will have to make it public for sure.
Content Options – Use "Any" so you can actually post links.
Wiki – Disable it since you won't be having any.
Spam Filter – You can use "All" settings if you don't want spammers in your group. I do recommend "high" settings.
With all of them filled out, your sub reddit will be ready to go!
Conclusion
That concludes the report. I hope I am able to help you get more traffic with this awesome strategy that most are neglecting. Use this to get the much needed traffic besides Google!