How I Made $500/month Using SEO Source Wave's(Alex Becker) Methods in 80 Days with 98 Dollars
Hello everyone, today I am going to give you a brief report on how I managed to make a $500/month niche site in 80 days and 98 dollars. It all started out when I decided to start a niche site after reading Pat Flynn's niche site duel. In fact, I went with 2 niche sites. One was an anime site while the other was a gaming site. I begin both sites right around June 2013.
Keyword Research
This probably took about 2 days of intense research before I came to a conclusion to the keywords I wanted to target. The method I used to find my keywords were taught mainly by Alex Becker from Source Wave and also Spencer Haws from Niche Pursuits. I also want to stress that this is the most important step out of the entire plan. A well researched keyword is a must. This will be evident as you keep reading.
Step 1: Finding Your Niche
I highly recommend you find a niche that you are at least moderately interested in if you plan to write all the content yourself. Otherwise, you will struggle to produce content when you are not passionate about it. If you outsource your content, then the niche can be anything. Once you find your niche, you will want to narrow it down to something more specific.  For example:
Gaming(big niche) -> Moba Games(sub-niche) -> League of Legends(focused niche)
Pets-> Dogs -> Different Dog Breeds -> Siberian Husky -> Siberian Husky Puppies for Sale
The idea is to narrow down to a very specific niche that targets an audience that are looking for just that. In my case, my sites dragoncityegg and animelike specialize in something very specific. dragoncityegg.net -> A resource for Dragon City players on Facebook. animelike.org -> For anime lovers that are looking for new anime to watch. Here were the keywords I came up with for both sites:

Keep in mind that when you check the top 10 competition for your specific keywords, ask yourself the following questions:
Can I provide better and quality content than them?
Do I see myself writing content for these keywords?
Are the the keywords I am targeting located in the competition's title and url?
Do they have any strong backlink profile?
If you say yes to the first 2 questions and no to the 3rd and 4th question, you got yourself a potential winning keyword.
Hosting My Domain
Once I was done with the keyword research, I bought both domain names and installed wordpress. My host is Dreamhost and Bluehost. The total hosting fee + domain name would be around $80-100 total for the year.
I also installed the following plugins:
All in one SEO – This allows me to customize my title and summary for the page.
Google XML Sitemap – This notifies Google about my site whenever I publish anything and my site gets indexed quickly(usually within a few days).
Creating Content
I spent at least 2 hours a day for the first week in creating the content for both sites. I would say I spent a minimum of 22 hours that week(June 9th to 16th).
On Page SEO
For on page SEO, I used the "Silo" method to create my pages. It would look something like this: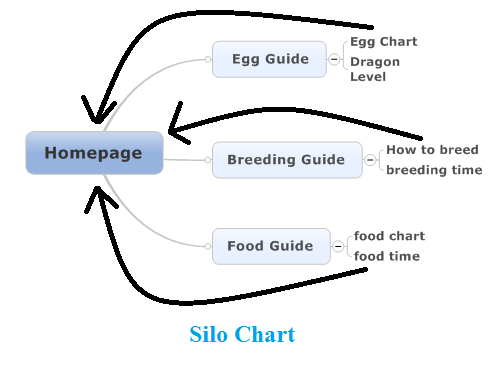 The idea is to link all your pages so that the robots can crawl your site easily and also pick up all the links from each page or post. It has helped me rank both site's pages with ease.
Backlinking
I didn't start backlinking until week 2. The strategy I used was this: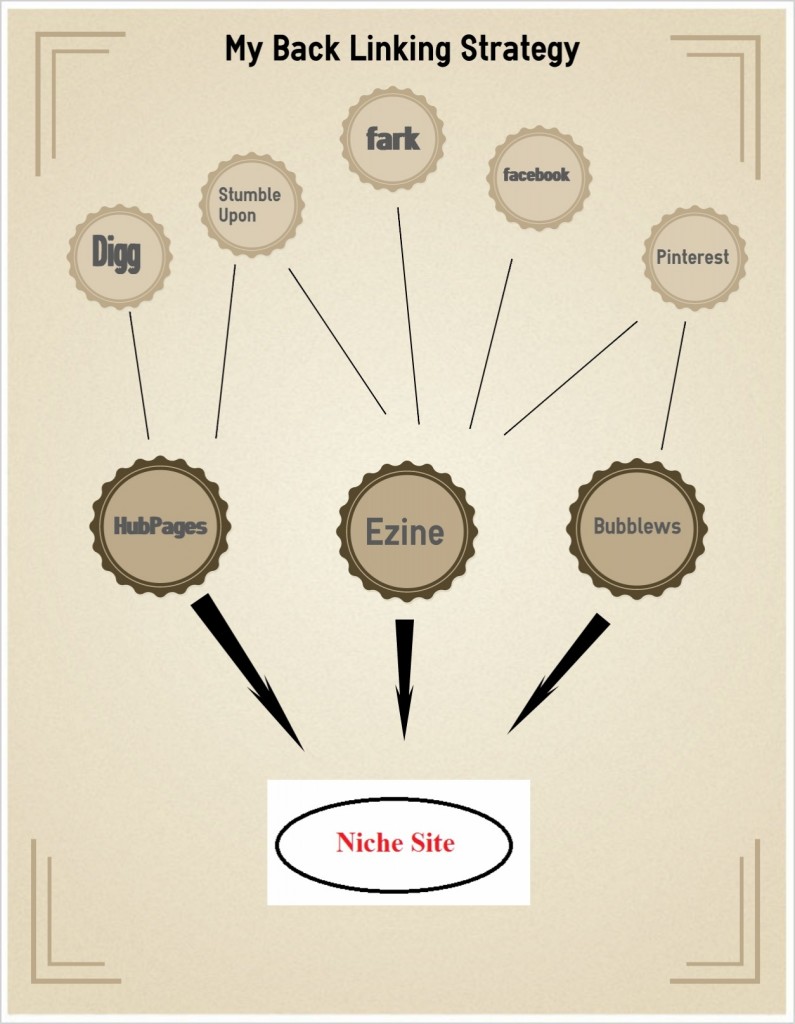 I started making mini links by creating free websites to my main site using the following:
Free Subdomain Sites
blogspot.com
wordpress.com
tumblr.com
zimbio.com
weebly.com
wikidot.com
yola.com
blogster.com
Writing Sites
Hubpages – You will need a 700 word article here for a backlink.
Squidoo
Bubblews – An excellent place to build backlinks for your site.
Ezine Articles
Goarticles
PDF Sites
I created animelikecodegeass.blogspot.com, put some content and used an anchor text such as "anime like code geass". You don't have to put too much content. As long as you put some words in there you are okay. I spread out the link building over a week. I would build roughly 1-2 links  a day.
The next step I did was to create more backlinks to my Web 2.0 sites using wiki links and book marks. There is an easy tool to do this. I used Social Marker. What social marker does is that it lets you submit your links easily in 15 minutes. I highly recommend that you use it.
I didn't use any expired domains to boost my rankings. Apparently, this above method is time consuming and only works for non competitive keywords. If you are trying to rank for "credit repair", this method will be useless. I do intend to use expired domains to rank for my future niche sites that are more competitive.
Results
Here is the traffic report for both sites:
Dragon City Egg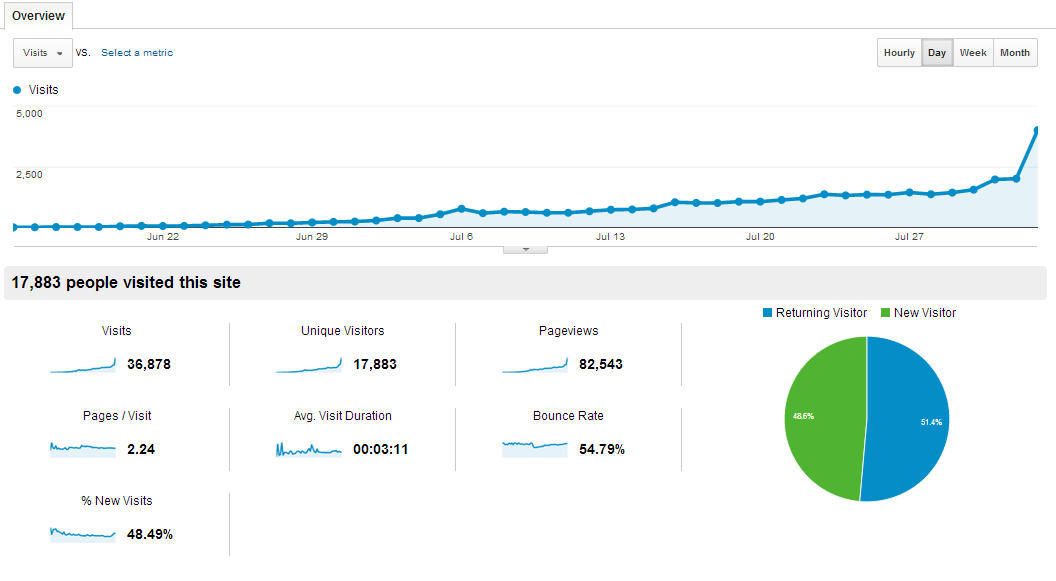 Anime Like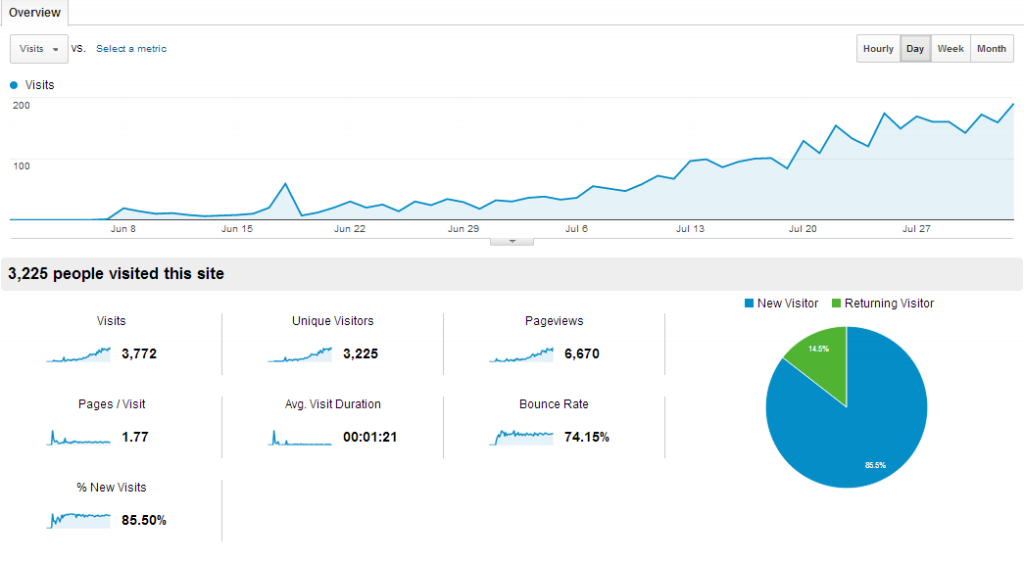 I started placing adsense on both sites when they hit about 200 visitors a day. Apparently, my anime site doesn't convert into adsense clicks. 95% of my income comes from dragoncityegg.
Update July 2015: AnimeLike.org is no longer around but DragonCityEgg.net is still going strong and earning to this day. Also, here is an interview of a $16,000/month earner with Adsense.
Conclusion
There you have it guys! This is how I got it to $500 a month. Hope this helps anyone who would like to start niche sites from scratch with very little investment.