Instacash Keywords Review – Read Before Buying
Hello online fanatics, today we will be looking at Instacash Keyword by Travis Sago.
They basically give you niches that have low competition and a hungry buyer list. They will send you untapped niches daily. Here is a a sneak peak of what they offer:
At the end of the report, they will also recommend you an affiliate program for you to promote. In this case, they recommended amazon associates due to:
Apparently not all cigarette machines are created equal…and

a major complaint and frustration these folks often have is

with some cigarette machines not working properly for various reasons.

So a review style landing page would be a very powerful

strategy for marketing to this crowd.
On some other occasions, other affiliate programs are used.
You Will Like Instacash Keywords IF…
You have trouble finding low competition keywords
You do not enjoy keyword research
You don't have much time to do it
Using tools is not your forte
You can outsource your content writing
You Won't Need It IF…
You can find niche keywords easily
You only focus on one niche
Some techniques are not usable anymore(Squidoo is gone)
They will also send you 5 articles that you can use, but I would recommend that you write your own since you won't know if somebody else has used it.
Different Niches
Since they send you niches of all kinds, it would be a matter of time before you get interested in one. I was able to find one a while ago and I built the site out. It is now ranking number 1 for the keyword "heat press machine reviews". Check out the picture below: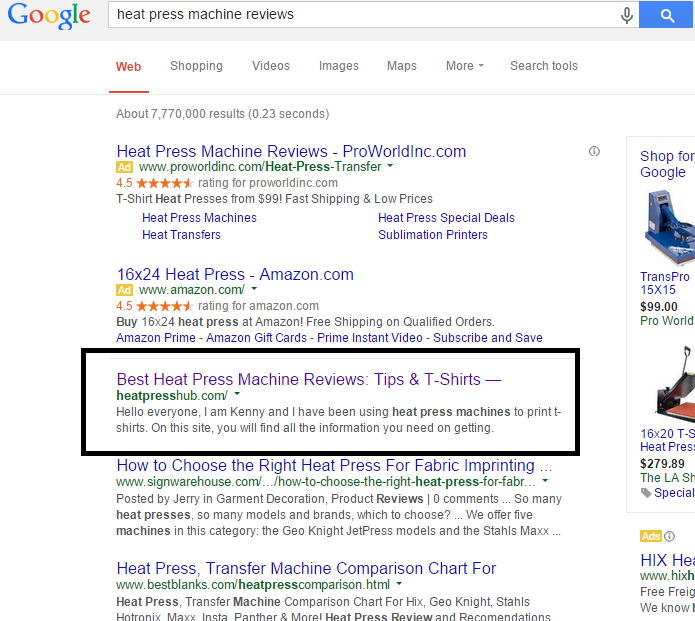 The niches that they provide works, but most people won't take action due to the time consuming process involved.
My Verdict on Instacash Keywords
I would recommend that you get it if you can't find untapped niches or you don't have time to do keyword research.
They also do offer a $4.95 7 day trial. If you don't like it, just cancel.