Jurassic World The Game Dinosaurs List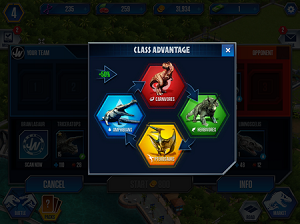 Here is the complete list for Jurassic World: The Game dinosaur breeding list. I have included all dinosaurs. Some dinosaurs can be unlocked via battles while others you have to breed them using specific dinosaurs.
General Stuff
Most dinosaurs can be unlocked after beating a specific battle stage
The ultra rare dinosaurs can only be bred/fused using level 40 specific dinosaurs
Use the search bar to find your dinosaur
You can also sort them based on the metrics available in the table.
| Dinosaur | Type | Class | Hatch Time | HP | Atk | Revenue | Collection | Money/Hour | DNA Cost | How to Get |
| --- | --- | --- | --- | --- | --- | --- | --- | --- | --- | --- |
| Diplocaulus | Amphibians | Common | 27 mins | 284 | 73 | 28628 | 12h | 2358.7 | 190 | Beating battle stage 15 |
| Labyrinthodontia | Amphibians | Common | 18 mins | 236 | 90 | 10599 | 3h | 3533 | 130 | Beating battle stage 9 |
| Limnoscelis | Amphibians | Common | 10 mins | 266 | 68 | 9216 | 3h | 3072 | 130 | Beating battle stage 3 |
| Guanlong | Carnivores | Common | 23 mins | 255 | 80 | 15422 | 6h | 2570.3 | 170 | Beating battle stage 14 |
| Majungasaurus | Carnivores | Common | 3 mins | 224 | 86 | 9216 | 3h | 3072 | 110 | Beating battle stage 1 |
| Utahraptor | Carnivores | Common | 30 mins | 259 | 99 | 12673 | 2h | 633.5 | 200 | Beating battle stage 7 |
| Bonitasaura | Herbivores | Common | 20 mins | 263 | 67 | 28570 | 15h | 1904.7 | 150 | Beating battle stage 26 |
| Argentinosaurus | Herbivores | Common | 15 mins | 281 | 72 | 7488 | 30 min | 14976 | 160 | Beating battle stage 4 |
| Pelecanimimus | Herbivores | Common | 26 mins | 266 | 83 | 12811 | 3h | 4270.3 | 170 | Beating battle stage 24 |
| Triceratops | Herbivores | Common | 2 mins | 274 | 70 | 1280 | 5 min | 15360 | 100 | Given |
| Tuojiangosaurus | Herbivores | Common | 20 mins | 235 | 73 | 17424 | 6h | 2904 | 130 | Beating battle stage 17 |
| Hatzegopteryx | Pterosaurs | Common | 29 mins | 253 | 97 | 11290 | 1h | 11290 | 200 | Beating battle stage 13 |
| Alanqa | Pterosaurs | Common | 8 mins | 217 | 83 | 7680 | 1h | 7680 | 120 | Beating battle stage 2 |
| Coloborhynchus | Pterosaurs | Common | 19 mins | 238 | 91 | 3625 | 15 mins | 14500 | 140 | Beating battle stage 31 |
| Tropeognathus | Pterosaurs | Common | 6 mins | 260 | 81 | 15668 | 6h | 2611 | 180 | Beating battle stage 6 |
| Koolasaurus | Amphibians | Hybrid | N/A | 4386 | 1675 | 137734 | 3h | 45911.3 | 20500 | Fusing Koolasuchus Lvl 40 and Sarcosuchus Lvl 40 |
| Carnoraptor | Carnivores | Hybrid | 3h 22 mins | 1665 | 636 | 126181 | 3h | 42060.3 | 7730 | Fusing Carnotaurus Lvl 40 and Pyroraptor Lvl 40 |
| Indominus Rex | Carnivores | Hybrid | N/A | 5430 | 2074 | 338688 | 12h | 28224 | 29400 | Fusing Tyrannosaurus rex Lvl 40 and Velociraptor Lvl 40 |
| Spinoraptor | Carnivores | Hybrid | N/A | 2715 | 1037 | 96768 | 3h | 32256 | 9520 | Fusing Utahraptor Lvl 40 and Spinosaurus Lvl 40 |
| Ankylodocus | Herbivores | Hybrid | N/A | 3218 | 1005 | 295680 | 24h | 12320 | 10920 | Fusing Diplodocus Lvl 40 and Ankylosaurus Lvl 40 |
| Stegoceratops | Herbivores | Hybrid | N/A | 3134 | 801 | 88704 | 3h | 29568 | 8960 | Fusing Triceratops Lvl 40 and Stegosaurus Lvl 40 |
| Tropeogopterus | Pterosaurs | Hybrid | N/A | 2492 | 952 | 93436 | 6h | 15572.7 | 7130 | Fusing Tropeognathus Lvl 40 and Zheijangopterus Lvl 40 |
| Ichtyostega | Amphibians | Legendary | 51h 45 mins | 1493 | 570 | 71609 | 5h | 14321.8 | 3330 | Beating battle stage 38 |
| Microposaurus | Amphibians | Legendary | N/A | 1570 | 491 | 46080 | 3h | 15360 | 2500 | Beating battle stage 50 |
| Prionosuchus | Amphibians | Legendary | 56h 21 mins | 1616 | 505 | 63960 | 3h | 21320 | 3470 | Beating battle stage 49 |
| Sarcosuchus | Amphibians | Legendary | 43h 25 mins | 1500 | 573 | 56218 | 3h | 18739.3 | 3050 | Beating battle stage 30 |
| Dimetrodon | Carnivores | Legendary | 60h 49 mins | 1520 | 581 | 99810 | 9h | 11090 | 3610 | Beating battle stage 29 |
| Ostafrikasaurus | Carnivores | Legendary | N/A | 1410 | 539 | 58799 | 3h | 19599.7 | 3190 | Beating battle stage 41 |
| Suchomimus | Carnivores | Legendary | 32h 17 mins | 1614 | 314 | 48477 | 3h | 16159 | 2630 | Beating battle stage 47 |
| Tyrannosaurus Rex | Carnivores | Legendary | 65h 38 mins | 1603 | 612 | 97920 | 8h | 12240 | 3750 | Beating battle stage 19 |
| Unaysaurus | Herbivores | Legendary | N/A | 1757 | 449 | 46802 | 2h | 23401 | 2770 | Beating battle stage 45 |
| Pteranodon | Pterosaurs | Legendary | 39h 22mins | 1520 | 581 | 53638 | 3h | 17879.3 | 2910 | Beating battle stage 22 |
| Koolasuchus | Amphibians | Rare | 2h 21 mins | 467 | 146 | 22488 | 3h | 7496 | 610 | Beating battle stage 11 |
| Allosaurus | Carnivores | Rare | 1h 35 mins | 440 | 138 | 18432 | 3h | 6144 | 500 | Beating battle stage 27 |
| Carnotaurus | Carnivores | Rare | 12h | 419 | 160 | 36442 | 4h | 9110.5 | 730 | Fusing Carnotaurus Lvl 40 and Pyroraptor Lvl 40 |
| Dilophosaurus | Carnivores | Rare | 3h | 396 | 151 | 15898 | 30 mins | 31796 | 690 | Beating battle stage 33 |
| Giganotosaurus | Carnivores | Rare | 1h 41 mins | 476 | 122 | 18985 | 3h | 6328.3 | 520 | Beating battle stage 39 |
| Irritator | Carnivores | Rare | 1h 47 mins | 400 | 153 | 19538 | 3h | 6512.7 | 530 | Beating battle stage 40 |
| Pyroraptor | Carnivores | Rare | 2h 40 mins | 448 | 171 | 23962 | 3h | 7987.3 | 660 | Beating battle stage 48 |
| Tyrannotitan | Carnivores | Rare | 3h 11 mins | 408 | 156 | 29991 | 2h | 14995.5 | 710 | Beating battle stage 46 |
| Corythosaurus | Herbivores | Rare | 2h 30 mins | 531 | 136 | 55913 | 18h | 3106.3 | 630 | Beating battle stage 32 |
| Diplodocus | Herbivores | Rare | 3h 33 mins | 527 | 135 | 37440 | 4h | 9360 | 750 | Beating battle stage 5 |
| Gallimimus | Herbivores | Rare | N/A | 396 | 151 | 24730 | 5h | 4946 | 580 | Beating battle stage 36 |
| Nasutoceratops | Herbivores | Rare | 1h 53 mins | 489 | 125 | 20091 | 3h | 6697 | 550 | Beating battle stage 18 |
| Pachycephalosaurus | Herbivores | Rare | 2h 12 mins | 452 | 141 | 21750 | 3h | 7250 | 590 | Beating battle stage 44 |
| Dsungaripterus | Pterosaurs | Rare | 1h 59 mins | 386 | 148 | 5161 | 10 mins | 30966 | 560 | Beating battle stage 34 |
| Tapejara | Pterosaurs | Rare | 2h 50 mins | 428 | 134 | 30874 | 3h | 10291.3 | 670 | Beating battle stage 10 |
| Metriorhynchus | Amphibians | Super Rare | 9h 44 mins | 793 | 303 | 38708 | 3h | 12902.7 | 1400 | Beating battle stage 21 |
| Rajasaurus | Carnivores | Super Rare | 8h 23 mins | 881 | 275 | 35943 | 3h | 11981 | 1300 | Beating battle stage 43 |
| Spinosaurus | Carnivores | Super Rare | 11h 10 mins | 978 | 250 | 41472 | 3h | 13824 | 1500 | Beating battle stage 25 |
| Velociraptor | Carnivores | Super Rare | 11h 10 mins | 800 | 306 | 38016 | 2h | 19008 | 1500 | Beating battle stage 23 |
| Ankylosaurus | Herbivores | Super Rare | 7h 9 mins | 969 | 248 | 30413 | 2h | 15206.5 | 1200 | Beating battle stage 20 |
| Euoplocephalus | Herbivores | Super Rare | 4h 58 mins | 969 | 248 | 76801 | 24h | 3200 | 1000 | Beating battle stage 35 |
| Parasaurolophus | Herbivores | Super Rare | 7h 9mins | 881 | 275 | 33178 | 3h | 11059.3 | 1200 | Beating battle stage 42 |
| Stegosaurus | Herbivores | Super Rare | 11h 10 mins | 982 | 251 | 41472 | 3h | 13824 | 1500 | Beating battle stage 12 |
| Supersaurus | Herbivores | Super Rare | 9h 44 mins | 969 | 248 | 38708 | 3h | 12902.7 | 1400 | Beating battle stage 28 |
| Quetzalcoatlus | Pterosaurs | Super Rare | 9h 3 mins | 981 | 278 | 37325 | 3h | 12441.7 | 1350 | Beating battle stage 16 |
| Zhejiangopterus | Pterosaurs | Super Rare | 6h | 793 | 303 | 27879 | 2h | 13939.5 | 1100 | Beating battle stage 37 |
| Suchoripterus | Hybrid/Pterosaurs | Legendary | N/A | N/A | N/A | N/A | N/A | N/A | 17900 | Fusing Suchomimus Lvl 40 and Dsungripterus Lvl 40 |
| Priotrodon | Hybrid/Carnivore | Legendary | 9 Days | N/A | N/A | N/A | N/A | N/A | 39650 | Fusing Prionosuchus Lvl 40 and Dimetrodon Lvl 40 |
| Ostaposaurus | Hybrid/Amphibian | Legendary | 6 Days | N/A | N/A | N/A | N/A | N/A | 31870 | Fusing Microposaurus Lvl 40 and Ostafrikasaurus Lvl 40 |
| Pelecanipteryx | Hybrid/Pterosaur | Legendary | N/A | N/A | N/A | N/A | N/A | N/A | 2030 | Fusing Pelecanimimus Lvl 40 and Hatzegopteryx Lvl 40 |
| Limnorhynchus | Hybrid/Pterosaur | Legendary | N/A | N/A | N/A | N/A | N/A | N/A | 1490 | Fusing Limnoscelis Lvl 40 and Coloborhynchus Lvl 40 |
| Indominus rex | Hybrid/Carnivore | Legendary | 7 Days | N/A | N/A | N/A | N/A | N/A | 29400 | Fusing Tyrannosaurus rex Lvl 40 and Velociraptor Lvl 40 |
| Koolasaurus | Hybrid/Amphibian | Legendary | 3 Days | N/A | N/A | N/A | N/A | N/A | 20500 | Fusing Koolasuchus Lvl 40 and Sarcosuchus Lvl 40 |
| Pachyceratops | Hybrid/Herbivore | Rare | 8 h 7 mins | N/A | N/A | N/A | N/A | N/A | 6360 | Fusing Pachycephalosaurus Lvl 40 and Nasutoceratops Lvl 40 |
| Diplotator | Hybrid/Amphibian | Rare | 4 h 55 mins | N/A | N/A | N/A | N/A | N/A | 4000 | Fusing Diplocaulus Lvl 40 and Irritator Lvl 40 |
| Carnoraptor | Hybrid/Carnivore | Rare | 12 h | N/A | N/A | N/A | N/A | N/A | 7730 | Fusing Carnotaurus Lvl 40 and Pyroraptor Lvl 40 |
| Spinoraptor | Hybrid/Carnivore | Super Rare | 19 h 50 mins | N/A | N/A | N/A | N/A | N/A | 9520 | Fusing Utahraptor Lvl 40 and Spinosaurus Lvl 40 |
| Ankylodocus | Hybrid/Herbivore | Super Rare | 1 Day | N/A | N/A | N/A | N/A | N/A | 10920 | Fusing Diplodocus Lvl 40 and Ankylosaurus Lvl 40 |
| Stegoceratops | Hybrid/Herbivore | Super Rare | 16 h 40 mins | N/A | N/A | N/A | N/A | N/A | 8960 | Fusing Triceratops Lvl 40 and Stegosaurus Lvl 40 |
| Tropeogopterus | Hybrid/Pterosaur | Super Rare | N/A | N/A | N/A | N/A | N/A | N/A | 7130 | Fusing Tropeognathus Lvl 40 and Zheijangopterus Lvl 40 |
| Giganocephalus | Hybrid/Herbivore | Super Rare | 14 h 7 mins | N/A | N/A | N/A | N/A | N/A | 8490 | Fusing Gigantosaurus Lvl 40 and Euophlocephalus Lvl 40 |