The Keyword Research Method That Made Me $1000/month For My Gaming Site
Keyword research has been around for a while. It has been covered by a lot of people, but they are often not the most effective ways when it comes to looking for good and profitable game related keywords. Today, I am going to show you a few good ways to do your research and mine those golden keywords.
The criteria to finding a good game that could bring in huge traffic/earnings are the following:
Relatively new game – could be in open beta or is less than a year old
People are actually searching for information of the game
Has lots of potential – the game company actually puts effort into marketing and also improving the game
The Top Ten/Best/New Method
This is a really good way to find good seed keywords for your niche site. You should check out Alex Becker's stuff as he taught me this. To find some good games, you can type in the genre of the game and have a rough idea of what appeals to the gamers of that genre. For example:
Top 10 Shooting Games
Best Facebook Games
New PC Card Games
Once you look at the games recommended using the above methods, you are more likely to find a game that is relatively new and has very few competition. Lets use "New PC Card Games" as our example: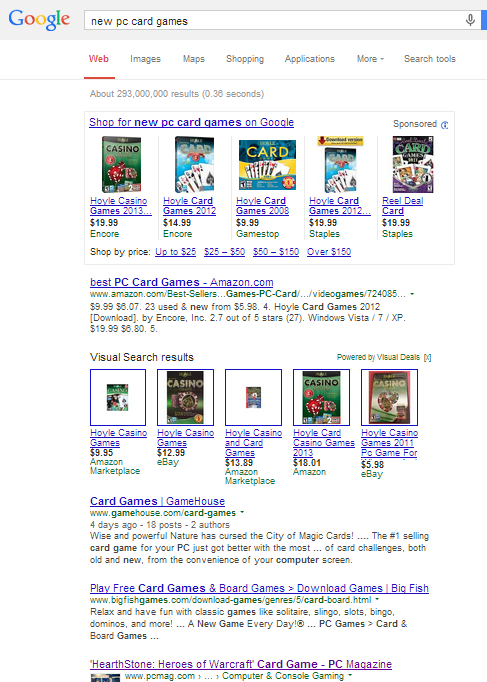 After looking at the first 4 results, I was able to spot a new game that just came out recently. HearthStone is a new card game that is in closed beta at the time of writing. This is a great game to make a niche site for after looking at the Google Keyword Planner.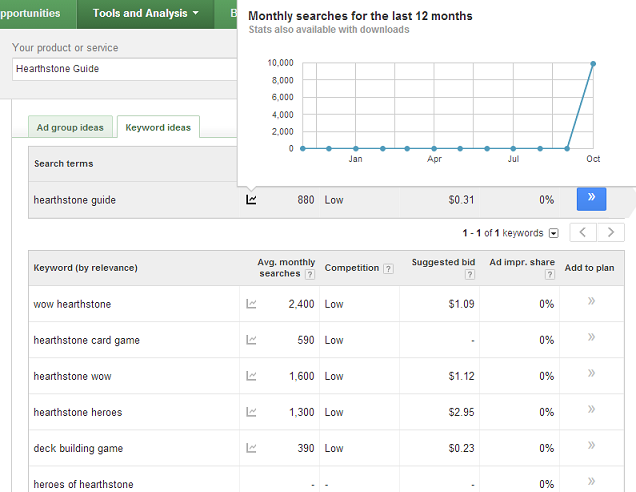 The keyword "HearthStone Guide" already has a 10k search volume during closed beta. This means that it is already a very popular game. Since it is made by Blizzard, it is a very well marketed game that has the potential to become huge. You can take advantage of it if you enjoy the game. Alternatively, you can also outsource the content to other writers as well.
Below is a short list of genres that you can take a look:
Role Playing(RPG)
First Person Shooter
Sports
Adventure
Puzzle
Hack and Slash
3D
Tower Defense
Fighting
Social
Consoles
The possibilities are endless. If you can find new up and coming games that could become extremely popular, the odds of you making a good earning gaming niche site increases.
Focus on Micro Niche
Instead of using broad and general terms like social games, rpg games or tower defense games, try going micro niche. This will sometimes unlock a lot of potentially low competitive keywords. For instance:
PC Games -> Moba Games(genre) -> League of Legends(Sub Niche) -> Master Yi Build(Micro Niche)
PC Games ->Shooting Games(genre) -> Call of Duty(Sub Niche)
The idea is to go after less competitive terms that you can rank for.  If you look at the keyword term "Master Yi Build", it has about 135,000 searches per month globally.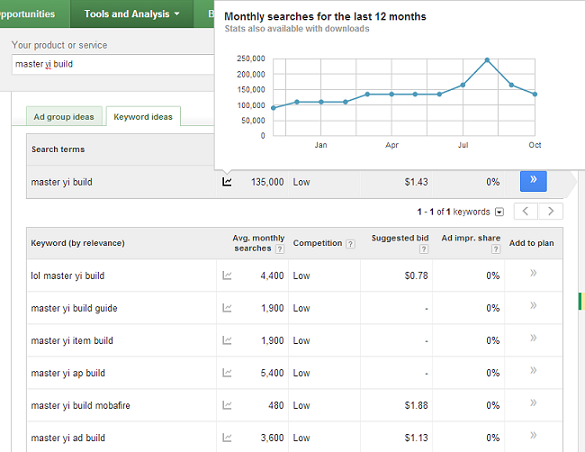 The competition for the keyword is also not as competitive, so it has a good chance of getting ranked for that term as I use Market Samurai to check the top 10 competition for the keyword: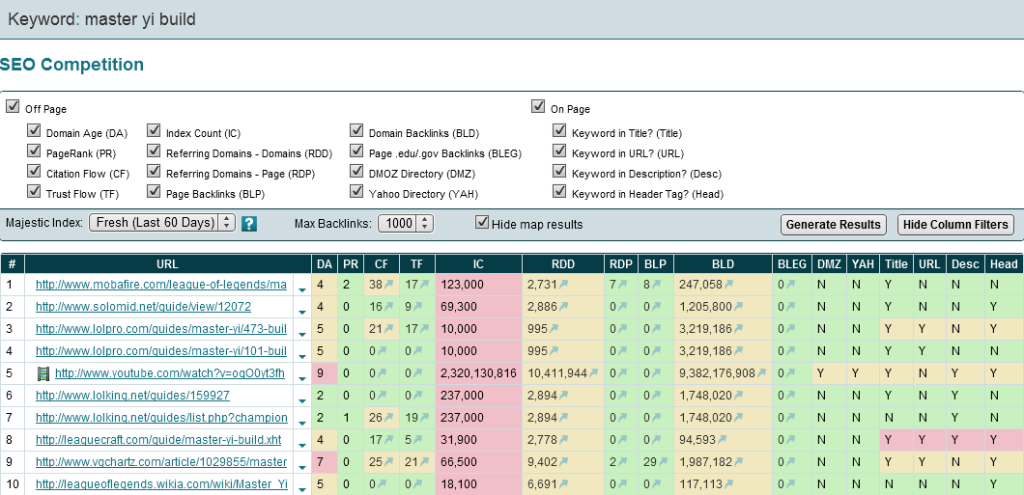 For those of you that don't use Market Samurai, I will break it down for you.
Red

– Not Good

Yellow

– Average

Green

– Good
Ideally, you will want to have as many green sections as possible. Let me explain the metrics that you will want to look at.
DA(Domain Age) – This metric looks at the age of the domain. An older domain gains an advantage over newer ones. It's not the most significant metric as you can always beat out older domains with good keyword targeting.
PR(Page Rank) – This is the metric that tells you how much Google values that particular page. A high PR(3+) page in the top 5 rankings is not a good sign for you.
CF(Citation Flow) – This metric gives you the number citations to a given URL, or Domain. If the CF is over 30+, it has good links.
TF(Trust Flow) – This metric is weighted by the number of clicks from a seed set of trusted sites to a given URL, or Domain. If it is over 15+, it has decent links going to it.
IC(Index Count) – This tells you how many pages are indexed on Google. It is not a significant metric to check.
RDP(Referring Domains Page) – This gives you the number of domains pointing to that page. A high number of referring domains spells high competition.
BLP(Page Backlinks) – This gives you the number of links pointing to that page. A high number tells you it has many link votes.
Title – This tells you whether the exact keyword is in the Title. If it is yes, then the title is matched and the page might have done some SEO.
URL – This tells you if the keyword is in the URL. If it is yes, then the page has some SEO.
I didn't explain the rest because they are not significant enough for me to use them for analysis.
Important Metrics I Use to Check Competition
Here are the criteria I look for when looking for low competition keywords:
PR less than 3
Citation Flow and Trust Flow Less than 20
Referring domains(RDP) less than 5
Page backlinks(BLP) less than 20
The Top 5 doesn't have the main keywords in their title
If the top 5 does not meet the above requirements, I would scratch it out. You will want to go after keywords that would look like this in Market Samurai:

After you have found some nice keywords that you could rank for, I would suggest you "test out" the keyword by creating a post on Bubblews. Bubblews is a social site that allows you to post anything that is over 400 characters(not words). The point of the post is to see if it can rank in the first 3 pages. Bubblews has really good search engine results page(SERPS) ranking and it will be used as a test to gauge the competition for the top 10 spots. They also get indexed very quickly, usually within a day.
For people new to Bubblews, here is the sign up page. They also pay you for your writing efforts. However, at the time of writing, they are not very transparent about how they pay their members, so I would suggest you write there as if you wouldn't get paid.  Here is an example of a brief post I would like to rank for: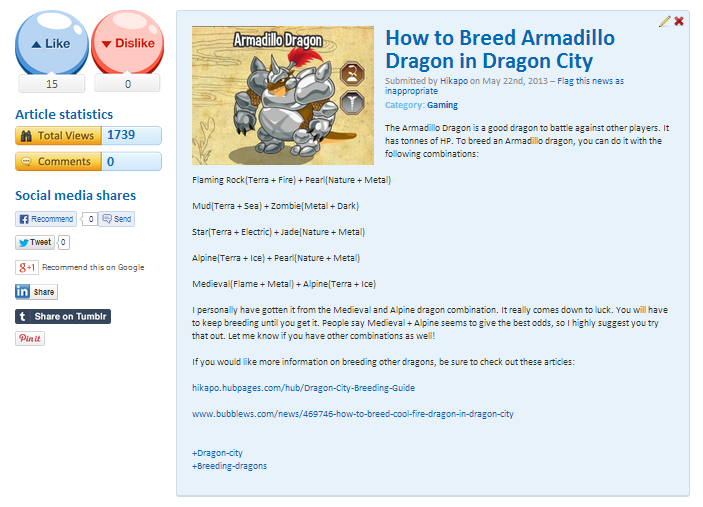 "How to Breed Armadillo Dragon" was my targeting keyword. It did show up in the first 2 pages of the keyword, so it does give me the go ahead to target it. The good part is that you can also link it to your page as well! It kills 2 birds with 1 stone.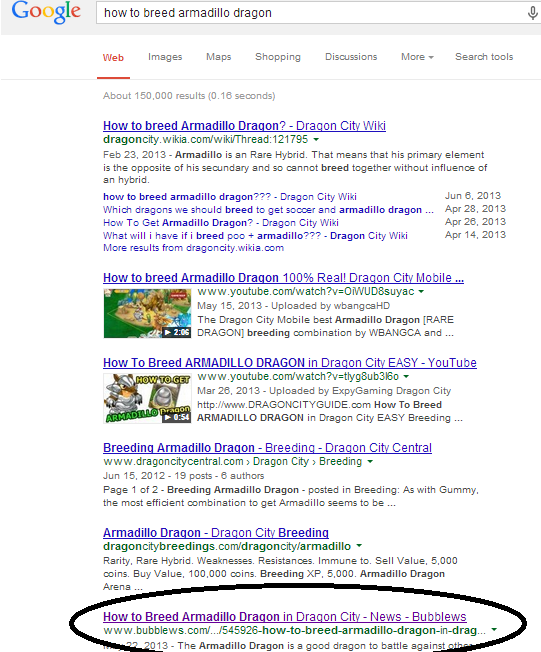 Conclusion
That is how I find high traffic gaming keywords that you can use to build your gaming niche site. If you have any questions, be sure to comment below.