Lexmod Office Chair Review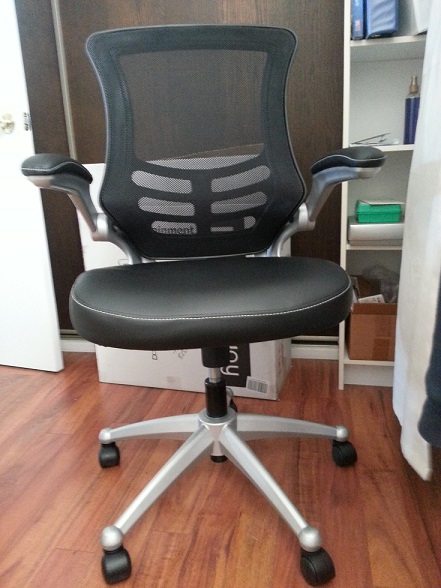 I recently just replaced my chair by buying the LexMod Attainment Office Chair with Black Mesh Back and Leatherette Seat from Amazon. This is my review. My old chair has 1 screw missing and it is about time to get it replaced. It has been 3 years and it has served me well.
As you can see from the picture above, the chair looks pretty nice! The chair cost me $135.71 before shipping charges.
Assembling the Chair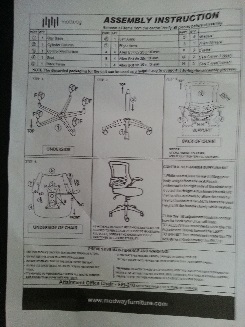 The instruction manual is only 1 page, but thankfully it doesn't look too complicated. Now assembling the chair took about 40 minutes for me. This varies from person to person. If you are experienced in assembling furniture, this should take no more than 30 minutes.
The chair came with 6 major parts.
Breathable black mesh back

Sponge seat covered with black leatherette

Adjustable Seat Height

Flip-up padded arms x2

Seat tilt with tension control

Dual-Wheel Casters
There are also 16 screws, 4 washers and an allen screw driver. You start off attaching 5 wheels to the casters. It moves smoothly and doesn't make any screeching noises on wooden floor.
Next, you will have to attach the flip-up padded arms onto the black mesh back. This is probably the hardest part. You will have to align them so that you can screw them on tight. When both are attached onto the black mesh back, you will have to slide in the black leatherette seat into it. After that, you screw them in tight.
You then attach the seat tilt with tension control to the bottom of the seat and screw it. Don't forget to use washers on this step. Lastly, you put the chair onto the caster and you are done!
My Thoughts on The 3 Day Old Chair
The chair doesn't have a "new" smell when I got it. The seat is very comfortable and you cannot really rock the chair. It does rock slightly if you start moving back and forth. The chair can be adjusted as high as 17 inches of the floor. If you have a desk that is lower than that, then this chair might not be suitable for you.
The seat width is about 19 inches wide. I think it will fit the majority unless you are extra large. I am relatively light weight at 140 lbs so this was not a problem for me.
For those that want a more detailed instruction manual, you will be severely disappointed. It is only 1 page with 5 pictures. It doesn't go into the nitty gritty details, so it could possibly be hard for some folks.
Overall, I am quite satisfied with it. You can also choose other colors such as orange, red and brown. If you want more choices, you can always check out my recommendations for office chairs here.