Long Tail Pro Tutorial and Free Keyword Research Tools
Hello ladies and gentlemen, I am going to show you all how I use keyword research tools and some nifty functions that it provides.
Long Tail Pro Guide
Note: I am using the regular Longtail Pro version. It has less functions than the platinum version.
Step 1 – Create a New Campaign
For those of you who are new to Long Tail Pro(Affiliate), creating a new campaign would be the first step. Select your country and language. For people in the US/UK/Canada, you will most likely be using English as your language .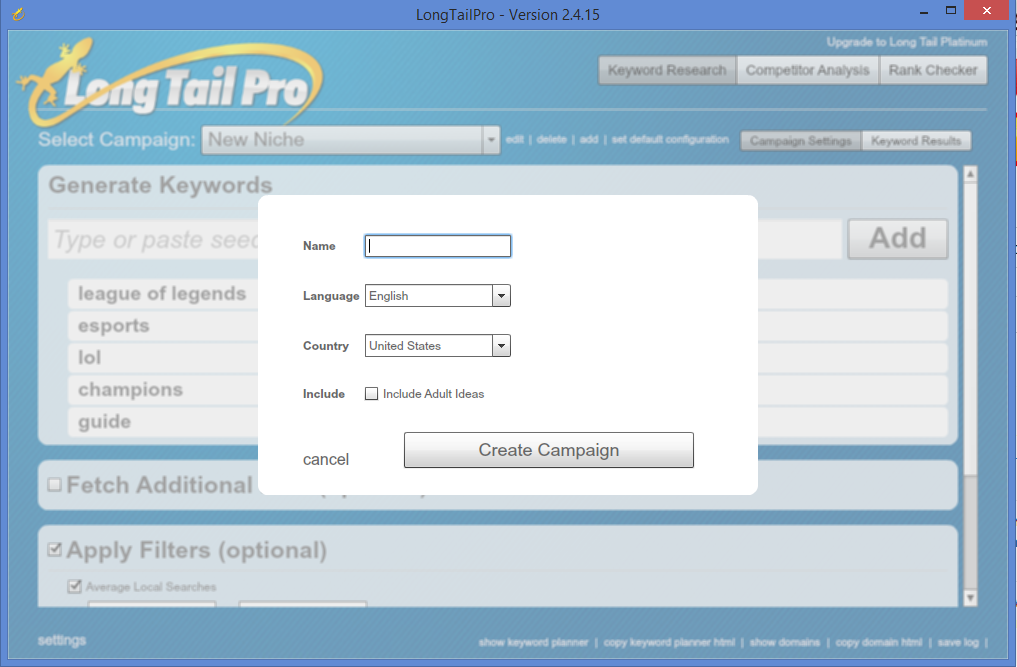 Selecting your country is optional. Most people do it because they are targeting local searches. Traffic from the US/UK/Canada are also more lucrative in terms of advertisement earnings. However, if you are in the gaming niche like me, then it doesn't really matter.
Step 2 – Add Your Keywords
You can do some basic brainstorming by adding keywords to the search bar.
Let me explain a little bit on the options you have:
Global Search Volume – Checking this will include the global search volume instead of local searches
Domain Availability – Checking this will let you know which extensions are available.(.com/.net/.org etc.)
Google Title Competition – This metric tells you how many other sites have the same exact title of the keyword you have chosen on Google
Bing Title Competition – This tells you how many sites have the same title as the keyword you have chosen on Bing
Average Local Searchers – You can use this to filter out low volume searches. Most of the time you would want more than 500.
Average CPC – CPC is the metric used by Google to see how much advertisers are willing to pay to advertise on the keyword. Anything above 50 cents is good in my books. For gaming though, anything above 20 cents is good enough.
Number of Words – This helps you filter out strong competition keywords you won't want. 3-4 would be a good filter for long tail keywords.
I personally only use the global search volume option and not so much on the other 3.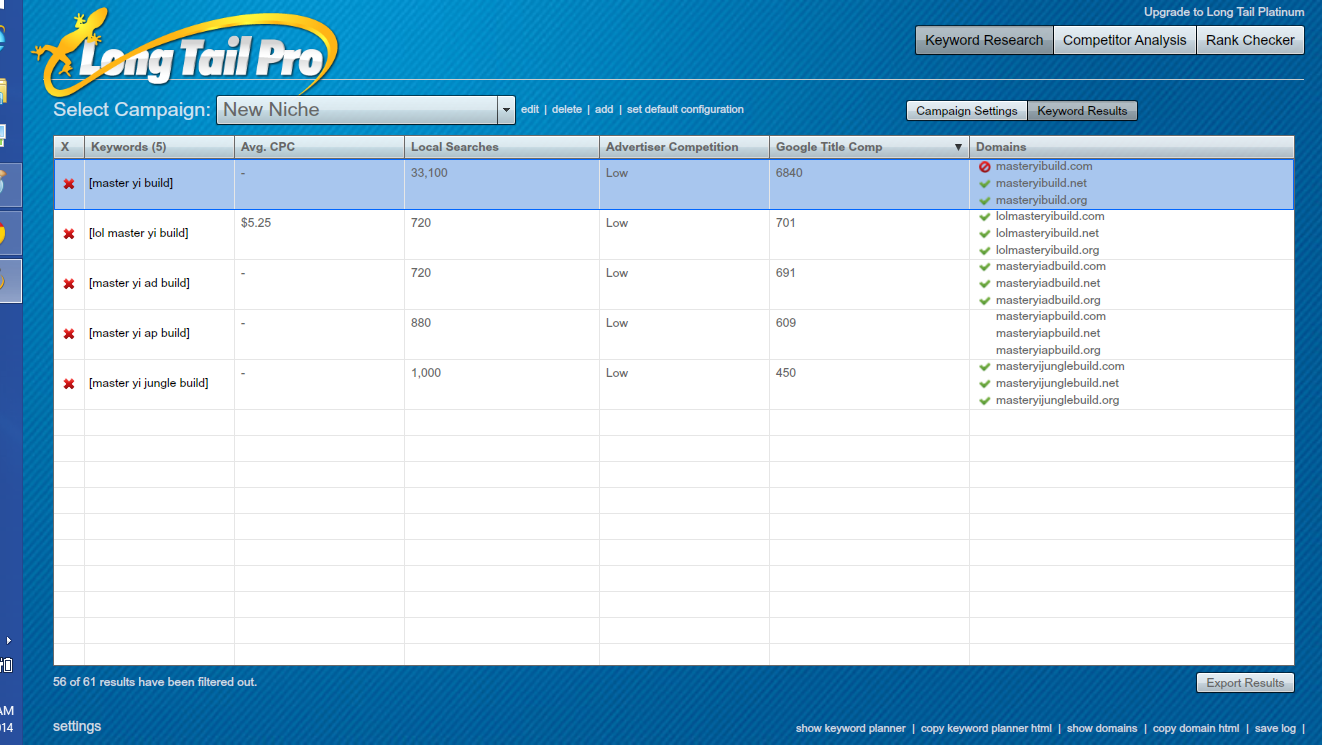 This will give you a rough idea of what you can get out of brainstorming your keywords. I usually use the "Top 10/Best Method" for keyword research.
Checking Your Keyword Competition
Step 3 – Sign Up for SEO Moz API Key
You will need an API key from SEO Moz before you can use Longtail Pro's competitor analysis section. You will be prompted with this when you first try to access competitor analysis: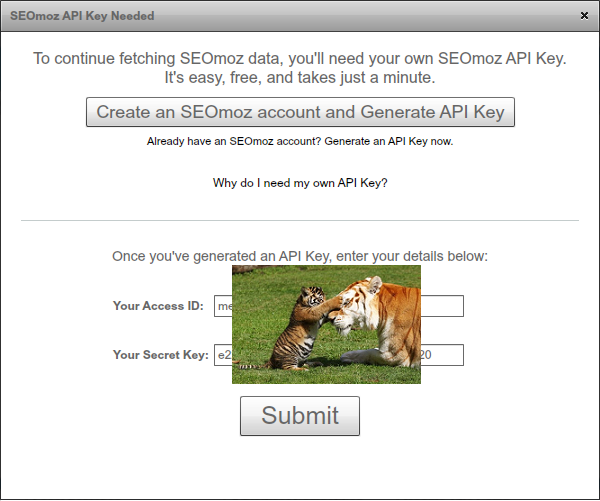 Go ahead and create a new account by signing up with SEO Moz: https://moz.com/community/join?redirect=/api/keys
Once you sign up with them, a member id and secret key will be sent to your email.
Step 4 – Understanding Competitor Analysis Metrics
URL – This provides you the details of whether the keywords are in the url of the page/post. This metric is great because you can check what type of sites are ranking.
The 2 big things to look for:
Title of the Page – If it doesn't contain all the keywords, they aren't targeting it.(There are always exceptions)
URL – If the url doesn't contain the keywords, they aren't focusing on their on page optimization.
Signs of Low Competition
Forum Posts

– If you see a few forum posts ranking, it is a good sign low competition. Rarely does anyone back links forum posts.

YouTube videos

– Seeing YouTube videos ranking is also a sign of low competition. You can outrank them easily with an exact domain match and decent links.

Low Page Rank(0-2)

– If the site does not have the exact keywords/missing keywords and a low page rank, it is also a good sign.

Page Authority(0-30)

– A low competition keyword consists of sites with page authority of 0-30. An exception is when you come up against Amazon/Ebay or any authority selling sites. They usually have a page authority of 0-1, but Google tends to favor them.

Page Link Juice

– The number of inbound links from the site itself. This metric tells you how strong the linking structure is for the site.

Juice Page Links

–  This accounts for the number of links pointing to the site. A high number means a lot of external sites are linking to the page. Ideally you will want it below 10.

Domain Authority(0-50)

– This is the metric tells you how much Google trusts the site. Most authoritative sites like YouTube, Reddit, Amazon, Ebay have 100. This combines well with page authority.

MozRank(0-3)

– Anywhere lower than 3 is good.

Site Age

– This tells you how old the site is. Older sites have more advantage, but it is not the most reliable metric to look at. I have outranked 5 year+ sites.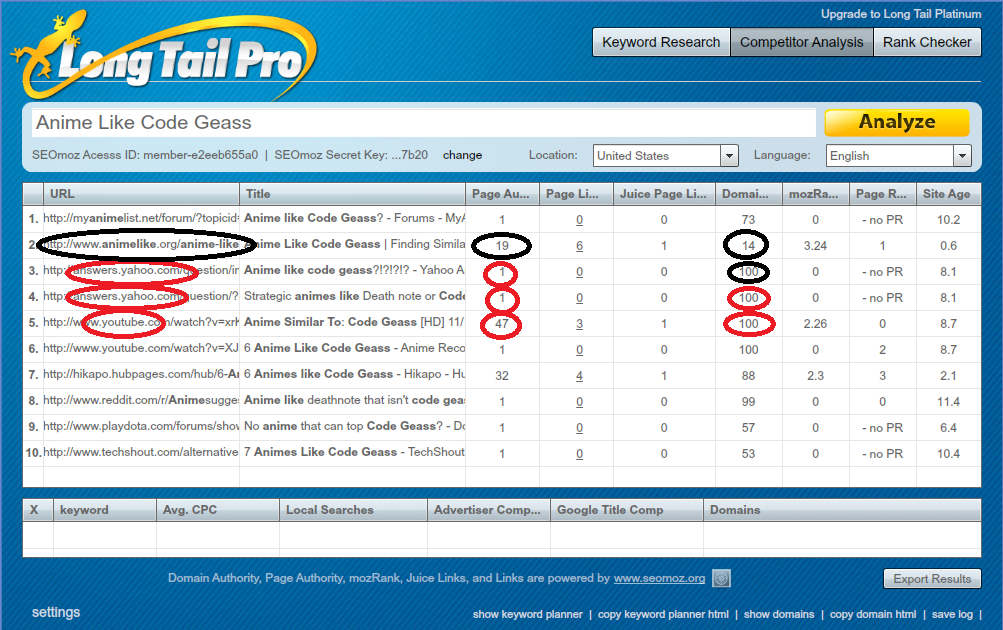 The red circles indicate the forum posts and YouTube videos. I was able to outrank them with a niche site I created that is circled in black.
To sum it up, any forum posts, yahoo answers and YouTube videos are good signs of low competition.
Example of High Competition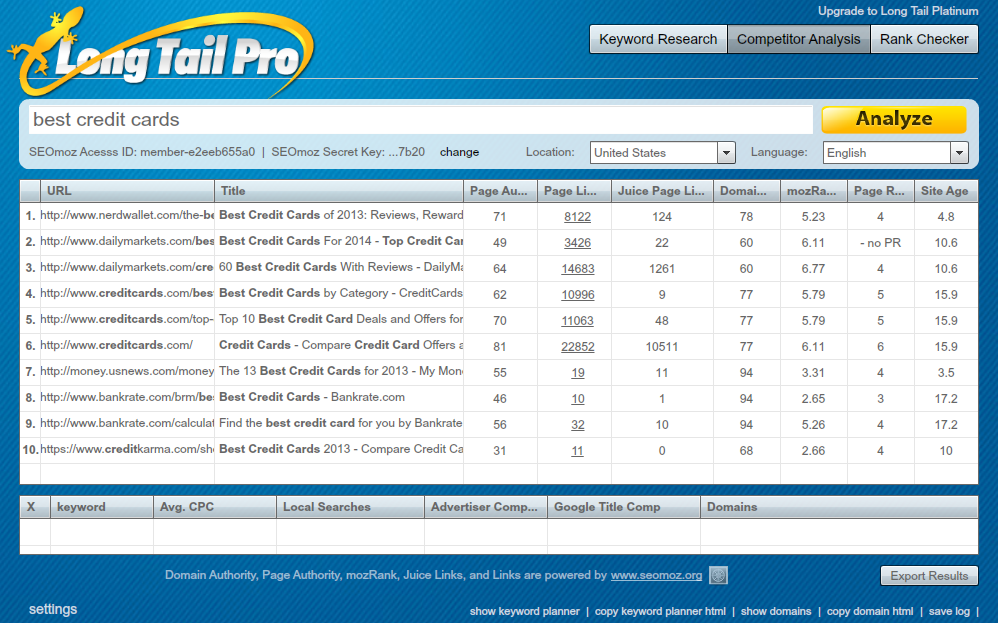 The results show that this keyword is really hard to beat out as all top 10 spots have very high metrics. You can still rank, but it is going to cost you a lot of money. It isn't worth it, especially if you are starting out.
Step 5 – Using the Rank Checker
This is used to check the rank of your keywords. I use this to track the progress of the keywords I want to rank for. Enter the site url and the keyword you want to check. For example, my site would be "animelike.org" and the keyword I want to check would be "Anime Like Code Geass".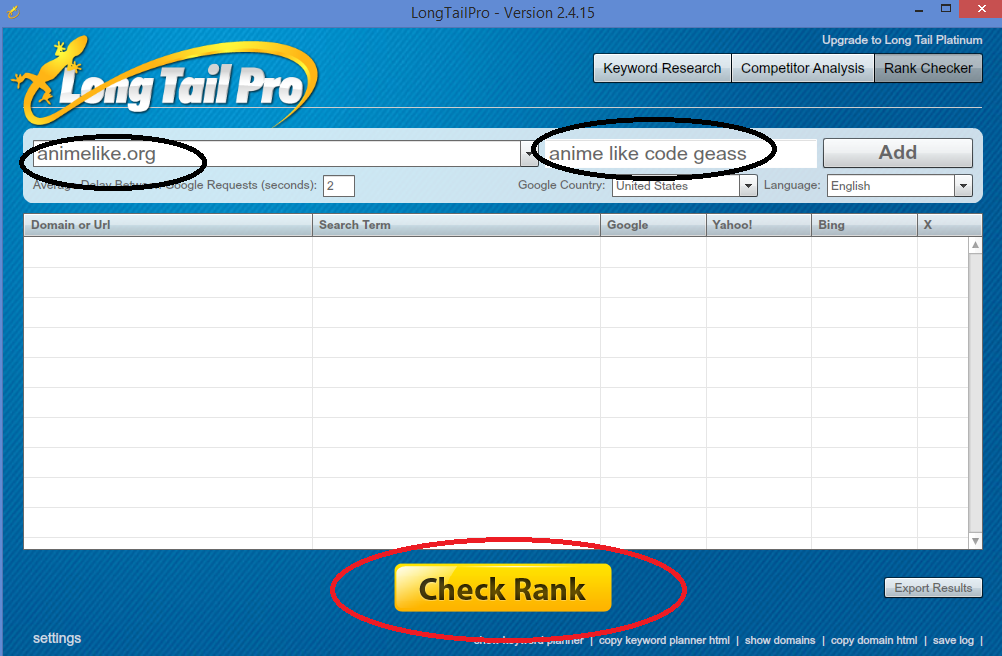 Once you hit check rank, it will generate your rank for you. If you don't rank in the search engines, it will take a while before you will get your results.
SEOquake Guide
If you cannot afford Longtail Pro, you can use SEOquake instead. It does require you to use either Google Chrome or Mozilla Firefox.

SEOquake shows you the page rank and some other nifty details right below Google search results. It is a really useful tool you can use to see the top 10 competition. It will require a bit more time, but it is not that much if you know what to look for.
Below is an example of the top search for "Anime Like Fairy Tail" and what the metrics mean: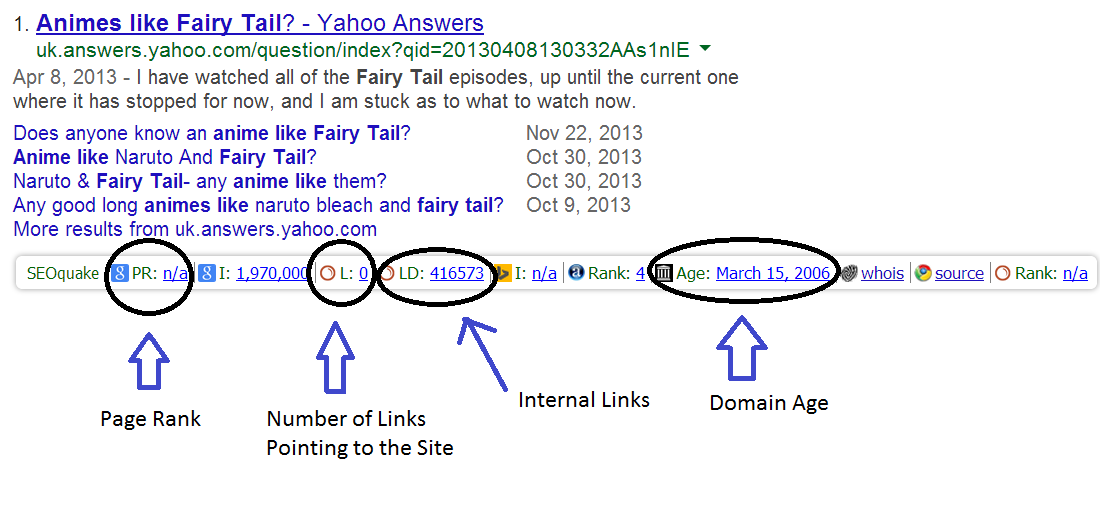 Google PR – Page Rank for Google. This will tell you the page rank of that post/page. Under 2 would be the best.
Number of External Links Pointing to the Site(L) – This tells you all the external sites linking to it. Anything below 10 is a good sign.
Internal Linking Structure(LD) – The on page SEO of the site. This gives you a rough idea of the internal linking structure. As you can tell, Yahoo Answers has a lot of inbound linking. I don't pay attention to this too much. It is just a metric to let you know how they do their on page SEO.
Domain Age(DA) – This tells you the age of the page. If the title of the page and url includes the keyword, then I will look at the domain age to see whether if it is worth pursuing.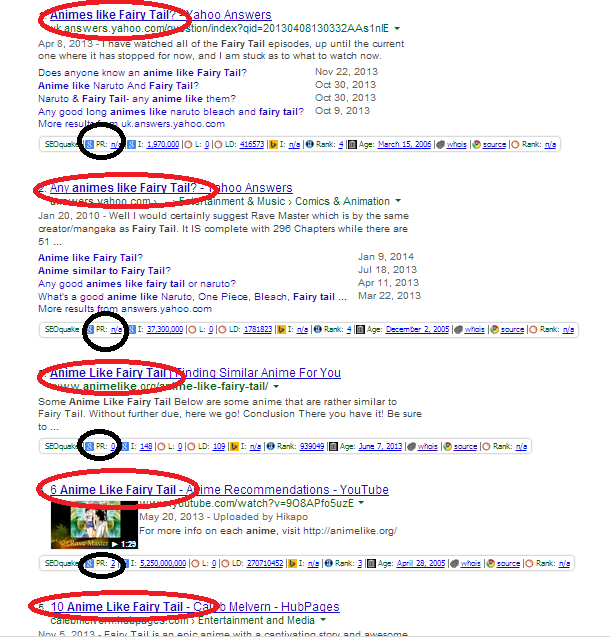 As you can see from the top 5, all of them have their keywords in their page title. However, the competition is not as strong due to the fact that none of them have any external links pointing to the page. Most of the searches page rank is also either 0 or n/a(not available), meaning they are not strong pages Google trust as much.
The 3rd search(animelike.org) is my site that is currently ranking there.  That is how I gauge competition using SEOquake. To sum it up:
Signs of Low Competition
Page Title and URL does not have the keyword
Less than 10 external links pointing to the site
Many forum and yahoo answer posts
YouTube videos
Low page rank sites(0-2)
Conclusion
There you have it guys. I think this sums up how I use keyword research tools. I personally like to use Longtail Pro(Affiliate Link) now because it saves me time. If you have any questions, feel free to comment and let me know.