Mobile Legends: Bang Bang Character / Hero [Tier List]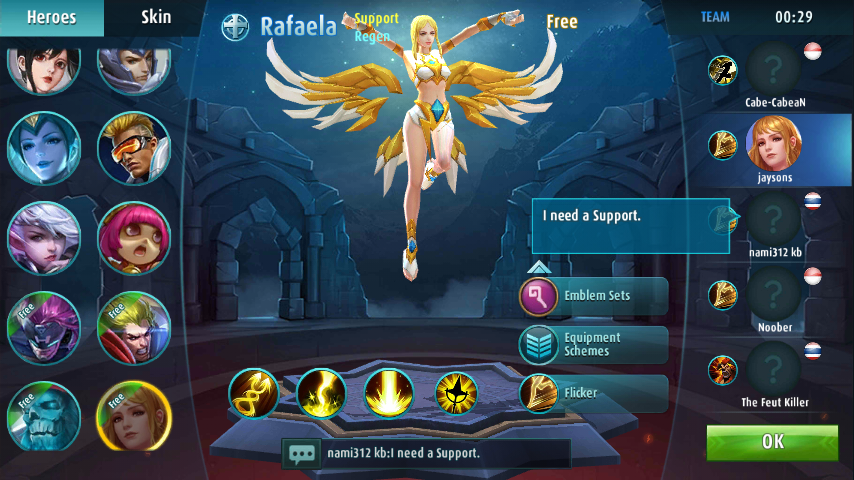 Welcome to the MLBB character list. We will be listing all new heroes that show up in the game. In the mean time, each character is designed to fulfill the roles. We have the standard roles of Top, Mid, Jungle and Bottom. And there are also some minor roles such as crowd control, engage, charge, reap, burst damage etc. Click on each hero to find out more about them and their builds. Also check out this awesome MLBB fan site.
Update: This is the newest tier list version. Click here.
| Name | Role | Specialty | Durability | Offense | Ability Effects | Difficulty |
| --- | --- | --- | --- | --- | --- | --- |
| Akai | Tank | Charge / Crowd Control | 9 | 7 | 6 | 5 |
| Tigreal | Tank | Engage / Crowd Control | 9 | 5 | 7 | 3 |
| Minotaur | Tank | Engage / Crowd Control | 9 | 6 | 5 | 4 |
| Yun Zhao | Fighter | Charge / Engage | 7 | 8 | 4 | 5 |
| Alucard | Fighter | Charge / Crowd Control | 5 | 9 | 5 | 4 |
| Franco | Fighter | Engage | 8 | 6 | 5 | 6 |
| Balmond | Fighter | Crowd Control / Regend | 8 | 7 | 4 | 3 |
| Bane | Fighter | Push | 9 | 6 | 5 | 6 |
| Freya | Fighter | Charge / Burst Damage | 7 | 8 | 5 | 5 |
| Fanny | Assassin | Charge / Reap | 6 | 9 | 4 | 10 |
| Saber | Assassin | Charge / Reap | 6 | 8 | 5 | 6 |
| Karina | Assassin | Charge / Reap | 4 | 9 | 6 | 3 |
| Hayabusa | Assassin | Charge / Burst Damage | 6 | 8 | 5 | 6 |
| Natalia | Assassin | Charge / Burst Damage | 6 | 9 | 5 | 4 |
| Eudora | Mage | Damage / Reap | 6 | 7 | 8 | 5 |
| Alice | Mage | Charge / Regen | 6 | 6 | 7 | 7 |
| Nana | Mage | Reap / Crowd Control | 5 | 6 | 7 | 4 |
| Gord | Mage | Damage / Cost | 6 | 5 | 9 | 8 |
| Layla | Marksman | Reap | 2 | 9 | 6 | 4 |
| Miya | Marksman | Reap | 2 | 9 | 6 | 4 |
| Clint | Marksman | Reap | 5 | 8 | 6 | 5 |
| Bruno | Marksman | Reap | 5 | 8 | 6 | 5 |
| Rafaela | Support | Regen | 6 | 5 | 7 | 4 |
| Lolita | Tank | Crowd Control / Push | 8 | 6 | 7 | 6 |
| Chou | Fighter | Charge / Burst Damage | 8 | 8.5 | 5 | 6 |
| Alpha | Fighter | Charge / Damage | 7.5 | 8 | 7.5 | 9 |
| Little Red Hood | Fighter | Crowd Control | 8 | 5 | 6 | 7 |
| Moskov | Marksman | Push/Burst Damage | 3 | 9 | 5 | 8 |
| Johnson | Tank | Crowd Control/Engage | 9 | 4 | 6 | 5 |
| Yi Sun-Shin | Marksman | Cost/Reaper | 4 | 8 | 7 | 5 |
| Cyclops | Mage | Cost/Damage | 4 | 5 | 9 | 7 |
| Estes | Support | Cost/Regen | 4 | 5 | 7 | 4 |
| Hilda | Fighter/Tank | Crowd Control/Engage | 9 | 7 | 6 | 5 |
| Aurora | Mage | Crowd Control/Burst Damage | 4 | 5 | 9 | 7 |
| Vexana | Mage | Cost/Crowd Control | 4 | 5 | 9 | 6 |
| Lapu Lapu | Assassin | Charge/Burst Damage | 4 | 8 | 6 | 4 |
| Roger | Fighter/Marksman | Reap/Burst Damage | 5 | 7 | 6 | 5 |
| Karrie | Marksman | Reap/Burst Damage | 4 | 9 | 5 | 9 |
| Harley | Mage | Damage/Cost | 5 | 6 | 7 | 5 |
| Gatotkaca | Tank | Crowd Control/Initiator | 9 | 5 | 7 | 7 |
| Grock | Tank | Charge/Initiator | 8 | 5 | 6 | 4 |
| Argus | Fighter | Charge/Burst Damage | 5 | 9 | 7 | 5 |