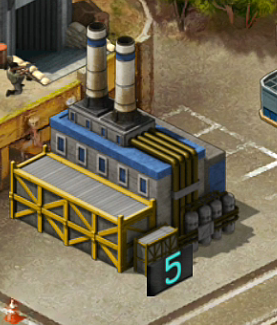 The armory  enables you to manufacture equipment for your Commander. This allows you to combine Mods and Materials to improve their quality. This is vital to your success in increasing construction speed and efficiency.
Mobile Strike Menu
Here are the things you can manufacture with the armory:
Manufacture
Special Event Gear
Helmets
Body Armor
Footwear
Weapons
Accessories
Each item can vary depending on item grade. Below is a chart of the requirements of getting a higher level armory.
| Lvl | Oil | Stone | Food | Iron | Time | Power | Building Requirements |
| --- | --- | --- | --- | --- | --- | --- | --- |
| 1 | 400 | 300 | 300 | 800 | 0h 1m 15s | 10 | Iron Mine 1 |
| 2 | 680 | 510 | 510 | 1,360 | 0h 2m 30s | 25 | Iron Mine 2 |
| 3 | 1,156 | 867 | 867 | 2,312 | 0h 5m 0s | 40 | Iron Mine 3 |
| 4 | 1,966 | 1,474 | 1,474 | 3,931 | 0h 10m 0s | 60 | Iron Mine 4 |
| 5 | 3,343 | 2,506 | 2,506 | 6,683 | 0h 20m 0s | 90 | Iron Mine 5 |
| 6 | 6,686 | 5,012 | 5,012 | 13,366 | 0h 40m 0s | 135 | Iron Mine 6 |
| 7 | 13,372 | 10,024 | 10,024 | 26,732 | 1h 20m 0s | 215 | Iron Mine 7 |
| 8 | 24,070 | 20,048 | 18,043 | 58,810 | 2h 48m 0s | 310 | Iron Mine 8 |
| 9 | 53,488 | 44,106 | 34,082 | 96,235 | 5h 12m 0s | 475 | Iron Mine 9 |
| 10 | 88,255 | 54,130 | 48,115 | 160,392 | 10h 8m 0s | 715 | Iron Mine 10 |
| 11 | 108,313 | 90,216 | 76,684 | 264,647 | 12h 28m 48s | 1,075 | Iron Mine 11 |
| 12 | 180,522 | 135,324 | 135,324 | 360,882 | 15h 21m 36s | 1,610 | Iron Mine 12 |
| 13 | 270,783 | 202,986 | 202,986 | 541,323 | 18h 25m 56s | 2,425 | Iron Mine 13 |
| 14 | 406,175 | 304,479 | 304,479 | 811,985 | 22h 7m 8s | 3,640 | Iron Mine 14 |
| 15 | 609,263 | 456,719 | 456,719 | 1,217,978 | 1d 2h 32m | 5,460 | Iron Mine 15 |
| 16 | 913,895 | 685,079 | 685,079 | 1,826,967 | 1d 7h 51m | 8,200 | Iron Mine 16 |
| 17 | 1,370,843 | 1,027,619 | 1,027,619 | 2,740,451 | 1d 20h 35m | 12,315 | Iron Mine 17 |
| 18 | 2,056,265 | 1,541,429 | 1,541,429 | 4,110,677 | 2d 23h 20m | 18,460 | Iron Mine 18 |
| 19 | 3,084,398 | 2,312,144 | 2,312,144 | 6,166,016 | 5d 8h 25m | 27,700 | Iron Mine 19 |
| 20 | 4,626,597 | 3,468,216 | 3,468,216 | 9,249,024 | 9d 15h 9m | 41,565 | Iron Mine 20 |
| 21 | 6,939,896 | 5,202,324 | 5,202,324 | 13,873,536 | 38d 12h 39m | 62,335 | Iron Mine 21 |