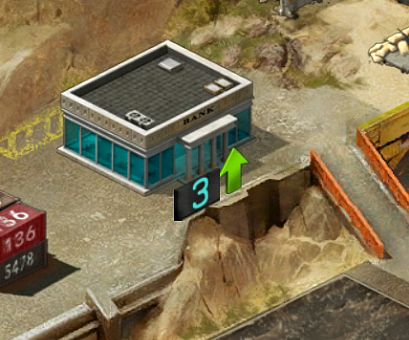 The banks generate coins for your base and also increasing coin capacity. Higher level banks produce more coins. At level 21, the bank provides a 2% troop attack boost. With multiple banks at max level, your troops become stronger.
Mobile Strike Menu
Banks are very important to gaining power. Not only does banks increase your coin capacity, it also increases training speed of your buildings. That means the more banks you have, the faster your troops are trained. That is why you see high level players build a lot of banks.
Below is the chart for the requirements and resources needed to get your bank to max level.
| Lvl | Oil | Stone | Food | Iron | Time | Requirments | Power |
| --- | --- | --- | --- | --- | --- | --- | --- |
| 1 | 200 | 200 | 500 | 50 | 0h 1m 0s | Oil Well 1 Farm 1 | 10 |
| 2 | 340 | 340 | 850 | 85 | 0h 1m 40s | Oil Well 2 Farm 2 | 25 |
| 3 | 578 | 578 | 1,445 | 145 | 0h 3m 20s | Oil Well 3 Farm 3 | 40 |
| 4 | 983 | 983 | 2,457 | 247 | 0h 6m 40s | Oil Well 4 Farm 4 | 60 |
| 5 | 1,672 | 1,672 | 4,177 | 420 | 0h 13m 20s | Oil Well 5 Farm 5 | 90 |
| 6 | 3,334 | 3,334 | 8,354 | 840 | 0h 26m 40s | Oil Well 6 Farm 6 | 135 |
| 7 | 6,688 | 6,688 | 16,708 | 1,680 | 0h 53m 20s | Oil Well 7 Farm 7 | 215 |
| 8 | 12,038 | 13,376 | 30,074 | 3,696 | 1h 52m 0s | Oil Well 8 Farm 8 | 310 |
| 9 | 26,752 | 29,427 | 56,807 | 6,048 | 3h 28m 0s | Oil Well 9 Farm 9 | 475 |
| 10 | 44,141 | 36,115 | 80,198 | 10,080 | 6h 45m 20s | Oil Well 10 Farm 10 | 715 |
| 11 | 60,192 | 60,192 | 150,372 | 15,120 | 8h 32m 0s | Oil Well 11 Farm 11 | 1075 |
| 12 | 90,288 | 90,288 | 225,558 | 22,680 | 10h 14m 24s | Oil Well 12 Farm 12 | 1610 |
| 13 | 135,432 | 135,432 | 338,337 | 34,020 | 12h 17m 17s | Oil Well 13 Farm 13 | 2425 |
| 14 | 203,148 | 203,148 | 507,506 | 51,030 | 14h 44m 45s | Oil Well 14 Farm 14 | 3640 |
| 15 | 304,722 | 304,722 | 761,259 | 76,545 | 17h 41m 3s | Oil Well 15 Farm 15 | 5460 |
| 16 | 457,083 | 457,083 | 1,141,889 | 114,818 | 21h 14m 3s | Oil Well 16 Farm 16 | 8200 |
| 17 | 685,625 | 685,625 | 1,712,834 | 172,227 | 1d 5h 43m | Oil Well 17 Farm 17 | 12315 |
| 18 | 1,028,438 | 1,028,438 | 2,569,251 | 258,341 | 1d 23h 33m | Oil Well 18 Farm 18 | 18460 |
| 19 | 1,542,657 | 1,542,657 | 3,853,877 | 387,512 | 3d 13h 37m | Oil Well 19 Farm 19 | 27700 |
| 20 | 2,313,986 | 2,313,986 | 5,780,816 | 581,268 | 6d 10h 6m | Oil Well 20 Farm 20 | 41565 |
| 21 | 3,470,979 | 3,470,979 | 8,671,224 | 871,902 | 25d 16h 26m | Oil Well, 21 Farm 21 | 62335 |