Mobile Strike Headquarters(HQ) Building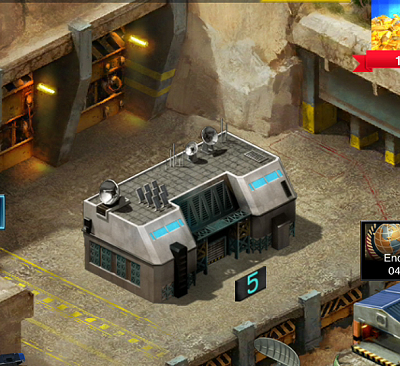 The Headquarters(HQ) is your most important building in the game. It provides an overview of your Base's advancements. Upgrade your HQ to unlock new infrastructure and features.
Mobile Strike Menu
The HQ also determines your deployment size. At certain intervals, you increase your deployment size. At HQ level 6, 11, 16 and 21, your deployment size goes up by 1. That means you can deploy 5 troops to occupy resources. Keep that in mind.
| Level | Capacity | Oil | Stone | Food | Iron | Requirement | Power | Time |
| --- | --- | --- | --- | --- | --- | --- | --- | --- |
| 1 | +2 000 | N/A |  N/A |  N/A |  N/A |  N/A |  N/A | N/A |
| 2 | +5 000 | 1 800 | 1 800 | 900 | 720 | Walls 1 | N/A | 4m 40s |
| 3 | +10 000 | 3 240 | 3 240 | 1 620 | 1 296 | Walls 2 | 150 | 20m |
| 4 | +150 00 | 5 832 | 5 832 | 2 916 | 2 333 | Walls 3 | 250 | 40m |
| 5 | +20 000 | 10 498 | 10 498 | 5 248 | 4 200 | Walls 4 | 350 | 1h 20m |
| 6 | +250 00 | 20 996 | 20 996 | 10 498 | 8 400 | Walls 5/Warehouse 5 | 550 | 2h 40m |
| 7 | +30 000 | 41 992 | 41 992 | 20 996 | 16 800 | Walls 6/Hospitals 6 | 850 | 5h 20m |
| 8 | +35 000 | 83 984 | 83 984 | 37 793 | 36 960 | Walls 7/Research 7 | 1 250 | 11h 12m |
| 9 | +40 000 | 167 968 |  184 765 | 71 386 | 60 480 | Walls 8/Trading Post 8 | 1 900 | 20h 48m |
| 10 | +45 000 | 277 147 | 226 757 | 100 781 | 100 800 | Walls 9/Training Grounds 9 | 2 850 | 1d 16h 32m |
| 11 | +50 000 | 340 135 | 377 928 | 160 619 | 166 320 | Walls 10/Hall of Heroes 10 | 4 300 | 2d 1h 55m |
| 12 | +60 000 | 566 892 | 566 892 | 283 446 | 226 800 | Walls 11/Radar 11 | 6 450 | 2d 13h 26m |
| 13 | +70 000 | 850 338 | 850 338 | 425 169 | 340 200 | Walls 12/Hospital 12 | 9 700 | 3d 1h 44m |
| 14 | +80 000 | 1 275 570 | 1 275 570 | 637 754 | 510 300 | Walls 13/Warehouse 13 | 14 550 | 3d 16h 28m |
| 15 | +90 000 | 1 913 261 | 1 913 261 | 956 630 | 765 450 | Walls 14/Hospital 14 | 21 850 | 4d 10h 10m |
| 16 | +100 000 | 2 869 891 |  2 869 891 | 1 434 945 | 1 148 175 | Walls 15/Research 15 | 32 800 | 5d 7h 24m |
| 17 | +125 000 | 4 304 837 |  4 304 837 | 2 152 418 | 1 722 263 | Walls 16/Trading Post 16 | 49 250 | 7d 10h 22m |
| 18 | +150 000 | 6 457 257 | 6 457 257 | 3 228 632 | 2 583 395 | Walls 17/Training Grounds 17 | 73 850 | 11d 21h 22m |
| 19 | +175 000 | 9 685 886 |  9 685 886 | 4 842 948 | 3 875 093 | Walls 18/Hall of Heroes 18 | 110 000 | 21d 9h 41m |
| 20 | +200 000 | 14 528 829 |  14 528 829 | 7 264 422 | 5 812 640 | Walls 19/Radar 19 | 166 250 | 38d 12h 38m |
| 21 | +250 000 | 21 793 224 |  21 793 224 | 10 896 633 | 8 718 960 | Walls 20/Warehouse 20 | 249 350 | 154d 2h 33m |