Mobius Final Fantasy 3 Star Card List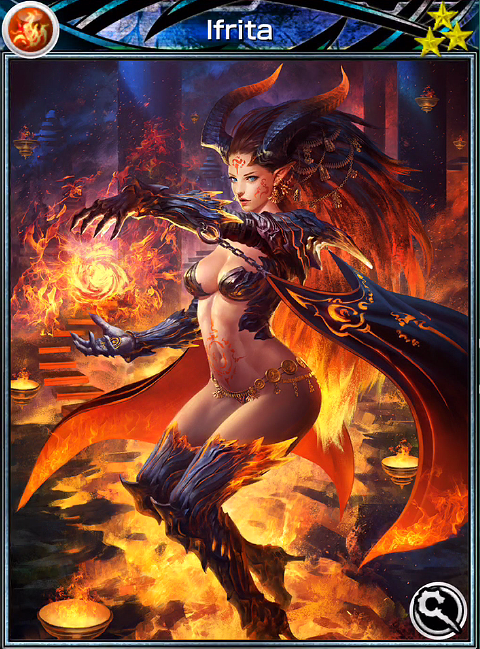 Here is the 3 star card list for Mobius FF.  The legend will explain what some of the stats and initials actually mean so you can read the graph better.
Legend
Skill – The ability of the card
Type – Type of card. Aug = Augment, Rang = Ranger, War = Warrior
Ele – Element of the card. Fi = Fire, Wa = Water, Wi = Wind, Ea = Earth, Sup = Support
Orbs – The number of orbs required to cast it
Range – The range of attack. S = Single Target, C = Cone, A = Full area of effect
CD – Cooldown of the card.
Atk – Attack power of the card.
BP – Break power of the card.
Fire – Max fire skillseeds created
Water – Max water skillseeds created.
Wind – Max wind skillseeds created.
Earth – Max earth skillseeds created.
Light – Max light skillseeds created.
Dark – Max dark skillseeds created.
| Name | Type | Skill | Ele | Orbs | CD | Range | Atk | BP | Fire | Water | Wind | Earth | Light | Dark |
| --- | --- | --- | --- | --- | --- | --- | --- | --- | --- | --- | --- | --- | --- | --- |
| Yuna: FFX | All | Song of Life | Support | 2 | 5 | Self | - | - | - | - | 6 | 12 | - | - |
| Cactuar | Aug | - | - | - | - | - | - | - | - | - | - | - | - | - |
| Metal Cactuar | Aug | - | - | - | - | - | - | - | - | - | - | - | - | - |
| Gold Cactuar | Aug | - | - | - | - | - | - | - | - | - | - | - | - | - |
| Ares | War | Flame Sword | Fi | 4 | - | S | 374 | 306 | 12 | - | 6 | - | - | - |
| Geryon | War | Flame Blast | Fi | 4 | - | C | 306 | 204 | 12 | - | - | - | - | 6 |
| Ifrit | War | Flame Burst | Fi | 6 | - | A | 408 | 204 | 12 | 6 | - | - | - | - |
| Salamander | War | Inferno | Fi | 4 | - | S | 350 | 100 | 12 | - | - | - | 6 | - |
| Onion Knight | War | Earth Sword | Ea | 4 | - | S | 374 | 306 | - | - | 6 | 12 | - | - |
| Raiden | War | Earth Blast | Ea | 4 | - | C | 306 | 204 | - | - | - | 12 | - | 6 |
| Jormungand | War | Earth Burst | Ea | 6 | - | A | 408 | 204 | - | 6 | - | 12 | - | - |
| Byakko | Rang | Icefang | Wa | 4 | - | S | 374 | 306 | - | 12 | 6 | - | - | - |
| Valkyrie | Rang | Icewave | Wa | 4 | - | C | 306 | 204 | - | 12 | - | - | - | 6 |
| Valefor | Rang | Icedance | Wa | 6 | - | A | 408 | 204 | - | 12 | - | - | - | 6 |
| Griffin | Rang | Windfang | Wi | 4 | - | S | 374 | 306 | - | - | 12 | 6 | - | - |
| Lakshmi | Rang | Windwave | Wi | 4 | - | C | 306 | 204 | - | - | 12 | - | 6 | - |
| Quetzalcoatl | Rang | Winddance | Wi | 6 | - | A | 408 | 204 | - | - | 12 | - | - | 6 |
| Fenrir | Mage | Shadowbind | Wi | 4 | - | S | 350 | 100 | 6 | - | 12 | - | - | - |
| Fafnir | Mage | Blizzard | Wa | 4 | - | S | 374 | 306 | - | 12 | 6 | - | - | - |
| Famfrit | Mage | Blizzara | Wa | 4 | - | C | 306 | 204 | 6 | 12 | - | - | - | - |
| Shiva | Mage | Blizzaga | Wa | 6 | - | A | 408 | 204 | - | 12 | - | 6 | - | - |
| Succubus | Mage | Venom Swirl | Wa | 4 | - | S | 350 | 100 | - | 12 | - | - | 6 | - |
| Kirin | Mage | Fire | Fi | 4 | - | S | 374 | 306 | 12 | - | - | 6 | - | - |
| Belias | Mage | Fira | Fi | 4 | - | C | 306 | 204 | 12 | 6 | - | - | - | - |
| Ifrita | Mage | Firaga | Fi | 6 | - | A | 408 | 204 | 12 | - | 6 | - | - | - |
| Cait Sith | All | Cure | Sup | 2 | 5 | Self | - | - | - | - | 9 | 9 | - | - |
| Fat Chocobo | All | Barrier | Sup | 2 | 5 | Self | - | - | 9 | - | - | 9 | - | - |
| Gigant | All | Brave | Sup | 2 | 5 | Self | - | - | 9 | 9 | - | - | - | - |
| Moogle | All | Faith | Sup | 2 | 5 | Self | - | - | - | 9 | - | - | 9 | - |
| Artemis | All | Boost | Sup | 2 | 5 | Self | - | - | - | - | 9 | - | - | 9 |
| Inugami | All | Flameshift | Sup | 2 | 5 | Self | - | - | 18 | - | - | - | - | - |
| Chariot | All | Iceshift | Sup | 2 | 5 | Self | - | - | - | 18 | - | - | - | - |
| Centicore | All | Windshift | Sup | 2 | 5 | Self | - | - | - | - | 18 | - | - | - |
| Gnome | All | Earthshift | Sup | 2 | 5 | Self | - | - | - | - | - | 18 | - | - |