Monthly Income Report – June 2015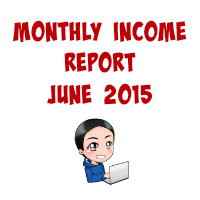 Hello online fanatics! This is the very first monthly income report since the revamp of the site. I will address why I chose to delete all my old income reports. The reason is simple. Someone is doing negative SEO on one of my authority video game blogs.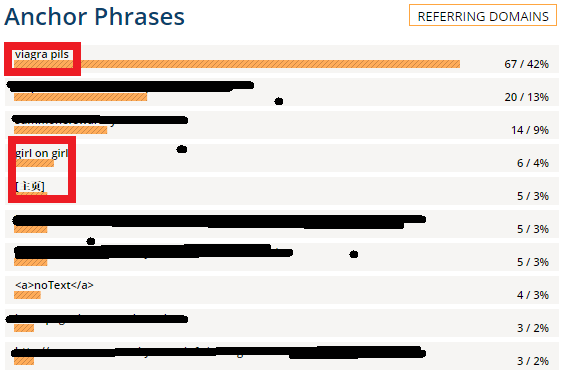 Although it has not impacted my rankings or traffic, I feel like it is quite dangerous to reveal them in the future. Any new niche sites I am making now will also not be revealed.
However, I will be posting only earnings from this blog. I am not afraid of negative SEO on this one as this blog has zero SEO links. With that being said, let's get down to business!
Actions Taken on This Blog
Over the course of June 2015, I decided to focus on this blog my goal is to generate 10,000 unique visitors per day by the end of 2015. The goals for June were:
Turn this blog to 10,000 visitors per day in 6 months

Make this blog a content central for hub for surrounding online topics

30 new articles per month where I will outsource 15 of them to iWriter

Provide value to users looking for answers from the search engine

Monetize content with Google Adsense
1) Turn this Blog to 10,000 Visitors per Day in 6 Months
Traffic from the blog has increased by about 180% since I started working on the blog. Quite a good improvement but it can be better.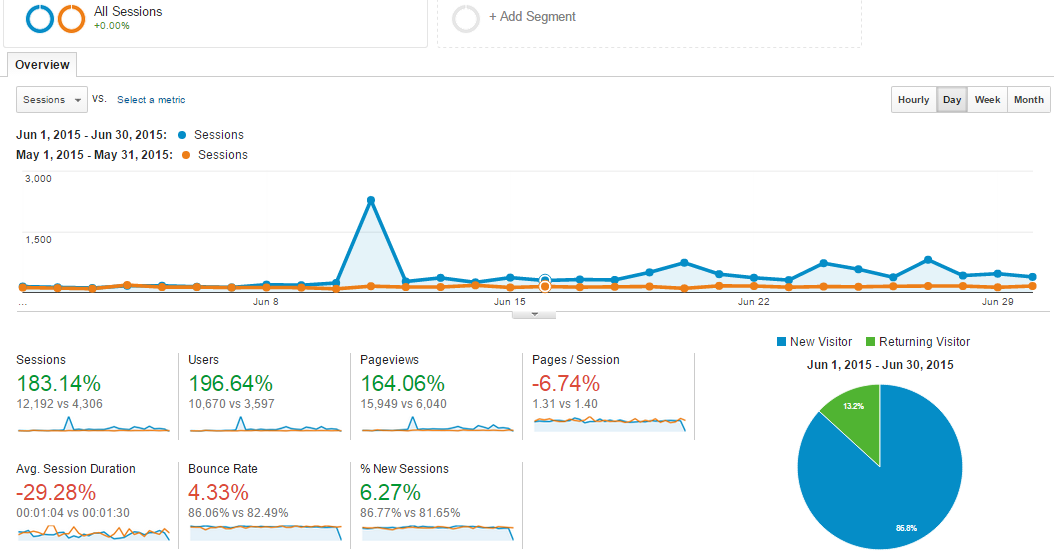 2) Utilize Social Media
I have started utilizing Pinterest just 2 days before June ended. The Pinterest board has gotten some follows but nothing significant yet. if you want to check it out, click here. I will be consistently building up the board and I am targeting 400 followers by the end of July. A for Scoop It, I think I will hold that off for now.
3) Make the Blog a Central for Content of Various Topics
For those that used to follow me back in 2013/14, my blog only had internet marketing and SEO related topics. Now I have added more new categories to turn this into an authority blog eventually. Things are going well as my Google organic traffic has increased by roughly 80%.
4) 30 New Articles and Outsourcing 15
Well I did publish 30 articles but I only outsourced 4 articles. From this lesson I realized that it is much easier to target bigger keywords with more traffic potential.
My best performing articles are the blogger outreach interviews I did with Amazon FBA experts, Chris Lee and Sharon Gourlay. They are getting quite a bit of shares as I used email outreach strategy. I am also getting a good amount of traffic from Google as well.
Next month I will be going for 30 articles, but this time I will carefully select my topic choices.
5) Provide Value to Users

I have gotten quite a bit of shares and I think I finally understood the importance of providing value. These were done using email outreach, which in my opinion is really effective.
6) Monetize with Google Adsense
While I did do that, but I didn't go all out. I still feel the blog is in the infant stages and until I hit about 2,000 visitors per day, there will only be 1 ad on the site. I eventually intend to monetize it with other stuff but as of right now getting traffic is my number 1 priority.
Other Things I Did
I changed the layout of the site. A special thanks to Faraz from Worthy of Mind for redesigning my site logo and motto. Much appreciated!
I also started 1 new niche site and also revived an old niche site I neglected for a long time. I will be working on them alongside my blog.
Earnings
The earnings of the blog is here:
Clickbank: $44.91
Adsense: $10.38
Expenses: $22(outsourced articles)
Total earnings:
$33.29
This isn't bad for a blog I neglected in terms of earning income since 2013. Now I will be working on these goals in July 2015:
30 well researched articles for the blog
Work on 2 niche sites – new articles for those and also launching the new one
Develop my Pinterest board to about 400 followers
Continue working on my YouTube channels
Email outreach – 3 more new interviews
Promote my new content via email outreach to relevant blogs
Looking for 1000 visitors per day as my goal for July.
Till then, I am off to work again. Thanks for reading and feel free to leave a comment below if you have any questions.