Movies Like Vampire Academy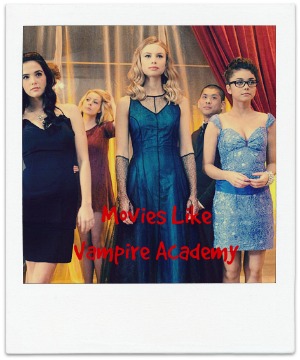 Here are my top picks for movies similar to Vampire Academy. The list is in no particular order.
Bloodsucking party girls (Alicia Silverstone, Krysten Ritter) find their destinies at stake when one falls for the son of a vampire hunter and the other encounters a long-ago love.
High-school student Bella Swan (Kristen Stewart), always a bit of a misfit, doesn't expect life to change much when she moves from sunny Arizona to rainy Washington state. Then she meets Edward Cullen (Robert Pattinson), a handsome but mysterious teen whose eyes seem to peer directly into her soul. Edward is a vampire whose family does not drink blood, and Bella, far from being frightened, enters into a dangerous romance with her immortal soulmate.
Holly (Morven Macbeth), an aspiring documentary filmmaker, is immersing herself in London's goth scene, frequenting several clubs filled with vampire-obsessed young people, and hoping to make a film about it. Enter Vicki (Anna Walton), a dark beauty who captures Holly's eye. As their friendship turns sexual, Vicki continues to insist that she is actually a vampire. Initially skeptical, Holly begins to change her mind, especially after a series of suspicious murders seem to involve Vicki.
In the small town of Gatlin, S.C., teenage Ethan Wate (Alden Ehrenreich) sees his static world shaken by the arrival of Lena Duchannes (Alice Englert), the niece of town patriarch Macon Ravenwood (Jeremy Irons). Immediately, Ethan feels drawn to Lena, even though destruction seems to surround her, and she has supernatural powers that are beyond her control. Worse still, a curse looms for Lena at the approach of her 16th birthday — a time when the forces of either light or dark will claim her.
Tris Prior (Shailene Woodley) lives in a futuristic world in which society is divided into five factions. As each person enters adulthood, he or she must choose a faction and commit to it for life. Tris chooses Dauntless — those who pursue bravery above all else. However, her initiation leads to the discovery that she is a Divergent and will never be able to fit into just one faction. Warned that she must conceal her status, Tris uncovers a looming war which threatens everyone she loves.
Follows the legendary vampire Lestat (Stuart Townsend), who has reinvented himself as a rock star in the contemporary American music scene. His music wakes Akasha (Aaliyah), the queen of all vampires, and inspires her desire to make Lestat her king. Akasha's malevolent power is so great that all the immortal vampires must stand against her if they want to survive. Meanwhile, a young London woman with a fascination for the dark side (Marguerite Moreau) falls in love with Lestat.
These movies are all decent picks. So take your time and perhaps start a movie marathon!