How to Earn $963.47 and 9192 Referrals with Points2shop [Review]
Hello online fanatics! Today I will be showing you how to get many referrals and earn some income with Points2shop(P2S). But before that, let's address some doubts that readers might have regarding Points2shop.
Is Points2shop Legit or a Scam?
This is probably the most common question for people who have yet to check out Points2shop. The answer is no. P2S is 100% legit and I have been with them for almost 2 years. Here is a screenshot of my earnings and they paid all of it to my PayPal account.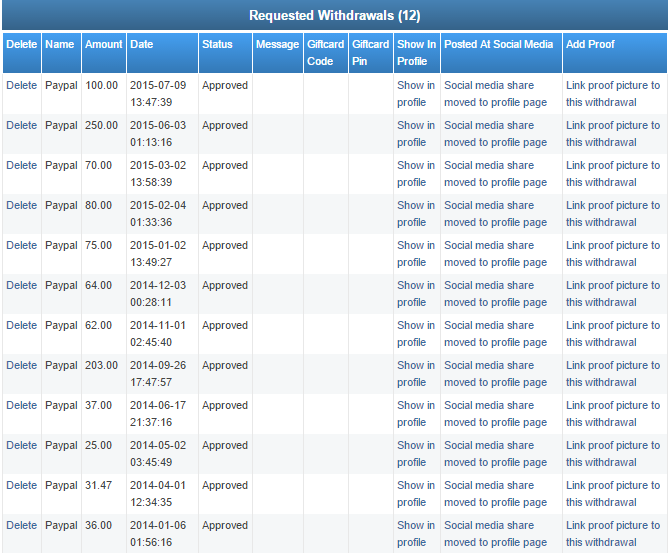 How to Earn Money and Referrals with Points2shop on Autopilot
Now you can earn cash doing their surveys or play their games, but cash will stop coming in the moment you stop doing them. The best way to generate passive income with them is to refer people to the program. They have a referral program that pays you $1 per referral for US visitors. I have referred a total of 9192 people to the program so far.

So overall, each referral is roughly 12 cents. It might not sound like a lot, but if you are generating $100 per month, this autopilot system pays for your internet and hosting bill every month. The good thing about Points2shop is that the pay is very fast. Once you request a withdrawal , they pay 2-3 days later into your PayPal account.
In order to get referrals every month, follow these steps:
Create a website or blog
Create content
Direct them to Points2ship via your referral link
It is a very simple process. The work involved is not much but the hard part is actually setting it up. It does take a bit of time. I would say 2 months is a good time frame to set it up.
1) Create a Website or Blog
This should take no more than 20 minutes if you are tech savvy. You can either buy hosting with GoDaddy or any decent host like BlueHost. You can also choose to go with a free blog using WordPress or Blogspot. The downside to using free blogs is that you have no control over your content. They can delete your stuff at any given time. Domain names doesn't matter as much, so just go with whatever floats your boat.
2) Creating Content
Now this step is simple. The content you are going to create will make it easier to convert visitors to referrals if the content is related to entertainment or games. These niches are usually filled with students or teenagers that are willing to earn some extra cash and they will do surveys for it.
To find the content, head over to these places:
The key is to find new things coming out. You want to create content for those new things. The reason for doing that is that you will get visitors since these things are highly sought after. You can either write a guide for a new game or write a review for that movie.
The goal is to get as many visitors as possible. Once you have written some content, you can choose to promote your content via social sharing on Facebook, Twitter or relevant forums for movies or games.
3) Create a Points2Shop Page with your Referral Link
You will want to link to this page from your other content and show them what P2S is. Write a brief introduction and summary on how they can earn money on P2S doing surveys or playing games. Then you put your referral link at the end to direct them there.
Ta-da!
That is it! This is also how I actually got started in the whole "make money online" venture about 3 years ago. I was trying to figure out how to earn some pocket money so I could pay for domain and hosting. I did the above while learning from Alex Becker and Pat Flynn.
While $100 per month won't allow you to retire, but it will really help fund your online expenses if you are starting out. The important thing is to take action!