Pokemon Go Special [Charge] Move List Rating Guide

So this post will go over the special moves for Pokemon Go and a rating of how good it is. This list is provided by the wonderful Reddit members! Be sure to check out the
full document for more info
. I didn't include a few metrics as I believe that some of them will confuse you more than anything else.
Also, a move with only one bar will typically be more powerful but take longer to charge. So a powerful move with multiple bars indicates a good move. Whereas a moderately powered move with only one bar isn't so great. Also depends on your pokemon speed. Take a look below to check out more stats.
New Update by SilphRoad!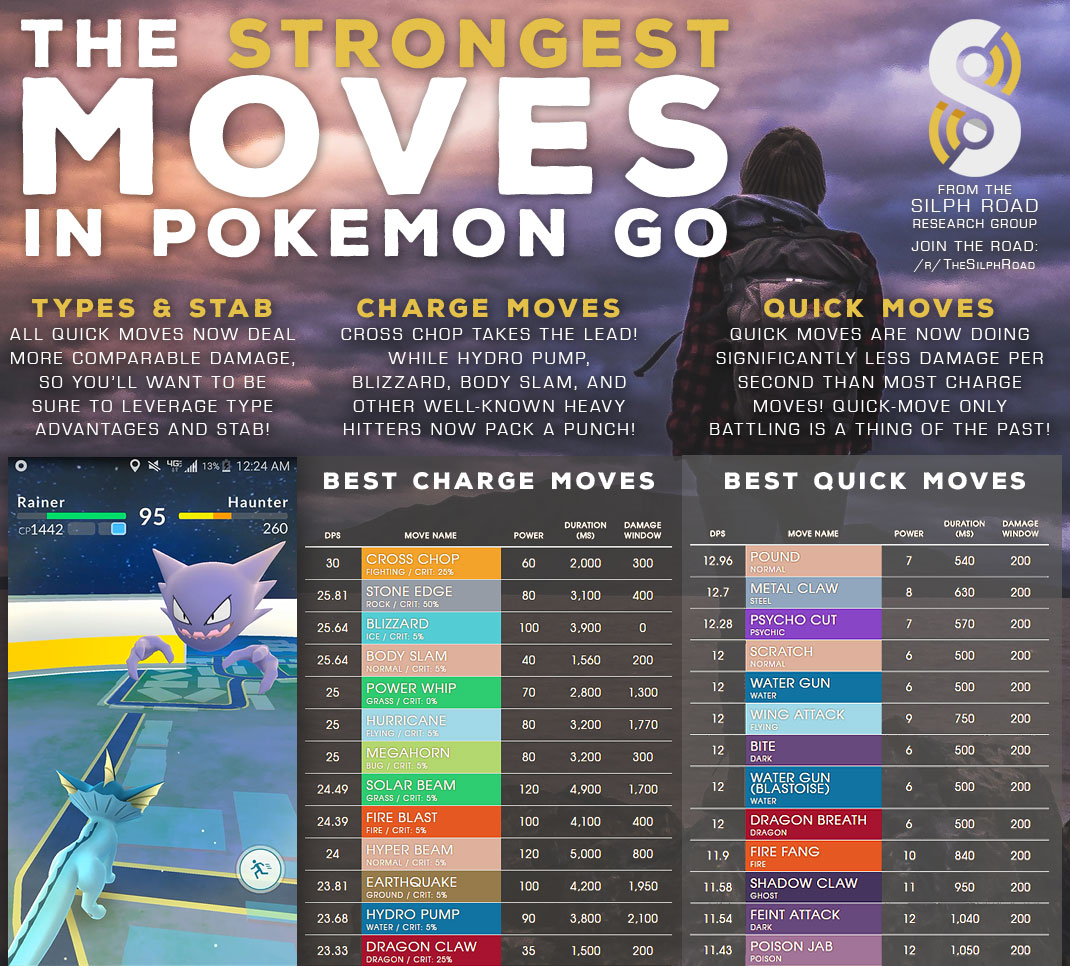 Legend
Type – Pokemon attack type
DPS – Damage per second rating. The higher the better.
Power – Attack power of the move
Duration – Pokemon move duration in milliseconds.
Crit% – Critical damage chance.
| Name | Type | PW | Duration (ms) | Dodge Window (ms) | Crit% | NRG Cost |
| --- | --- | --- | --- | --- | --- | --- |
| Stone Edge | Rock | 80 | 3100 | 400 | 50.00% | 100 |
| Cross Chop | Fighting | 60 | 2000 | 300 | 25.00% | 100 |
| Dragon Claw | Dragon | 35 | 1500 | 200 | 25.00% | 50 |
| Blizzard | Ice | 100 | 3900 | 0 | 5.00% | 100 |
| Body Slam | Normal | 40 | 1560 | 200 | 5.00% | 50 |
| Megahorn | Bug | 80 | 3200 | 300 | 5.00% | 100 |
| Hurricane | Flying | 80 | 3200 | 1770 | 5.00% | 100 |
| Solar Beam | Grass | 120 | 4900 | 1700 | 5.00% | 100 |
| Fire Blast | Fire | 100 | 4100 | 400 | 5.00% | 100 |
| Hyper Beam | Normal | 120 | 5000 | 800 | 5.00% | 100 |
| Earthquake | Ground | 100 | 4200 | 1950 | 5.00% | 100 |
| Power Whip | Grass | 70 | 2800 | 1300 | 0.00% | 100 |
| Hydro Pump | Water | 90 | 3800 | 2100 | 5.00% | 100 |
| Hydro Pump (Blastoise) | Water | 90 | 3800 | 2100 | 5.00% | 100 |
| Leaf Blade | Grass | 55 | 2800 | 1000 | 25.00% | 50 |
| Thunder | Electric | 100 | 4300 | 1550 | 5.00% | 100 |
| Brick Break | Fighting | 30 | 1600 | 400 | 25.00% | 33 |
| Gunk Shot | Poison | 65 | 3000 | 400 | 5.00% | 100 |
| Sludge Bomb | Poison | 55 | 2600 | 500 | 5.00% | 50 |
| Heat Wave | Fire | 80 | 3800 | 400 | 5.00% | 100 |
| Moonblast | Fairy | 85 | 4100 | 600 | 5.00% | 100 |
| Sludge Wave | Poison | 70 | 3400 | 900 | 5.00% | 100 |
| Thunderbolt | Electric | 55 | 2700 | 800 | 5.00% | 50 |
| Petal Blizzard | Grass | 65 | 3200 | 1000 | 5.00% | 50 |
| Cross Poison | Poison | 25 | 1500 | 300 | 25.00% | 25 |
| Psychic | Psychic | 55 | 2800 | 1200 | 5.00% | 50 |
| Aqua Tail | Water | 45 | 2350 | 200 | 5.00% | 50 |
| Flamethrower | Fire | 55 | 2900 | 900 | 5.00% | 50 |
| Play Rough | Fairy | 55 | 2900 | 1300 | 5.00% | 50 |
| Dragon Pulse | Dragon | 65 | 3600 | 1200 | 5.00% | 50 |
| Ice Beam | Ice | 65 | 3650 | 1350 | 5.00% | 50 |
| Bug Buzz | Bug | 75 | 4250 | 1500 | 5.00% | 50 |
| Drill Run | Ground | 50 | 3400 | 700 | 25.00% | 33 |
| Seed Bomb | Grass | 40 | 2400 | 500 | 5.00% | 33 |
| Thunder Punch | Electric | 40 | 2400 | 250 | 5.00% | 33 |
| X-Scissor | Bug | 35 | 2100 | 250 | 5.00% | 33 |
| Hyper Fang | Normal | 35 | 2100 | 300 | 5.00% | 33 |
| Rock Slide | Rock | 50 | 3200 | 1400 | 5.00% | 33 |
| Bone Club | Ground | 25 | 1600 | 250 | 5.00% | 25 |
| Flash Cannon | Steel | 60 | 3900 | 1100 | 5.00% | 33 |
| Iron Head | Steel | 30 | 2000 | 250 | 5.00% | 33 |
| Drill Peck | Flying | 40 | 2700 | 900 | 5.00% | 33 |
| Psyshock | Psychic | 40 | 2700 | 500 | 5.00% | 33 |
| Shadow Ball | Ghost | 45 | 3080 | 300 | 5.00% | 33 |
| Signal Beam | Bug | 45 | 3100 | 1000 | 5.00% | 33 |
| Fire Punch | Fire | 40 | 2800 | 510 | 5.00% | 33 |
| Submission | Fighting | 30 | 2100 | 150 | 5.00% | 33 |
| Flame Burst | Fire | 30 | 2100 | 400 | 5.00% | 25 |
| Stomp | Normal | 30 | 2100 | 700 | 5.00% | 25 |
| Discharge | Electric | 35 | 2500 | 700 | 5.00% | 33 |
| Power Gem | Rock | 40 | 2900 | 800 | 5.00% | 33 |
| Scald | Water | 55 | 4000 | 2100 | 5.00% | 33 |
| Scald (Blastoise) | Water | 55 | 4000 | 2100 | 5.00% | 33 |
| Psystrike | Psychic | 70 | 5100 | 900 | 5.00% | 100 |
| Low Sweep | Fighting | 30 | 2250 | 150 | 5.00% | 25 |
| Night Slash | Dark | 30 | 2700 | 200 | 25.00% | 25 |
| Dazzling Gleam | Fairy | 55 | 4200 | 800 | 5.00% | 33 |
| Dark Pulse | Dark | 45 | 3500 | 1100 | 5.00% | 33 |
| Ice Punch | Ice | 45 | 3500 | 1100 | 5.00% | 33 |
| Dig | Ground | 70 | 5800 | 400 | 5.00% | 33 |
| Vice Grip | Normal | 25 | 2100 | 250 | 5.00% | 20 |
| Sludge | Poison | 30 | 2600 | 500 | 5.00% | 25 |
| Mud Bomb | Ground | 30 | 2600 | 450 | 5.00% | 25 |
| Horn Attack | Normal | 25 | 2200 | 300 | 5.00% | 25 |
| Air Cutter | Flying | 30 | 3300 | 900 | 25.00% | 25 |
| Rest | Normal | 35 | 3100 | 1296 | 0.00% | 33 |
| Magnet Bomb | Steel | 30 | 2800 | 550 | 5.00% | 25 |
| Aqua Jet | Water | 25 | 2350 | 400 | 5.00% | 20 |
| Water Pulse | Water | 35 | 3300 | 1000 | 5.00% | 25 |
| Psybeam | Psychic | 40 | 3800 | 1300 | 5.00% | 25 |
| Rock Tomb | Rock | 30 | 3400 | 900 | 25.00% | 25 |
| Poison Fang | Poison | 25 | 2400 | 200 | 5.00% | 20 |
| Brine | Water | 25 | 2400 | 350 | 5.00% | 25 |
| Aerial Ace | Flying | 30 | 2900 | 600 | 5.00% | 25 |
| Bubble Beam | Water | 30 | 2900 | 200 | 5.00% | 25 |
| Bulldoze | Ground | 35 | 3400 | 1100 | 5.00% | 25 |
| Swift | Normal | 30 | 3000 | 500 | 5.00% | 25 |
| Ancient Power | Rock | 35 | 3600 | 350 | 5.00% | 25 |
| Giga Drain | Grass | 35 | 3600 | 1150 | 5.00% | 33 |
| Ominous Wind | Ghost | 30 | 3100 | 250 | 5.00% | 25 |
| Shadow Punch | Ghost | 20 | 2100 | 300 | 5.00% | 25 |
| Twister | Dragon | 25 | 2700 | 1750 | 5.00% | 20 |
| Draining Kiss | Fairy | 25 | 2800 | 100 | 5.00% | 20 |
| Flame Wheel | Fire | 40 | 4600 | 500 | 5.00% | 25 |
| Struggle | Normal | 15 | 1695 | 700 | 0.00% | 20 |
| Flame Charge | Fire | 25 | 3100 | 200 | 5.00% | 20 |
| Heart Stamp | Psychic | 20 | 2550 | 300 | 5.00% | 25 |
| Parabolic Charge | Electric | 15 | 2100 | 400 | 5.00% | 20 |
| Wrap (Green) | Normal | 25 | 3700 | 1000 | 5.00% | 20 |
| Wrap (Pink) | Normal | 25 | 3700 | 1000 | 5.00% | 20 |
| Icy Wind | Ice | 25 | 3800 | 700 | 5.00% | 20 |
| Disarming Voice | Fairy | 25 | 3900 | 1800 | 5.00% | 20 |
| Wrap | Normal | 25 | 4000 | 600 | 5.00% | 20 |
| Shadow Sneak | Ghost | 15 | 3100 | 600 | 5.00% | 20 |
| Mega Drain | Grass | 15 | 3200 | 1200 | 5.00% | 20 |
References: Serebii