What is PostLoop?
PostLoop is a paid to post website that both forum or blog owners can take advantage of. Here it how it works:
Forums or blogs need user participation(usually newer sites). PostLoop makes it easy for them to gain initial posters to make their forum or blog lively.

Forum and blog owners can buy points from PostLoop. When writers participate and post or comment on their website, the owner loses points while the writers gain points.
If you are a writer, you can use the points on your blog or forum as well. Isn't that neat?
How do you join PostLoop?
You just have to sign up by going to their website. Once you sign up, you will have to make 10 posts. However, before you make those posts, make sure you do 1 IMPORTANT thing:
SUBSCRIBE TO POSTLOOP FORUMS

before you start doing your 10 posts. Otherwise you will not get reviewed!!!

After you do your 10 posts, you will automatically be reviewed by the moderators. Just wait up to 24 hours and you will be given a rating. I started off with a rating of 3.80, which was just above average. You can only withdraw money and get paid through PayPal if your user rating is higher than the average, which is around 3.60.

Once you are reviewed and approved for posting, you get to browse through the forums/blogs that you want to post for. Again, remember to SUBSCRIBE to the forums after you register. Otherwise, your posts will NOT get credit.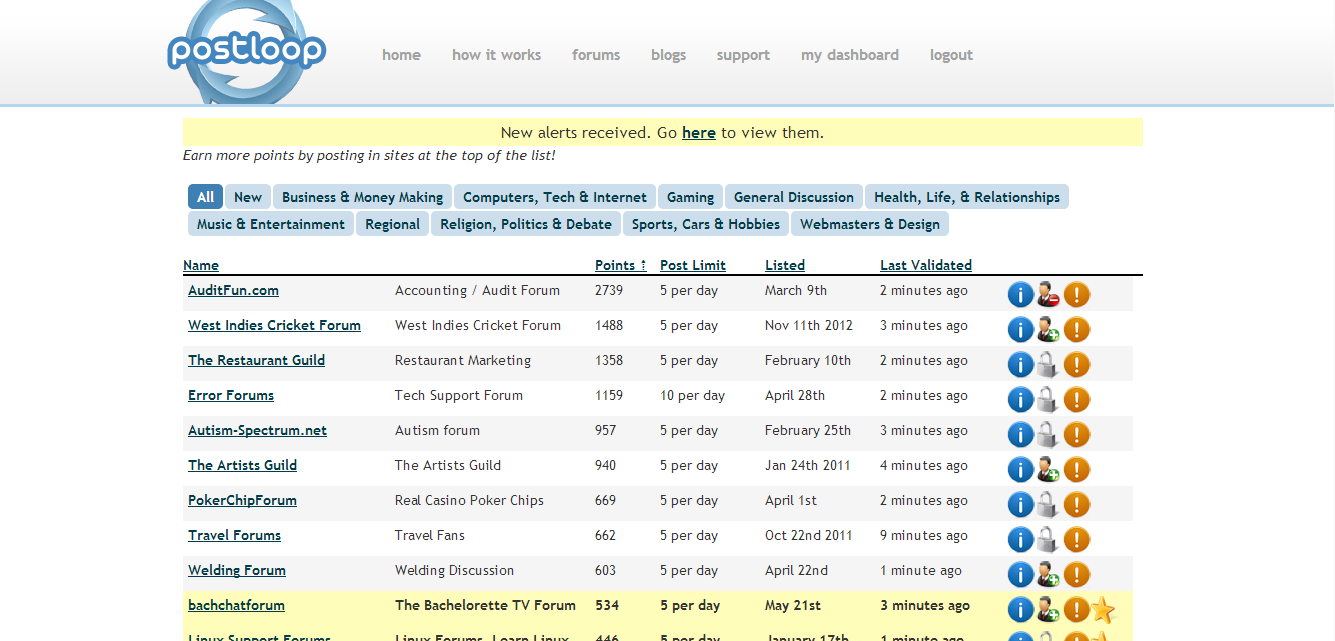 Notice how some forums are locked and cannot be subscribed. The reason is because I did not have a high enough user rating. PostLoop encourages you to provide quality posts to forums/blogs so that you can earn more.
Here is the rating bonus:
| | |
| --- | --- |
| Rating < 4: | No bonus points |
| Rating of 4.00 – 4.24: | 0.25 bonus points per post |
| Rating of 4.25 – 4.49: | 0.35 bonus points per post |
| Rating of 4.50 – 4.74: | 0.50 bonus points per post |
| Rating of 4.75 – 4.99: | 0.75 bonus points per post |
| Rating of 5: | 1.00 bonus point per post |
*Table is  taken from PostLoop FAQ
Currently, each point is worth 5 cents. Most posters make roughly 7-10 cents per post. Of course, the higher your rating, the less you need to post. Ratings are given by forum/blog owners to you after you make 5 posts or more. While it is not mandatory for them to rate you, it is encouraged by PostLoop. That way, they can ensure the quality of the writers that post.
Keep in mind it is recommended that you read the forum/blog owner's message before you subscribe and start posting. Sometimes they have specific instructions that they want you to know. If you don't follow it, they might give you a poor rating and that ruins your ability to withdraw money.
Why you should join PostLoop
They pay fast! I got my first payment from them in 1 hour after I withdrew money in there.

You get paid to post on forums you would in your regular internet life anyways!
You can establish yourself as a credible member and get some potential readers to your blog/website.
You can get back links from certain forums!
Having said that, you should definitely try them out for yourself! I have decided to keep my earnings here to keep track of my online adventures.
[table "3" not found /]
PostLoop Payment/Earnings Proof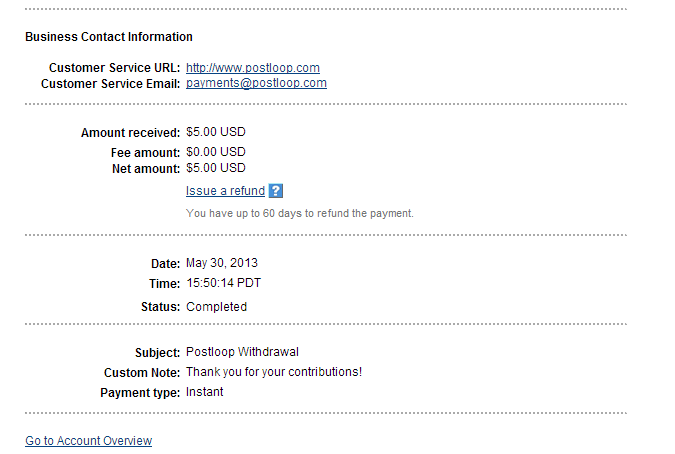 If you liked the review and would like to sign up for PostLoop, I am going to give you the link:
Thanks for reading and happy posting!