Top 5 Proven Amazon FBA Courses [For Beginners and Advanced Sellers]
Whether you're a beginner or advanced seller on Amazon, the right course can guide you through the process. When choosing a product to help guide you, and help you excel, you have plenty from which you can choose. Consider a few of these top options when making that decision.
The Courses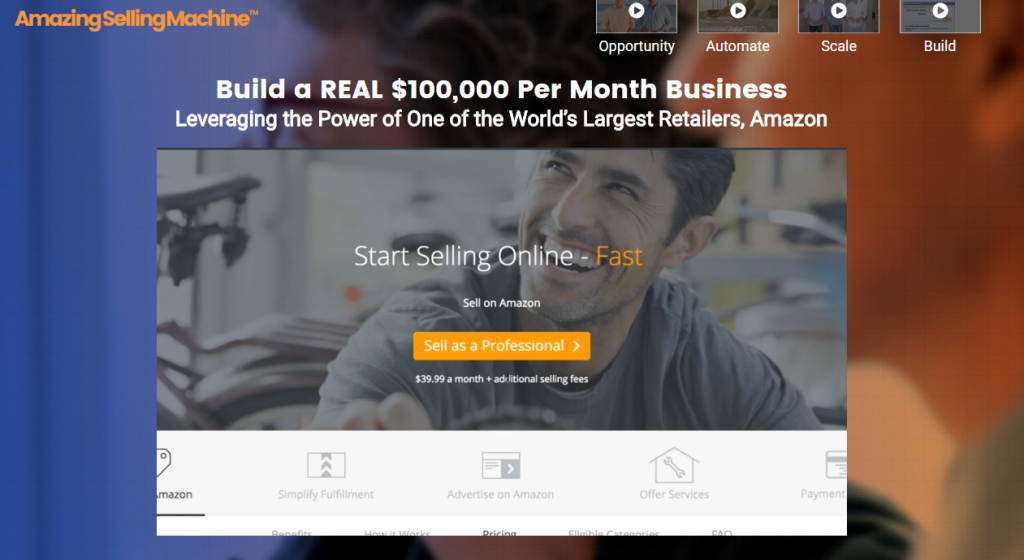 Claiming to help you build a real $100K per month might be a bit of a stretch, but the product does offer some viable tips and advice for those who are looking to sell and turn a profit in doing so. So what exactly are you going to get, what's the good, and what's the bad? Lets take a look at the product.
The pros –
Instantly upon signing up you gain access to over 100 Amazon products you can sell. So whether you are in a target niche or simply want to branch out and sell, you can do so. The guide provides ideas of how to list your product, it offers advice on what to avoid selling, which markets are saturated, and so on. Basically it tells you what and how to sell, as well as which items to avoid and not list, as you won't make a profit.
The guide also provides seller tips for anywhere you are located in the country. So regardless of who your niche, where you live, or who you want to sell to, it provides the information you need to get underway.
The cons –
The program is indifferent; by this I mean it is a little elementary if you are intermediate to advanced. If you are a beginner it is a good route to go, but it might only offer peripheral information. Although it does provide great detail for newbies, if you are a little more advanced, it might be a little too basic for you. Further, the site is limited until you register so you really can't get detail about the product until doing so.
Verdict –
Yes, it is easy to use and follow. Yes, it does have over 100 product ideas and listing options, and yes, it will guide you to a certain extent. The claim of $100K is few and far between, especially if you are hoping to earn this on a month to month basis. But, the guide is detailed, and if you are new to the world of amazon, it might be just what you need to get your feet wet. It is easy to follow is detail oriented, and will give you the basic tools you are going to need in order to move forward, and to eventually turn the profits you want to earn, even though they are not going to come immediately as the claims are made on this guide.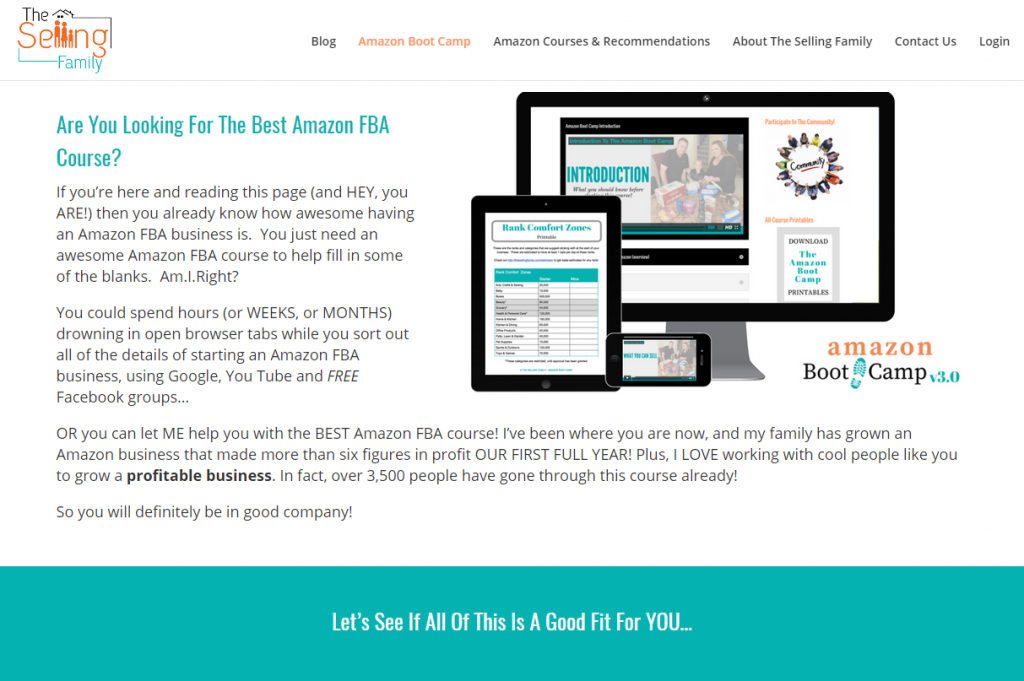 When you think bootcamp, you usually think intense, to the point, and move forward, no looking back. This product aims at doing just this for those who want to sell and earn on one of the largest online platforms.
The pros –
The course claims to help you "fill in the blanks". So it is more advanced in the sense that you already have some grounding in on the Amazon marketplace. If you are doing something wrong, sales are saturated, or having issues with listings this will help you. Holiday Coaching, GoDaddy listings, and other tips and tricks of the trade, give you a more personalized teaching experience. It is truly easy to follow and follow and lays out information in a manner anyone can sell.
The cons –
The guide is lengthy. If you don't have much time, or simply need a refresher, this isn't it; nor is it for a beginner. Sure you can try to delve in, but the materials is meant for those who've been selling for a while on the platform. It teaches how to make more profits, and do so with less stress, but again, you need to register and pay in order to get full access to the guide.
Verdict –
It is lengthy, it is detailed, but is a product which is only going to touch on the peripheral. With a name like bootcamp tied to it, I would expect a more harsh or stringent course to get you where you need to get to make those profits. Yes, it does guide and help you earn more, but with this said, there are other courses that might offer a bit more for those who want to earn more. And, although it is geared to intermediate and advanced sellers, there are some points which do not go too much into detail, which can hurt you along the way if you do not have your own knowledge and insight as it pertains to listing or adding new products you are going to sell on the marketplace as a seller.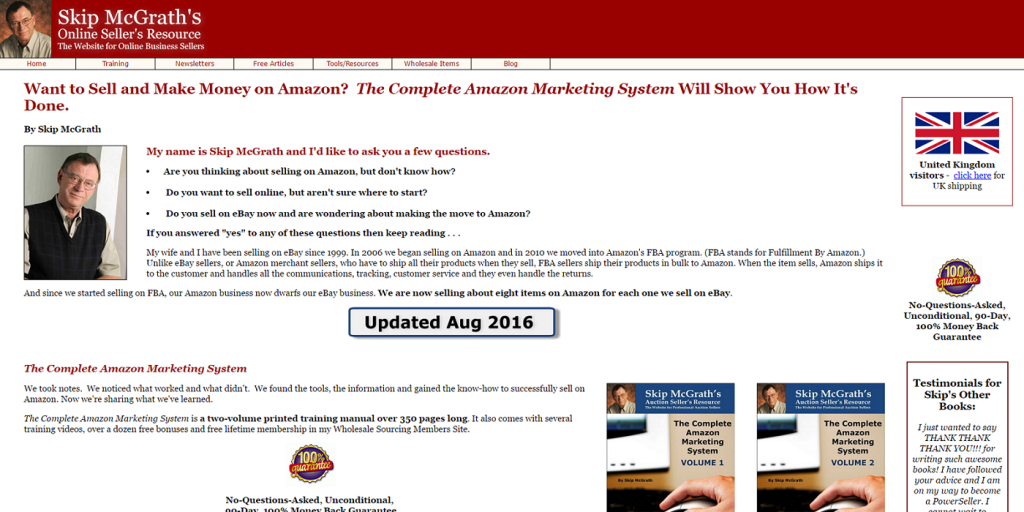 This product is a bit more in depth, of the three so far.
Some of the pros when using it are:
– It is laid out well. It has newsletters, tools, guides, and other tabs right on the homepage to get you started.
– It teaches how to sell wholesale items, for larger profit margins.
– It is for beginner or intermediate sellers, and information is clearly laid out as such.
Verdict –
Easy to follow yet intuitive are some things you will find about this guide as a new or established Amazon seller. If you are new, or if you are a seasoned seller on Amazon, you can get detailed information in order to do more and turn larger profits in less time. Although it is UK based, it does provide you with detailed marketing success guides, that can help you anywhere in the world. If you want a US product, this might not be for you, but the information it does offer is proven, and will work nearly anywhere in the world you are looking to sell on Amazon.
The cons –
It is a bit dated; the website, the guide, and even some information, is a little dated for today's marketplace. The program is UK based, so it might not be ideal for all sellers and products you want to sell to customers. And, although the owner/operator has been successful it hasn't been directly in the US, so this might push certain sellers away. Apart from this it is well developed and the marketing tips are sound to help you truly sell.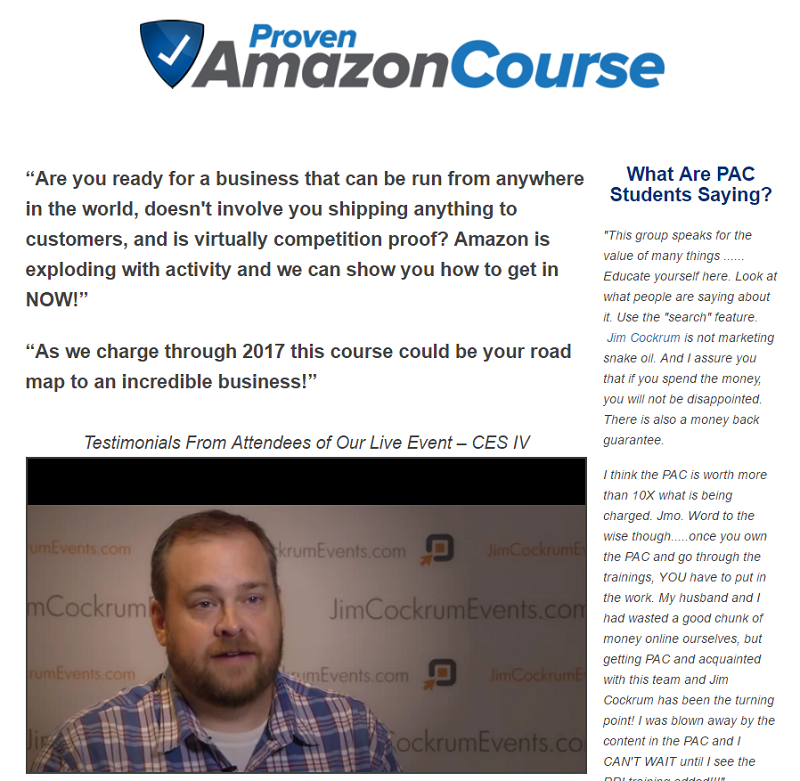 On their site they claim to be "the #1 Amazon" seller training course, and the product page stands behind those claims. So why choose this guide?
The pros –
It allows you to run your page from anywhere in the world; so even if you aren't a US based seller, it teaches you the marketing techniques you need to excel. There is a money back guarantee which isn't hidden (on the other three products above you have to search for it). So you know what they are selling is detailed, works, and will help get you the results if you put in the work. It was founded in 2009, so has nearly a decade's worth of information to guide you through the marketplace. Selling moderators work with you, so you know exactly what you need in order to do well as a seller.
The cons –
Yes, there are a few drawbacks if you choose this route to help you as a seller. It is detailed; so in comparison to the others, you are going to need some intermediate to advanced skill in the marketplace in order to grasp things. Although it claims to be easy to use, the information is a bit more detailed, so will require a little more knowledge from you as a seller if you want to get off on the right footing.
The site itself is a bit bland; so if you are looking for colorful, fun, and enticing, you won't find it with the Proven Amazon Course. The information is laid out in paragraph form and does not do much for the imagination; however it is detailed, and does provide you the tools you are going to need in order to excel and learn to sell anything in the marketplace while doing well.
Verdict –
All in all, the guide offers detailed information. It is backed by a money back guarantee you find on the main homepage, and it has proven success for nearly a decade for sellers worldwide. If you have some knowledge, simply need a refresher, or need some added depth guidance, you can find it with this proven system to help you sell more, and help you turn the profits you want to make on the marketplace.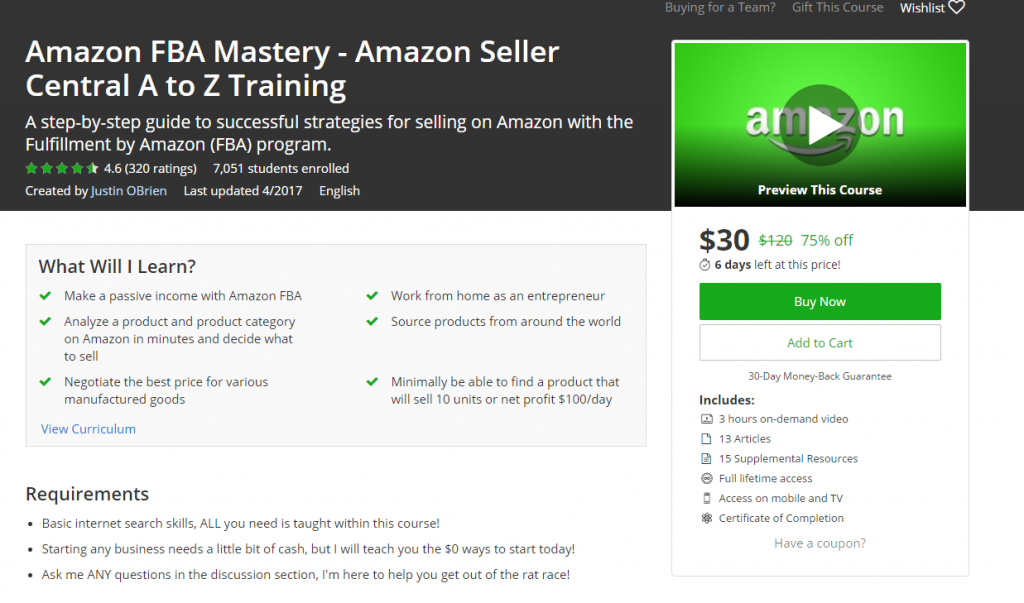 If you are trying to master the Amazon marketplace, this might be the guide you are going to turn to as a seller. It is probably the more advanced option, so if you are a newbie, or are just learning the ropes, you may have some difficulty working with it. It has several students enrolled, it is affordable, and the money back guarantee is clearly laid out for you.
The pros –
The site teaches you how to earn passive income, which basically means you aren't working to earn. It has a detailed product category option, where you can see what sells what doesn't and what you are going to want to avoid selling, as the markets are so saturated. You learn how to negotiate the best prices if you are selling in wholesale, meaning an even greater profit margin is going to await you when you turn around and resell to your customer audience on the web. You learn how to work from home, source products worldwide, and truly master the selling techniques which are going to result in the profits you want to see on the web as a seller. You also get lifetime access to lectures, newsletters tips, and guides. So you are always in the loop, and are always on top of the latest ways to earn on the online marketplace as a seller.
The cons –
It is the tougher regimen of these products. As a new seller, you might not fully grasp the concept,s or you may have a tough time learning how to decipher when to post, what to post, how to sell, and how to target your audience. It does require you to have basic internet search skills, and skills as a seller. So if you simply want to jump in and get things rolling, it might not be the ideal guide for you to learn from.
Verdict –
If you are advanced, or intermediate, this is a great guide for you to work with in order to find out how to sell, who to sell to, and what market you should jump in to if you are planning on starting to list new products or merchandise for your site. It is a bit tougher to grasp some of the concepts, and you are going to have to have at least minimal knowledge of how to sell if you want to make the highest profit margins. Due to the fact that it is a bit cheaper, the information is a bit saturated in some areas. With this in mind, it does give you the tools you are going to need to do well, and it is going to lay out the information in a manner you are going to find easy to follow once you learn the market, learn to sell, and choose the right listing categories for items you plan on selling.
Whether you've been selling for years, or are just getting underway as a seller on amazon, there is a guide out there that can teach you how to do well and how to earn a higher profit margin than you otherwise would on your own. These are a few of the top options. No matter what your experience level is, they are going to guide you and walk you through the process, from listing, to choosing the right product line to sell, in order to avoid engaging and competing in highly saturated markets which will limit your overall profit margins as a seller.