Real Translator Jobs Review – Read Before Buying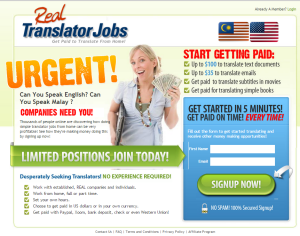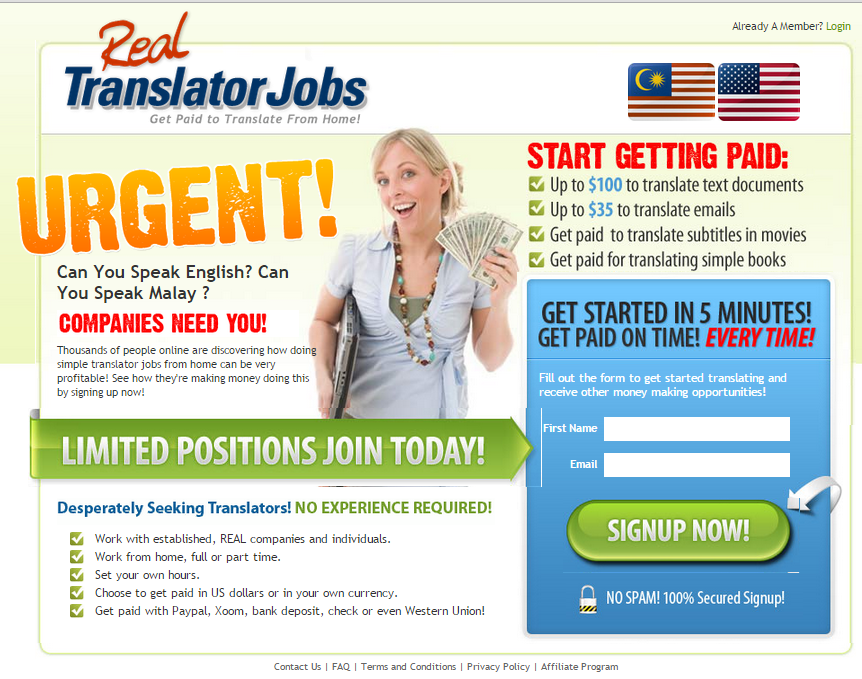 It is a site that will help you find translation jobs from different companies – at a cost of $34 USD. Companies are looking for freelance translators and realtranslatorjobs.com can help you find those job openings for you.
They connect you with companies that are looking for translators. Keep in mind realtranslatorjobs.com are not employers.
They tell you that you can"earn $100, $200 or even $500 a day translating simple documents from the comfort of your own home or office". Not that it is entirely impossible, but what they fail to mention it is not going to be as easy as you think.
First of all, you are going to need some experience. Preferably you need at least a year of experience in translating 1 language to another. You also have to be 18+ and verifiable sources as a translator(resume, job experience etc.).
*Note – They claim that you don't need experience, but most companies are reluctant to hire newbies, making it harder for you to land a job.
The other thing is that they also have an upsell once you have paid $34 USD. While having an upsell is not a bad thing, it does raise your skepticism meter a bit.
Something's Fishy
It looks free when you land on the homepage. All you have to do is sign up with your name and email. Instead of getting started right away, it takes you to their sales page and the promises of nice income working from home.
At the end of the page, it asks for $34 and uses this as a reason why you need to pay up…
"The reason we charge this small startup fee is to cover the cost of setting up your membership file and your account with our company. In addition, we don't take a percentage of your translating earnings as many other companies normally do so this startup fee helps cover the costs of running our company."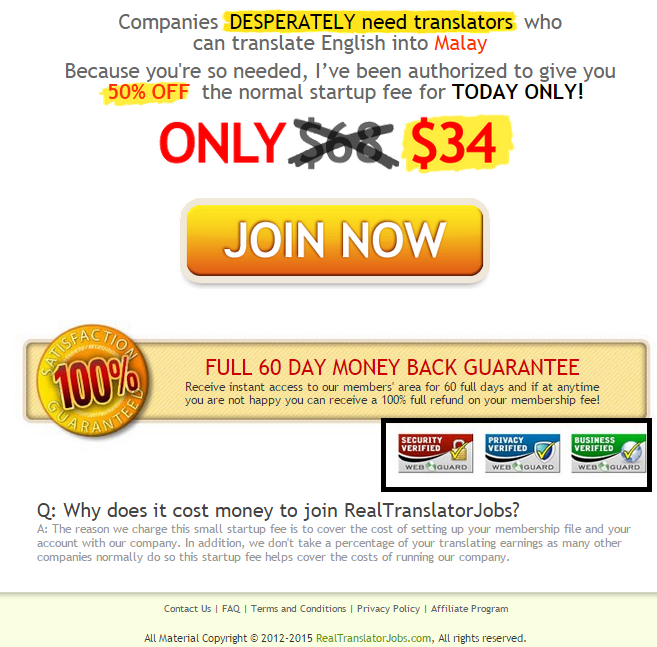 That is a legitimate reason. However, what really made me skeptical was the webguard verified logos were not clickable, meaning they aren't really verified.
Is
Real Translation Jobs

Worth $34 USD?

My answer is no.

In my opinion, anything that asks for a significant upfront fee(more than $15) for job searching is really isn't worth it. The reason is because you can easily find job postings on a site like elance for free. It doesn't even take long to actually start looking for employers. You do need to complete your profile in order for any employer to take you seriously. This concludes my review.