Rogar Stonecrusher [Dungeon Boss Hero]
Rogar Stonecrusher is the very first hero you get from Dungeon Boss. He is a melee fighter with a barbaric looking style. He starts off at 1 star and he can be ascend to become a more powerful version with new skills.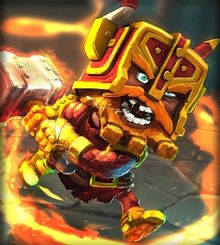 Not one to sweat the details. Especially when those details can be smashed into bits by a might hammer!
Base Grade: ★
How To Get: Great Summons and Dungeon Tokens
Strengths and Weaknesses: +30% Bonus vs Nature and -25% Bonus vs Water
| Pros | Cons |
| --- | --- |
| Takes reduced damage from physical attacks | Vulnerable to water attacks |
| Never misses and is useful vs flying units | Vulnerable to magical attacks |
| Team attack buff and AoE first skill | |
The skills below aside from whirlwind can only be gotten after ascending.
| Skill Name | Type | Cooldown | Skill Description |
| --- | --- | --- | --- |
| Swing | Basic Attack | None | A basic Melee Physical attack doing [49.5% ATK] base damage. |
| Whirlwind | Special | 6 | Melee Physical attack on all enemies for [72.5% ATK] base damage. |
| Skull Cracker | Special | 3 | Melee Physical attack on an enemy [2 + 1 at Lvl 20]x for [40% ATK] base damage. |
| Rage Strike | Special | 8 | Buff Team ATK +[35 + x /Lvl]% and Melee Physical attack an enemy for [x% ATK] base damage. |
| Perfect Swing | Trait | Passive | Never misses nor can enemies Dodge attacks. |
| Armored | Trait | Passive | Take less damage from Physical attacks. |
Ascend
1st: Fire Evo Larva x5, Fire Evo x2,  Light Evo Larva x2
Token Locations
| Region | Dungeon |
| --- | --- |
| 2 | Molten Burrows |
| 4 | Mercenary Fortress |
| 8 | Blazing Farmlands |
| 11 | Defile Sanctuary |
| 15 | Smoldering Trail |
| 18 | Creon's Arena |
| 21 | Corrupted Caverns |