17 Best Royalty Free Music Sites and Artists for YouTube Video Creators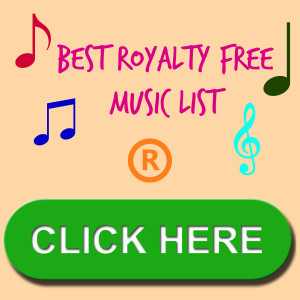 Here are some top music sites that provides a huge library royalty free music for you to use on your online videos or any creative content. I have divided the section into 3 parts. Free sites/artists and paid ones. And always remember to credit where you got it from.
[tabby title="Free"]
Free Music/Soundtracks Sites
Offers all kinds of music such as pop, blues, classical, electronic, folk, experimental, jazz, rock, historic, soul, RnB, instrumental, hip-hop, pop, spoken, rock and country. Choose your favorite genre and download it to your hearts content!
Soundcloud is another great place to find royalty free music. Most artists will allow you to download while others require permission. You can find a lot of great music here.
You can easily download free music from these genres – acoustic, folk, cinematic, corporate, pop, electronica, funky, rock, world and others. The site is very easy to navigate so it all come downs to music selection.
Purple Planet is another useful site for soundtracks. Keep in mind that you cannot re-distribute their music to anyone else. You can only use them on your videos. Be sure to credit them as well. Some of their main category for soundtracks are reflective, light, heavy, comic, international and jazz.
Incompetech has a great selection of music and they offer music for African, blues, classical, contemporary, disco, electronica, funk, holiday, horror, jazz, latin, modern, polka, pop, reggae, rock, silent film, soundtracks, stings and world. The cool thing about them is they have a sub category that allows you to search the "mood"(suspense,relaxed,mystical etc.) of the music as well. Music downloads are free but you can also download the entire library which they offer for $49USD.
PacDV offers music sound effects which are free and readily available for download. This is very useful for video creators that need an ambiance noises such as the cafeteria or the highway. They also make it very easy for you to download. The simple thing they request is that you link back to them. Very easy! Just make sure you do!
They offer free classical music from composers and artists from ancient times. They sort them either by composer or by instruments. You can also choose to donate to them if you found them helpful. I think a lot of musical teachers and students will also find this a great resource since they offer music sheets as well.
[tabby title="Paid"]
Paid Music/Soundtracks Sites
Now FSM focuses more on soundtracks and has some nice categories. They group the soundtrack according to emotions, music genres, lead instruments, dramatic, based on composer and so on. You do need to pay $3.50USD for access to their library.
Partners In Rhyme(RIP)
Now RIP offers very high quality music and soundtracks, however, they are on the pricey side. They offer a variety of music such as piano, world and travel, tv show, commercial, horror, suspense, ambient chill, motivational and more. Each music cd they offer can go as high as $150USD. But then again, if you are willing to pay for quality, this should not be a problem.
[tabby title="Individual"]
Individual Artists
Always be sure to credit these artists if you use their music. Link to their Facebook or website. Help them out! They are giving us free music to use on our videos.
Tobu – Offers melodic soundtracks.
Itro – Electro House music.
TheFatRat – Awesome music for free for YouTubers!
DoctorVox – Electro House music.
DanoSongs – Acoustic rock music.
Moby Gratis – Free music for film students and non profit films.
[tabbyending]