Salehoo Review [Wholesale, Drop Shipping for Amazon FBA]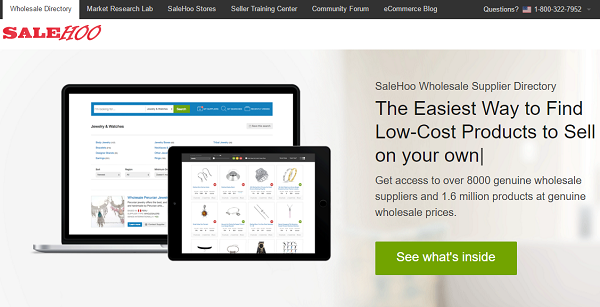 A primary concern for wholesalers, distributors, and traders is identifying a genuine and reliable drop shipping company. Fortunately, several legitimate online firms offer the services. One reputable company is SaleHoo. Founded in 2005 by Simon Slade and Mark Ling, the company has witnessed a remarkable growth. It has a workforce that spreads across New Zealand, the US, Australia and parts of Asia, and has attracted thousands of Amazon and eBay PowerSellers.
What Exactly is SaleHoo?
It is an online directory consisting of over 8000 verified and legitimate manufacturers, wholesalers, liquidators and drop shippers. Unlike most drop shipping companies, however, SaleHoo does not offer the products directly to its members but only acts as an intermediary linking its members to the listed verified product suppliers. Consequently, the sellers and retailers get a convenient and safe platform to source for wholesale products that have dropped shipping capabilities.
SaleHoo boasts of not less than 150 product categories of over one and a half million products. To use the directory, one must sign up and pay a membership subscription fee and can conduct a search using the Seller, Product or Product Name categories. Besides the directory, SaleHoo offers useful market research tools, customer support and active forums.
What Salehoo Offers
Being one of the largest directories of drop shippers and wholesalers, SaleHoo offers real-time value to retailers and potential Amazon FBA sellers. It does so in various ways. For starters, the listing directory provides access to a pool of genuine suppliers, wholesalers, liquidators and drop shippers. It also houses several useful tools like the Email customer support, members forum and Market Research Lab.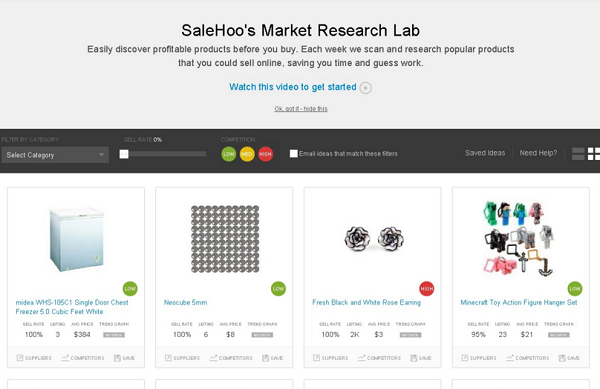 The Email Support makes it easy for the retailer to locate the supplier's contact information while the Research Lab makes the member privy to information about the most profitable products and product niches. In case you want an online store, the Online Store Builder offers the perfect solution. It is a tool which you can use and create an online store without breaking a sweat and proceed to list about two hundred products.
Pros of SaleHoo
A) Offers an Extensive Supplier Directory

It is one of the biggest lists available online bubbling with over 8000 verified traders. What this means is that a person has the guarantee of finding any product he or she wants. Secondly, the large pool of suppliers includes both large and small scale firms. A person, therefore, has the assurance of supplying the goods at the price and quantity that he or she wishes. Moreover, the platform is very easy to use even for a novice first timer. He or she only types the name of the product, the name of the supplier or the product category to generate a handy list of vendors.
B) It is Safe
A primary concern for many online retailers is dealing with scammers and illegal traders, a fact that makes many people anxious when trading online. The good thing about SaleHoo is that it only lists legitimate wholesale suppliers after conducting a rigorous background check to verify if they are worthy and genuine business traders. Besides, the customers who use the agent's services also publish gloves-off reviews and post ratings about the nature of the supplier's services on platforms such as eBay, and Amazon.
C) Convenient and Time-saving
SaleHoo offers thousands of suppliers in one place and has an impressively easy-to-use search engine. It, therefore, becomes very easy for a person to identify the right provider for his or her needs in a matter of minutes. It without a doubt beats the inconvenience of searching for drop shipping companies using the popular and reliable search engines and going through the supplier's websites and catalogs. This is vital for Amazon FBA, if you are interested in quickly finding profitable items to do retail arbitrage.
D) Offers a Wider Product Market
SaleHoo is a drop shipping platform for both local and overseas trading. It attracts users from over a hundred countries including the US, UK, New Zealand, Canada, Asia, as well as those from abroad.
E) Top Notch Customer Support
Even though SaleHoo is a virtual directory which a retailer can successfully use, it has a professional and friendly support team to ensure the members have an enjoyable time on the platform. In case a member has a challenge, he or she only needs to send an email to the support and in less than twenty-four hours the team will offer a list of the relevant supplying companies.
F) Useful Resources
SaleHoo has several useful tools that not only educate the members but also help them meet their business objectives. It has the directory listing of verified suppliers, A community forum for engaging with other members, and a Market Research Lab for testing and identifying profitability of products. Lastly, it has a Training Center where members get valuable lessons on online selling, Importation, Shipping and Scam identification and prevention.
Cons of the SaleHoo
A) Has an Annual Membership
The only way a person can enjoy the services on the platform is by signing up and paying an annual subscription fee. Even though the payment terms include a money back guarantee clause, the fact that it does not have a trial period makes it unattractive especially to first-time users. Many retailers prefer first to evaluate the product before actually committing their funds. For this reason, the retailer might opt for free or freemium online directories.
B) Information Overload
Although SaleHoo offers impressive tools and training resources, they can end up being too overwhelming more so for a beginner. Not every person fancies reading long and detailed information. Fortunately, to make up for this, it has a reliable support team that a retailer can contact to get immediate help.
C) Not the Greatest Design
The directory does not have an appealing look, which is a great disservice to the impressive and useful features that it offers.
Cost of SaleHoo
SaleHoo has two distinct services namely the suppliers' listing director and the e-commerce Online store builder. A person wishing to join or use the directory service must pay an annually renewable membership fee of $67. The cost of using the eCommerce platform, on the other hand, ranges between $27 to $97 per month. The ideal payment method is through PayPal as it is secure. The package, however, does not have a trial period, nonetheless, if a retailer fails to locate the product suppliers, he or she can demand a full refund of the membership fee as the package comes with a sixty-day money back guarantee.
Overal Rating: 4.5/5
I definitely recommend SaleHoo if you are tired of manually searching for items offline, especially for Amazon FBA, where some might not like sourcing for products all the time.