Top 10 Best School Life Anime Series Recommendations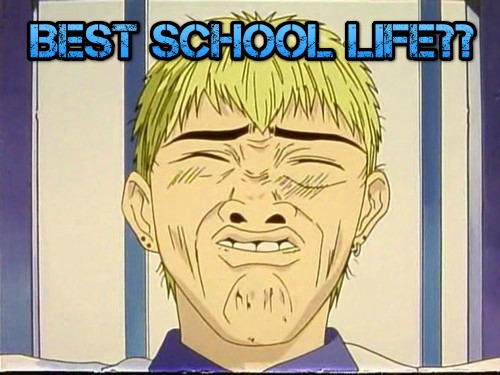 Here are my top recommendations for best school life anime. The criteria for animes making the list are comedy, romance, high school, drama and plot twists. Please keep in mind the list is in no particular order. Images are brought to you courtesy of Wikipedia and summaries by ANN.
Anime "Best of" Genre List
Advanced placement into a school of higher grade proof-reading is determined by the results of the Promotion Test strictly for class type. Ranging from A class with the best facilities anyone can offer all the way down to F Class which is composed of low dining tables, rotten tatami mats and other worn out facilities. Students can change classes by competing using the Examination Summons Battle system or ESB. Students summon characters with their equivalent test mark scores and use them to compete with other classes.
Note* – Probably one of the funniest school life animes I have seen.
Portrays the lives of several school girls attending a Japanese high school with a very loose humor tone. The main heroine is Konata Izumi, an athletic and intelligent girl who, despite these attributes, is not in a sports club, and her grades remain low. Her laziness at school is due to her love for anime and video games, and she is not interested in much else.
Bonus Read: Top 10 Most Popular Twins(Lucky Star Twins are in!)

Onizuka Eikichi is an ex-bike gang leader who has but one goal, to become the greatest teacher. While doing his teaching internship as part of his studies to become a qualified teacher, he ends up in a delinquent class and learns of the possibility and necessity of the power and respect gained from one's students.
Due to a mishap, after graduating, he gets a job at a prestigious private school to handle their 'problem class' that made the past few teachers quit. He must now handle a different kind of trouble when the trouble-makers include some of the smartest kids in Japan who prefer a more "intellectual approach" to torturing their teacher. Onizuka must slowly win his students over and deal with their distrust and hatred towards teachers and adults while handling the distrust of his fellow teachers who feel him unworthy of being a teacher.
Note* – A very funny representation of school life from a teacher's perspective.
Risa Koizumi, taller than the average girl, and Atsushi Ootani, shorter than the average guy—their constant bickering and comical love-hate relationship is well-known throughout the school. They act similarly and love the same music, and their friendship is full of laughing, shouting at each other, and of course, lots of jokes about one another's height. But when Risa notices her feelings for Ootani growing, she's worried.
She doesn't know if he can ever see her as more than a friend. With her friends rooting for her, she struggles to make him see how she feels about him, and that a romantic relationship between a tall girl and a short guy can work. Oblivious Ootani doesn't make things easy for her, but she stubbornly perseveres in her own unconventional way, determined for her feelings to get through to him, and finally be returned. If only she could do it without driving herself and everyone else crazy in the process…
Despite Ryuji Takasu's gentle personality, his eyes make him look like an intimidating delinquent. Class rearrangements on his second high school year put him together with his best friend, Yusaku Kitamura, and his hidden crush, Minori Kushieda. Along with these two comes Kushieda's best friend, Taiga Aisaka. Her delicate appearance contrasts with her brutal personality. Secretly in love with Kitamura, Taiga agrees to help Ryuji with his love interest as long as he helps her get closer to hers.