9 Anime Like A Dark Rabbit has Seven Lives [Itsuka Tenma no Kuro Usagi] [Recommendations]
Here are my favorite picks for anime like A Dark Rabbit has Seven Lives. Keep in mind the list is in no particular order. Enjoy the recommendations!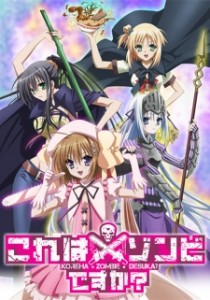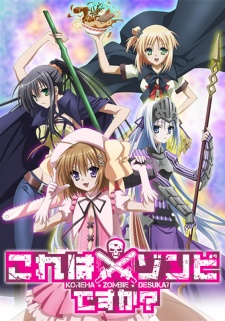 Aikawa Ayumu is a normal high school boy. One day he is killed by a serial killer and revived as a zombie by a necromancer named Eucliwood Hellscythe. He starts to serve Eu as her guard but he happens to deprive the masou-shoujo Haruna of her magic power. Haruna orders Ayumu to fight against the anti-masou-shoujo system "Megalo" in her place. (Source: MyAnimeList)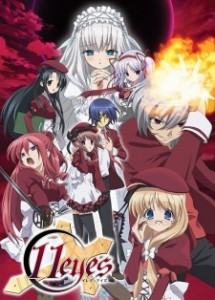 When the Sky turns Red, the Moon turns Black, and monsters begin roaming the streets, Satsuki Kakeru is at a loss for what to do. Along with his best friend Yuka, they try to decipher why they have been sent to this strange world, which is seemingly empty aside from themselves.
However, when the "Red Night" ends, Kakeru and Yuka believed it was all a dream, until it happens again and they are left in a dangerous situation. They meet four others in the same predicament: Kusakabe Misuzu, an expert swordswoman, Tachibana Kukuri, a strange mute girl who looks uncannily like Kakeru's deceased sister, Hirohara Yukiko, a lively young girl whose personality reverts to that of a cold killer when her glasses are removed, and Tajima Takahisa, a young pyrokineticist.
As the six of them band together to survive and discover what this mysterious world is, things take a turn for the worse as six shadows appear before them… [Written by MAL Rewrite]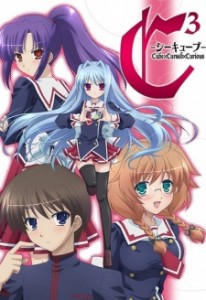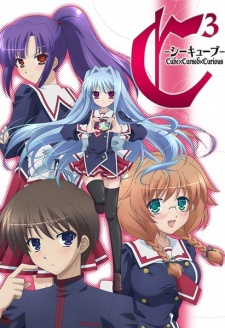 From the light novel series written by Minase Hazuki, comes a story of love, action, and comedy. Yachi Haruaki is a high school boy who is naturally resistant to curses. After his father sends him a mysterious black cube, Haruaki awakes to find a nude girl named Fear standing in his kitchen. She's the human form of the cursed black cube – and an instrument of torture! Utilizing her special abilities, Fear fights alongside Haruaki to defeat other cursed instruments and their owners. (Source: FUNimation)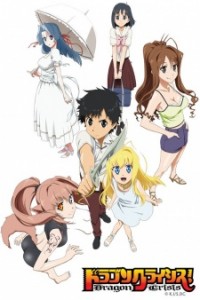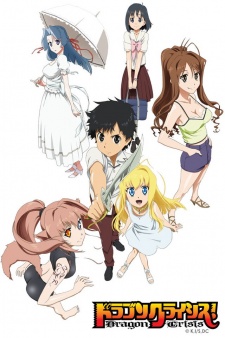 A normal high school boy Kisaragi Ryuji's peaceful life is turned into an adventure by the return of his second cousin Eriko. Ryuji and Eriko seize a relic box from a black broker. In the box, they find a red dragon girl Rose. In order to protect Rose from the black organization, Ryuji decides to fight using his power as a relic handler. (Source: MyAnimeList)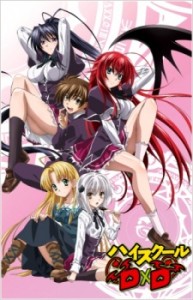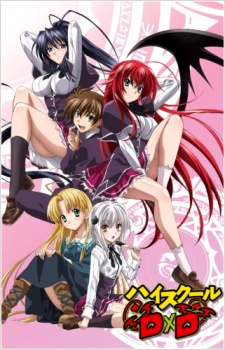 High school student Issei Hyoudou is your run-of-the-mill pervert who does nothing productive with his life, peeping on women and dreaming of having his own harem one day. Things seem to be looking up for Issei when a beautiful girl asks him out on a date, although she turns out to be a fallen angel who brutally kills him! However, he gets a second chance at life when beautiful senior student Rias Gremory, who is a top-class devil, revives him as her servant, recruiting Issei into the ranks of the school's Occult Research club.
Slowly adjusting to his new life, Issei must train and fight in order to survive in the violent world of angels and devils. Each new adventure leads to many hilarious (and risqué) moments with his new comrades, all the while keeping his new life a secret from his friends and family in High School DxD! [Written by MAL Rewrite]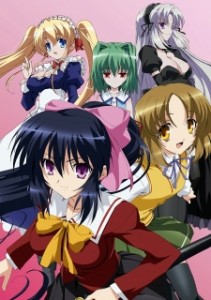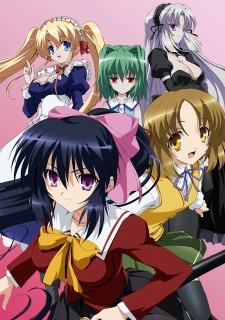 After the death of his parents, Yuuto Amakawa lives a pretty ordinary life in the city. The only problem he has to worry about while attending school alongside Rinko, his next-door neighbor, is his cat allergies. That all changes on his sixteenth birthday, when an Ayakashi—a supernatural creature—attacks him for the sins of his ancestors. Luckily, he is saved by Himari, a mysterious cat-woman with a sword, who explains that Yuuto is the scion of a family of demon-slayers, and she is there to protect him now that the charm that kept him hidden from the supernatural forces of the world has lost its power.
Omamori Himari chronicles Yuuto's dealings with the various forces of the supernatural world, as well as the growing number of women that show up on his doorstep, each with their own dark desires. Will Yuuto be able to adjust to his new "exciting" environment? Or will the ghost of his (ancestor's) past catch up with him? (Source: MyAnimeList)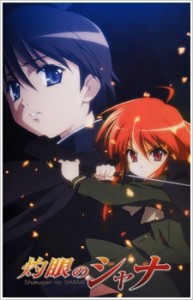 The world has become a slaughtering ground for the Crimson Denizens, mysterious beings from a parallel universe who thrive on the life energy of humans. These merciless murderers only leave behind scant remainders of souls called "Torches," which are mere residues that will eventually be destroyed, along with the very fact of the victims' existence from the minds of the living. In an ambitious endeavor to put an end to this invisible, hungry massacre, warriors called Flame Hazes relentlessly fight these monsters.
One fateful day, Yuuji Sakai ceases to be a regular high schooler—he becomes trapped in a crevice of time and is suddenly attacked by a Denizen. Coming to his rescue just in the nick of time is a nameless hunter who seems no different from an ordinary young girl except for her blazing eyes and burning crimson hair. However, before Yuuji can learn anything more about his situation, he discovers that he has already been reduced to a Torch—merely a scrap of memory waiting to be extinguished. [Written by MAL Rewrite]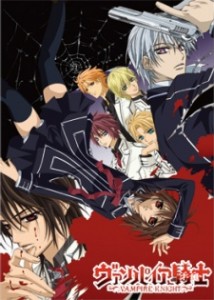 Cross Academy is an elite boarding school with two separate, isolated classes: the Day Class and the Night Class. On the surface, Yuuki Cross and Zero Kiryuu are prefects of the academy, and attempt to keep order between the students as classes rotate in the evenings. As the Night Class is full of utterly gorgeous elites, this can sometimes prove to be a bit difficult. It is completely necessary, however, as those "elites" are actually vampires. Yuuki and Zero act as guardians, protecting the secrets of the Night Class and the safety of their ignorant morning counterparts.
As the adopted daughter of the academy's chairman, Yuuki takes her job with a serious and energetic attitude. It also allows her to interact with her secret crush and savior, the president of the Night students' dorm, Kaname Kuran. Zero, on the other hand, has a deep-rooted hatred against vampires, and at times, does not hesitate to kill.
Can vampires and humans co-exist, even in the strict setup of the Cross Academy? Only time will tell. [Written by MAL Rewrite]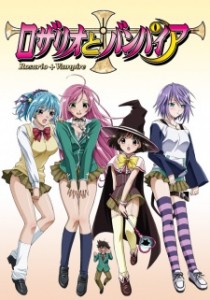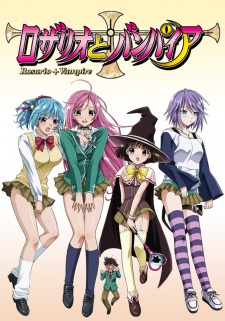 By a bizarre coincidence, Tsukune Aono has accidentally gotten himself admitted to a youkai academy, a school attended by monsters. Just when he thinks he'll run away from there, he meets the beautiful girl Moka and his mood turns ultra happy. However, she transforms into her true form when the rosary on her chest is taken off, she's a super vampire! (Source: AniDB)
References: MyAnimeList, Wiki, ANN