7 Anime Like Absolute Duo [Recommendations]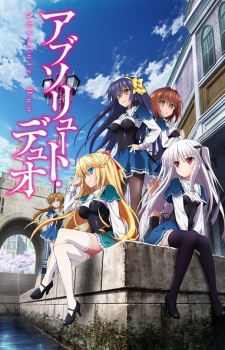 Here are my favorite picks for anime like Absolute Duo. Keep in mind the list is in no particular order. Enjoy the recommendations!
In this "romantic comedy but sometimes serious magical school story," life as Arata Kasuga knows it is wiped out by a bizarre incident known as "Collapse Phenomenon," which causes worldwide destruction and takes his cousin Hijiri Kasuga to the next world. To resolve the "Collapse Phenomenon" and bring back Hijiri, Arata enrolls in the Royal Biblia Academy. Waiting in the school are seven beautiful female magic users—the Trinity Seven. (Source: ANN)
Set in the Shinigami technical school for weapon meisters. The series revolves around 3 groups, each consisting of a weapon meister and a human weapon. Trying to make the latter a "Death Scythe," which is the highest title for a weapon and thus fit for use by the Shinigami, they must collect the souls of 99 evil humans and 1 witch.
Soul Eater revolves around Maka & Soul Eater, Black Star & Tsubaki, and Death the Kid with Patty and Liz Thompson. Besides taking the time to gather souls, these students of Shibusen defend Death City from some of the most powerful of creatures while still attending school and trying to become stronger.
The "school sword action" story revolves around Magic Knights, modern magic-users who fight with weapons converted from their souls. Ikki Kurogane goes to a school for these Magic Knights, but he is the "Failed Knight" or "Worst One" who is failing because he has no magical skills. However, one day, he is challenged to a duel by Stella, a foreign princess and the "Number One" student. In this duel, "the loser must be obedient for life."  (Source: ANN)
During the early 20th century, along with technological advancements, scientists were able to develop sophisticated magic. The combination of science and sorcery was Makinot, circuits made from spells that were put into objects to bring them to life and even gain a personality. It was developed as a military weapon and has now spread throughout the world.
Akabane Raishin is now attending the Royal Academy to become the best in the world. Accompanied by the lovely teenage girl Yaya, who is actually Raishin's puppet weapon, he plans on rocketing to the top of the class. However, his test scores come nearly dead last although his combat skills and determination are second to none. Raishin has to compete with the deadliest of classmates if he wants to come out as the king. (Source: Moetron)
Written by Akamitsu Awamura, the series takes place in a private high school involving the concept of "saviors." They are known as people who possess awakened memories of their past lives. The story tells of a young boy named Moroha Haimura who comes to this private school.
At the school, there are two types of people: Saviors, who fight enemies with weapons and techniques gleaned from the Puraana powers from their own bodies, and Kuroma, who wipe out enemies with magic to manipulate the Maana powers that surpass physics. Moroha Haimura is the first person with past lives of both Saviors and Kuroma.  (Source: ANN, edited)
Twenty-five years ago, the world suddenly changed when monsters called "Dragons" appeared; seeking to ravage the earth and find mates. Over time, superhuman girls possessing the powers of the dragons, called "D girls" were born. Yuu Mononobe is the only male "D" in existence and is forced to enroll at Midgar – an academy for D girls. At the academy, he accidentally runs into Iris, a delinquent D girl, and even reunites with this long lost sister, Mitsuki. Will Iris and Yuu be able to challenge the seven dragons that threaten to destroy the world?  (Source: Crunchyroll)
When abandoned kittens and his good conscience force second year Sorata Kanda to move into Suimei High School's infamous Sakura Hall, the satellite dorm and its eccentric, misfit residents turn his life upside down. The decidedly average Sorata finds it difficult to fit in with the bizarre collection of dorm residents like Misaki, an energetic animator; Jin, a playwright playboy; Ryuunosuke, a reclusive programmer; and Chihiro, the dorm manager, art teacher, and party girl.
Sorata's friend Nanami, a second year student and aspiring voice actress, pushes him to find new owners for the many cats so that he can quickly move back into the regular dorms. However, his desire to escape Sakura Hall wavers when the pet-like and infantile second year Mashiro Shiina, a world-class artistic savant looking to become a mangaka, transfers in during the spring trimester and quickly latches onto him.
Supported by each other's quirks, Sorata and Mashiro come out of their shells and trigger change in the lives of those around them. Based on the light novel series of the same name, Sakurasou no Pet na Kanojo explores the fine threads connecting talent, hard work, romance, and friendship with its ensemble cast.  [Written by MAL Rewrite]
References: Wiki, ANN, MyAnimeList