6 Anime Like Amagi Brilliant Park [Recommendations]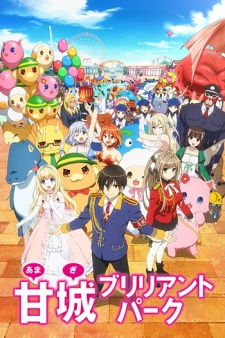 Here are my top picks for anime like Amagi Brilliant Park [Amaburi]. The list is in no particular order. Enjoy the recommendations!
The "dream railway paradise entertainment" story is set in a parallel world where Japan did not privatize its national railways. Naohito Takayama is an ordinary high school boy who dreams of a comfortable future working for the top-rated Japanese National Railways. He is assigned as a trainee in the Railways Security Force full of odd characters such as Sakurai, a troublemaker who hates men. On top of that, an extremist group called "RJ" plots to privatize the Japanese National Railways. (Source: ANN)
No Game No Life is a surreal comedy that follows Sora and Shiro, shut-in NEET siblings and the online gamer duo behind the legendary username "Kuuhaku." They view the real world as just another lousy game; however, a strange e-mail challenging them to a chess match changes everything—the brother and sister are plunged into an otherworldly realm where they meet Tet, the God of Games. The mysterious god welcomes Sora and Shiro to Disboard, a world where all forms of conflict—from petty squabbles to the fate of whole countries—are settled not through war, but by way of high-stake games.
This system works thanks to a fundamental rule wherein each party must wager something they deem to be of equal value to the other party's wager. In this strange land where the very idea of humanity is reduced to child's play, the indifferent genius gamer duo of Sora and Shiro have finally found a real reason to keep playing games: to unite the sixteen races of Disboard, defeat Tet, and become the gods of this new, gaming-is-everything world. [Written by MAL Rewrite]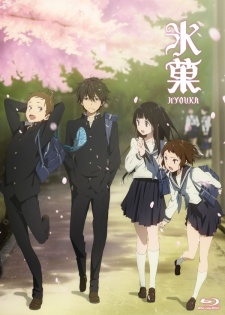 Oreki Houtarou is a minimalistic high school boy. One day, he joins the Classic Literature Club at his elder sister's request. There he meets Chitanda Eru, Fukube Satoshi, and Ibara Mayaka. Chitanda is a calm beautiful girl but she turns into an embodiment of curiosity once she says, "I'm curious." Fukube is a smiling boy with a fantastic memory who calls himself a database. Ibara is a short girl and is strict with others and herself. They begin to investigate a case that occurred 45 years ago. Hints of the mystery are buried in an old collection of works of the former members of Classics Club. The collection is titled "Hyouka."
Aikawa Ayumu is a normal high school boy. One day he is killed by a serial killer and revived as a zombie by a necromancer named Eucliwood Hellscythe. He starts to serve Eu as her guard but he happens to deprive the masou-shoujo Haruna of her magic power. Haruna orders Ayumu to fight against the anti-masou-shoujo system "Megalo" in her place.
Kou Ichinomiya has always lived according to the creed of his wealthy, successful family: never be in debt to anyone. But one day, under the Arakawa Bridge, his life is saved by a homeless girl named Nino. In order to pay her back, Kou promises to be her boyfriend; and thus begins his new life under the bridge. (Source: ANN)
Seishuu Handa is an up-and-coming calligrapher: young, handsome, talented, and unfortunately, a narcissist to boot. When a veteran labels his award-winning piece as "unoriginal," Seishuu quickly loses his cool with severe repercussions. As punishment, and also in order to aid him in self-reflection, Seishuu's father exiles him to the Goto Islands, far from the comfortable Tokyo lifestyle the temperamental artist is used to.
Now thrown into a rural setting, Seishuu must attempt to find new inspiration and develop his own unique art style—that is, if boisterous children (headed by the frisky Naru Kotoishi), fujoshi middle schoolers, and energetic old men stop barging into his house! The newest addition to the intimate and quirky Goto community only wants to get some work done, but the islands are far from the peaceful countryside he signed up for. Thanks to his wacky neighbors who are entirely incapable of minding their own business, the arrogant calligrapher learns so much more than he ever hoped to. [Written by MAL Rewrite]
References: MyAnimeList, ANN, Wiki