9 Anime Like Angel Beats! [Recommendations]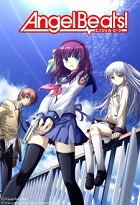 Angel Beats! is one of the best school drama animes I have watched. Here are my favorite picks of anime like Angel Beats! Keep in mind the list is in no particular order.
Tomoya Okazaki is a third year high school student resentful of his life. His mother passed away from a car accident when he was younger, causing his father to resort to alcohol and gambling. This results in fights between the two until Tomoya's shoulder is injured in a fight. Since then, Tomoya has had distant relationships with his father, causing him to become a delinquent over time.
While on a walk to school, he meets a strange girl named Nagisa Furukawa who is a year older, but is repeating due to illness. Due to this, she is often alone as most of her friends have moved on. The two begin hanging out and slowly, as time goes by, Tomoya finds his life shifting in a new direction.
On the first day of high school a beautiful girl named Haruhi Suzumiya introduces herself as having "no interest in ordinary humans". She asks for any aliens, time travelers, sliders or espers to join her. Watching her weird behaviour is Kyon who sits in front of Haruhi and is the only person who talks to her. When Kyon comments about Haruhi's joining every club in school and then quitting he unwittingly gives Haruhi an idea to start her own after school club. Thereafter Kyon and several others find themselves dragged, literally, into the Save our world by Overloading it with fun Suzumiya Haruhi's Brigade (the S.O.S. Brigade for short).
Special abilities occur among a small percentage of boys and girls in puberty. Yū Otosaka uses his power without others knowing, and lives a fairly normal, average school life. Before him suddenly appears a girl, Nao Tomori. Due to his meeting with her, the fate of special power-users will be exposed.
A dream of falling from the sky…and then birth. Rakka is born from a large cocoon into the Old Home, greeted by a group of females with small wings on their backs and shining halos above their heads. Soon Rakka's own wings grow, a halo is placed on her head and she is told that she must work in the nearby town of Grie. She soon realizes that the town and the entire world they live in are confined behind the Wall, a tall, impenetrable wall that none except the mysterious Toga are allowed to exit.
Little Busters is an adaptation of Key's romance adventure visual novel of the same name. Riki Naoe was orphaned when his parents died, but his depression is slowly lifted when he befriends a group of kids calling themselves the Little Busters. The series takes place during his second year of high school.
After death, humans go to either the eternal void or are reincarnated. However, where there's doubt as to were to place some occasional souls, these instead arrive at bar Quindecim, with no memories of having died. Decim, the bartender, challenges them to the Death Game, wherein they wager their "lives" and reveal their true natures. Decim himself is actually an arbiter in charge of deciding the fate of those that arrive at Quindecim – by pulling the darkness from deepest within them, he judges their ultimate fate.
Yukito Kunisaki is on a journey, seeking a girl with wings who flies in the sky, as mentioned in a childhood tale. During this journey, he settles down in a small town, trying to make some money. There, he meets a strange girl named Misuzu. Misuzu quickly makes Yukito her friend and invites him to stay with her. Yukito decides to stay in the small town, and continue searching for the winged girl his mother had searched for in her life.
Toraji Ishida is a high school kendo teacher. His friend and fellow kendo teacher makes him a bet: if Ishida can assemble a girls' kendo team that can defeat his girls' team in a practice match, he'll treat Ishida to free meals at his father's sushi restaurant for a whole year. Now Ishida must find five girls to join the team.
You Sato is a new high school student living in the dorms. While seeking cheap eats at the local market he finds himself beat up and semi-conscious with fleeting glimpses of a girl during the moments of his collapse. As his memories recover the next day, he discovers that trying to purchase half priced lunchboxes can be hazardous to his health as free-for-all fights with local students for the discounted food is the nightly routine.
The girl from the night before, Sen Yarizui, is an upper classmate known as the Frozen Witch and is one of the local Wolves who dominates the area. She educates him on the rules of the game where Wolves eat well while Dogs settle for cup ramen. With fellow first year student Hana Oshiroi, a fetishistic germaphobe, You Sato sets out to discover if he too has what it takes to be a Wolf and taste the sweet victory of half priced boxed banquets or wallow in the bitter defeat of reconstituted noodles and salty broth in a styrofoam bowl.
References: ANN, MyAnimeList, Wiki