10 Horror Anime Like Another [Recommendations]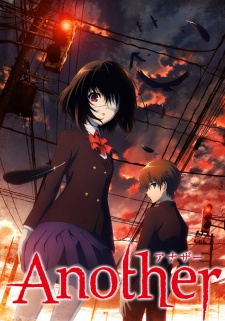 Here are my top picks for anime like Another. Keep in mind the list is in no particular order. Enjoy the recommendations!
After moving into the quiet town of Hinamizawa, Maebara Keiichi spends his days blissfully in school often playing games with his local friends. However, appearances can be deceiving. One fateful day, Keiichi stumbles upon news of a murder that had occurred in Hinamizawa. From this point on, horrific events unfold in front of Keiichi, as he soon learns his close friends may not be all that they seem. Based on the amateur mystery game by 07th Expansion, the story is told in a series of different scenarios.
Fifteen-year-old Megumi Shimizu dreamed of a glamorous life in the big city; however, her unexpected death in the quiet village of Sotoba marks the beginning of what appears to be a ferocious epidemic that turns the hot summer into a season of blood and terror. A young doctor named Toshio Ozaki begins to doubt the nature of the disease and comes to understand that to discover the truth, he must abandon his humanity. Meanwhile, Natsuno Yuuki, an antisocial youth from the city, is haunted by the sudden death of Megumi and must realize the pain of friendship in the face of his own tragedy. Toshio and Natsuno form an unlikely pair as they work together to save Sotoba before it transforms into a ghost town of vampires.
Shiki, adapted from the horror novel written by Fuyumi Ono, goes beyond the average vampire story. It tells the tragic tale of survival in a world where one cannot easily distinguish between good and evil. Abandoned by God, the Shiki, as the vampires call themselves, have only their will to live as they clash with the fear of the paranoid/unbelieving villagers. Shiki explores the boundary that separates man from monster.  [Written by MAL Rewrite]
The story is set in Heavenly Host Elementary School, an elementary school that was torn down following the murders and disappearances of several of its staff and students. By the start of the story, another school called Kisaragi Academy has been built over the elementary school site. One night, a group of students from Kisaragi are telling ghost stories when a sudden earthquake transports them to another dimension where Heavenly Host Elementary still exists and is haunted by the ghosts of the school's murdered children. The students of Kisaragi Academy try to find their way home and survive the other mysterious forces that haunt the school.
Mirai Nikki is focused around the main character, 15 year-old Yukiteru Amano, who is a bit more submissive than your average teenager. Yukiteru even has a habit of conversing with imaginary friends through his cellphone, in a record he calls his diary. Despite Yukiteru's lack of social skills, he inadvertently gets thrown into a relationship with Yuno Gasai, a very passionate girl of similar age that attends his school. The characters' impending collaboration is forced by the take-off of the story's setting theme, a survival game.
Yukiteru and Yuno confront their connection and contemplate working together in the midst of this survival game upon being connected to each other in an interesting and subtlety disturbing way. There are 12 total combatants, including Yukiteru and Yuno. They are all given special diaries that possess unique powers to assist the individual regarding their survival chance. This survival game is conducted and monitored by God himself and the winner shall ascend to his thrown, becoming the universe's new one-and-only god. There is but one victor. Who will be this world's champion? Watch as these combatants fight for survival and a chance at godhood.
Sixty years ago, a young woman was left to die in the abandoned school building behind the exclusive Seikyou Academy. No one knows why. No one knows how. But the horrifying tale and the legends of the ghostly haunting that followed live on to this day. Perhaps it's not so surprising then, that among Seikyou's many school clubs is one for students interested in "paranormal investigations."
What might raise more than a few hairs, however, is that the founder of the club is the ghost herself. Unable to remember how she died and trapped in the grey land between life and death, Yuuko latches onto Teiichi Niiya, a freshman who can inexplicably see her, and together they and the other unsuspecting members of the club begin to unravel the many dark mysteries that surround Seikyou. Will unlocking the secret of Yuuko's gruesome death finally free her? Or will her sudden close association with a mortal have even stranger repercussions on both of their existences? (Source: Sentai Filmworks)
References: Wiki, ANN, MyAnimeList