10 Anime Like Aria the Scarlet Ammo [Hidan no Aria] [Recommendations]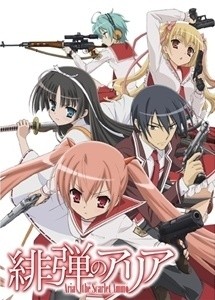 Here are my favorite picks for anime like Aria The Scarlet Ammo. Keep in mind the list is in no particular order. Enjoy the recommendations!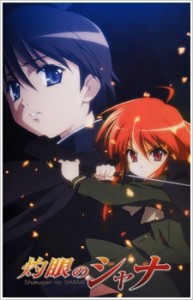 The world has become a slaughtering ground for the Crimson Denizens, mysterious beings from a parallel universe who thrive on the life energy of humans. These merciless murderers only leave behind scant remainders of souls called "Torches," which are mere residues that will eventually be destroyed, along with the very fact of the victims' existence from the minds of the living. In an ambitious endeavor to put an end to this invisible, hungry massacre, warriors called Flame Hazes relentlessly fight these monsters.
One fateful day, Yuuji Sakai ceases to be a regular high schooler—he becomes trapped in a crevice of time and is suddenly attacked by a Denizen. Coming to his rescue just in the nick of time is a nameless hunter who seems no different from an ordinary young girl except for her blazing eyes and burning crimson hair. However, before Yuuji can learn anything more about his situation, he discovers that he has already been reduced to a Torch—merely a scrap of memory waiting to be extinguished. [Written by MAL Rewrite]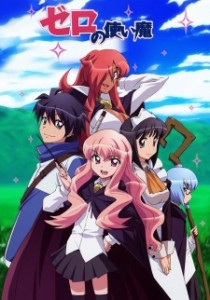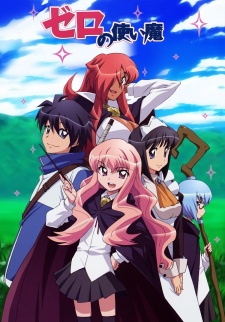 Louise is a magician at the Tristein Academy, dubbed with the nickname "Zero Louise" due to her inability to effectively use her magic properly, resulting in zero successes. An upcoming test at her academy requires her to summon a familiar, a servant and partner to support her as a magician. Despite desiring a familiar that would be superior to her constantly mocking classmates, Louise ends up summoning Hiraga Saito, your average Japanese boy. Even with Louise and Saito both unwilling to accept each other, they have no choice. Louise cannot attempt another summoning and Saito cannot return to Japan, and so their life together begins. Based on the novel by Noboru Yamaguchi. (Source: MyAnimeList)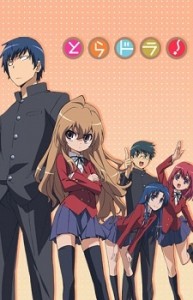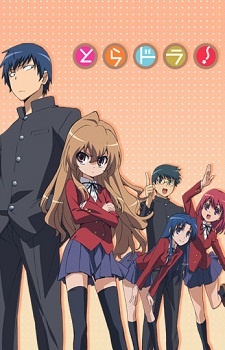 Ryuuji Takasu is a gentle high school student with a love for housework; but in contrast to his kind nature, he has an intimidating face that often gets him labeled as a delinquent. On the other hand is Taiga Aisaka, a small, doll-like student, who is anything but a cute and fragile girl. Equipped with a wooden katana and feisty personality, Taiga is known throughout the school as the "Palmtop Tiger."
One day, an embarrassing mistake causes the two students to cross paths. Ryuuji discovers that Taiga actually has a sweet side: she has a crush on the popular vice president, Yuusaku Kitamura, who happens to be his best friend. But things only get crazier when Ryuuji reveals that he has a crush on Minori Kushieda—Taiga's best friend!
Toradora! is a romantic comedy that follows this odd duo as they embark on a quest to help each other with their respective crushes, forming an unlikely alliance in the process. [Written by MAL Rewrite]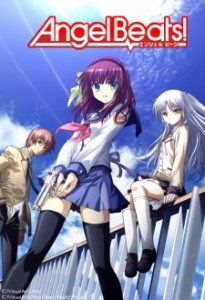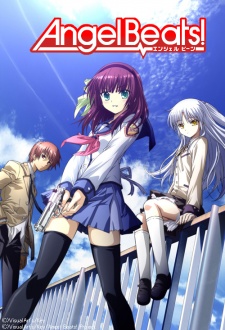 Otonashi awakens only to learn he is dead. A rifle-toting girl named Yuri explains that they are in the afterlife, and Otonashi realizes the only thing he can remember about himself is his name. Yuri tells him that she leads the Shinda Sekai Sensen (Afterlife Battlefront) and wages war against a girl named Tenshi. Unable to believe Yuri's claims that Tenshi is evil, Otonashi attempts to speak with her, but the encounter doesn't go as he intended.
Otonashi decides to join the SSS and battle Tenshi, but he finds himself oddly drawn to her. While trying to regain his memories and understand Tenshi, he gradually unravels the mysteries of the afterlife. [Written by MAL Rewrite]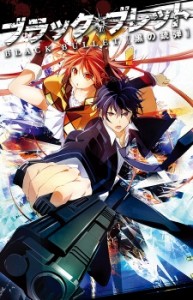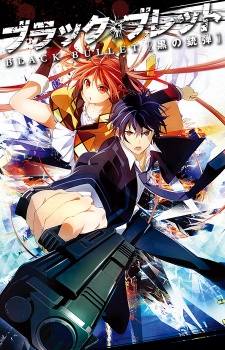 The year is 2021. An unexpected and highly parasitic virus has devastated human society. The virus, known only as "Gastrea", has driven humans into massive walled cities. The only thing that is capable of withholding the virus infected monsters is a metal called Varanium. The city walls and the weapons mankind uses to fight against these monsters are made of it. Despite efforts to keep "Gastrea" at bay, children were soon born with the virus already inside of them. Children born with the virus were called "Cursed Children", were only female and had special powers which humanity deemed as their best weapon to fight against Gastrea monsters.
Every team sent out to help fight the virus is composed of Initiators, who are Cursed Children, and a Promoter, who is there to guide and protect them. Black Bullet focuses on Rentaro Satomi, a second year high school student and Promoter along with Initiator Enju Aihara, who is like a sister to him. Together they carry out missions for Tendo Civil Security until one day they receive a secret mission to prevent the destruction of Tokyo area from Gastrea invasion. (Source: MyAnimeList)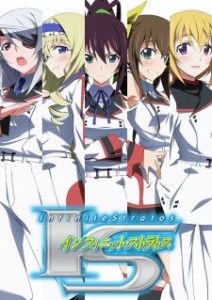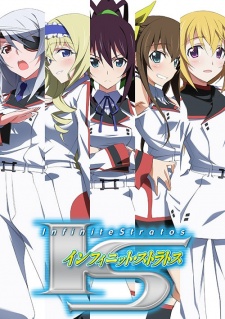 Japan engineered an armed powered exoskeleton "Infinite Stratos" (IS) and it became the mainstream of weapons. Since only women can operate IS, women dominate the society over men. Orimura Ichika is a 15-year-old boy and accidentally touches an IS placed in the IS pilot training school. He is found to be the only man who can operate IS and forced to enter the training school. Ichika's busy school life surrounded by girls has begun. (Source: MyAnimeList)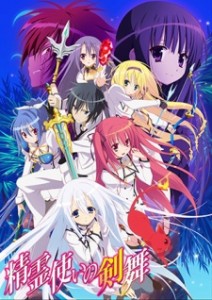 Only a pure maiden can have the privilege to contract with a spirit. In here, Areishia Spirit Academy, trained maidens of noble families are gathered and given an elite's education to become spirit contractors. A boy, Kamito, peeped by accident at a girl, Claire, while she was taking a bath and he ended up making a contract with the spirit she wanted. Yes, Kamito is an irregular boy spirit contractor whose existence was thought impossible until now. "You stole…my spirit…you have to take responsibility for it!" "Huh?" "You have to become my contracted spirit!" What will Kamito's destiny lead to? (Source: Baka-Tsuki)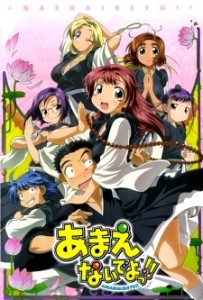 Satonaka Ikkou, a 16 year old boy, is a first year trainee at the Saienji Buddhist Temple. He was sent there by his parents to be trained by his grandmother, the Saienji Priestess. At the temple he finds himself surrounded by beautiful female priestesses-in-training. Upon seeing a girl naked, Ikko has the ability to turn into a super-monk, performing massive exorcisms for the good of the temple. (Source: ANN)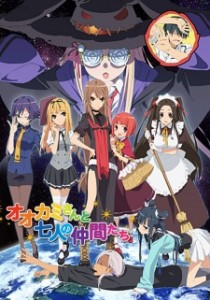 Ookami Ryouko is a spunky and, by some accounts, rather manly high school girl. She is tall, speaks in a traditionally masculine way and is very proficient in fighting. Ookami-san's best friend is the small and high-pitched voiced Akai Ringo. Incidentally, the two are rather flat-chested, a fact the Narrator (voiced by Arai "Kuroko" Satomi of Railgun fame) is all too eager to point out.
Ookami and Ringo are members of the Otogi Bank, a club in Otogi High School that assists students with their problems in return for their assistance on a different problem at a later date; thus the Otogi Bank is effectively a loan institute for problems where you can take out a loan for a solved problem but you have to repay it sooner or later.
The Otogi Bank is able to solve any problem and will go to any lengths to do so, often leading the members to danger or mayhem. Since most of the members of the club are female, another male is needed for the more dangerous assignments. Thus, the scopophobic (the fear of being looked at) Morino Ryoushi is inducted as a member, right after he confesses his love for Ookami. (Source: MyAnimeList)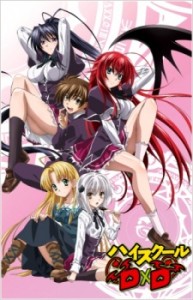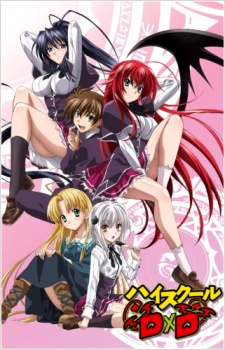 High school student Issei Hyoudou is your run-of-the-mill pervert who does nothing productive with his life, peeping on women and dreaming of having his own harem one day. Things seem to be looking up for Issei when a beautiful girl asks him out on a date, although she turns out to be a fallen angel who brutally kills him! However, he gets a second chance at life when beautiful senior student Rias Gremory, who is a top-class devil, revives him as her servant, recruiting Issei into the ranks of the school's Occult Research club.
Slowly adjusting to his new life, Issei must train and fight in order to survive in the violent world of angels and devils. Each new adventure leads to many hilarious (and risqué) moments with his new comrades, all the while keeping his new life a secret from his friends and family in High School DxD! [Written by MAL Rewrite]
References: MyAnimeList, Wiki, ANN